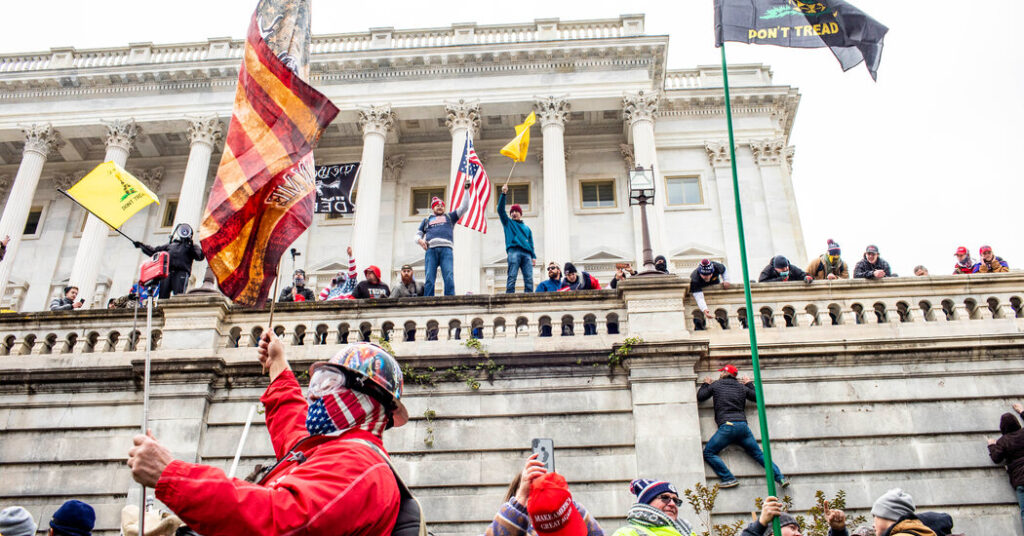 Praise for Jan. 6 Costs Virginia Deputy Attorney General Her Job
A recently appointed Virginia deputy attorney general resigned on Thursday after a report that she had praised the Jan. 6 rioters on Facebook and claimed that President Donald J. Trump had won the 2020 election.
The departure of the official, Monique Miles, came about a month after she was sworn in as the deputy attorney general leading the Government Operations and Transactions Division. She was appointed by Attorney General Jason S. Miyares, a Republican who had upset a two-term Democratic incumbent in the November 2021 election.
In a statement, Victoria LaCivita, a spokeswoman for Mr. Miyares, said that Ms. Miles turned in her state government ID and equipment on Thursday, and that it was the office's "understanding that she resigned at that time."
"Nevertheless, the Office of Attorney General has parted ways with Ms. Miles for lack of transparency during her initial interviews for the position," Ms. LaCivita said. "We appreciate her service and wish her well in the future. The Attorney General has been very clear — Joe Biden won the election and he has condemned the January 6th attack."
In one of the Facebook posts, which were obtained and reported by The Washington Post, Ms. Miles said, "Patriots have stormed the Capitol."
"No surprise," she wrote on Jan. 6, 2021, while the Capitol was being attacked, according to The Post. "The deep state has awoken the sleeping giant. Patriots are not taking this lying down. We are awake, ready and will fight for our rights by any means necessary."
The Facebook posts are not publicly visible, but Ms. Miles told The Post that she had not deleted them.
In another post, Ms. Miles said that "these left wing violent loonies better realize that DJT is getting a second term," referring to Mr. Trump by his initials.
"Biden will never step his compromised self into the White House," she wrote in another, The Post reported.
Ms. Miles did not respond to requests for comment on Thursday night.
In a statement to The Post, Ms. Miles defended the opinions she expressed on her social media and said her messages "have been taken out of context." She emphasized that she now believes Biden "is our president as he was certified as such."
"Democracy dies when civil discourse is squelched," Ms. Miles told The Post, possibly referring to the newspaper's slogan, "Democracy dies in darkness."
In a post on Twitter, Schuyler VanValkenburg, a Democratic delegate for Virginia's 72nd District, said, "This is very disturbing," adding that "All eyes should be on who the AG picks next."
Key Developments in the Jan. 6 Investigation
---
Before serving as deputy attorney general, Ms. Miles was the founder and managing partner of Old Towne Associates, P.C., in Alexandria, Va., and had attended Regent University School of Law and the University of Virginia College of Arts and Sciences, according to the attorney general's office. She had worked in that role since 2013.
Ms. Miles was recognized last year by Virginia Business magazine in its 22nd edition of the Virginia Business Legal Elite Report as one of the state's best lawyers in the labor and employment law category. She is also listed as a contributing member of the Republican National Lawyers Association.
In 2015, she lost an election for a seat on the Alexandria City Council. In an interview that year with Connection Newspapers, she stressed her ability to manage disagreements.
"Government is toxic when the representatives think they know best," she said. "However, the key to a strong community, and something that I believe is lacking is respect and civility."