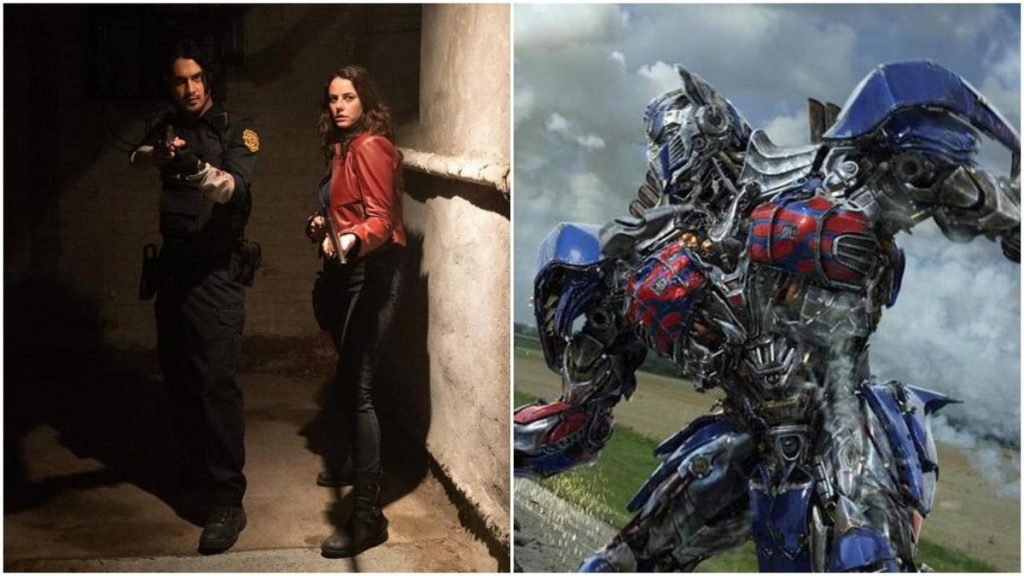 Poor 'Resident Evil' Box Office Is A Grim Warning For The Next 'Transformers'
Screen Gems and Constantin's Resident Evil: Welcome to Raccoon City cost just $25 million to produce, so a final global total on par with last year's Monster Hunter (a new video game adaptation courtesy of Paul W.S. Anderson and Milla Jovovich) would be in the realm of "bullet dodged." Alas, studios don't reboot and revamp franchises just so they can get away with it by the skin of their teeth, which a $15 million domestic and $42 million global cume would (at best) be. The film earned just $8.8 million over the Wed-Sun Thanksgiving debut, with most of its overseas openings taking place over the weekend of December 3. Can it save face? But it'll still be a poignant lesson in terms of what online fans say they want and general audiences actually want to see, and a warning to the next Transformers movie.
Paul W.S Anderson's Resident Evil series, of which he directed the first entry and the last three, wasn't quite what anyone would call a faithful adaptation. It was less of a "scary zombies in the dark" horror series and more of a bonkers-bananas sci-fi action franchise. It quickly centered upon Jovovich kicking superpowered zombie ass alongside the likes of Ali Larter, Michelle Rodriguez and Sienna Guillory right when the high-profile failures of Catwoman and Electra convinced Hollywood that female-led superhero movies were box office poison. Yes, this applies to Kate Beckinsale's Underworld series too (leather-clad butt-kicking vampire against werewolves and less virtuous vampires), but I digress. Grim irony, right as everyone was fretting about the commercial fate of Patty Jenkins' Wonder Woman, they were ignoring Anna Foerster's surprisingly decent Underworld: Blood Wars. $81 million on a $35 million budget meant no second feature for Ms. Foerster.
Resident Evil earned $40 million domestic but $102 million worldwide on a $33 million budget, during a time with smaller marketing costs and a more vibrant post-theatrical marketplace. It also began as the first truly mainstream zombie franchises since the original George Romero flicks, opening before Danny Boyle's 28 Days Later, before Zack Snyder's Dawn of the Dead remake and before Edgar Wright's Shaun of the Dead or the now-endless AMC The Walking Dead television show. It wasn't just an adaptation of a popular video game, but it was a re-energization of a long-dormant sub-genre that operated as a hybrid (action/sci-fi/horror) that stood out from the crowd regardless of its source material. All of this is to say that, whether you liked each installment or not, the films succeeded for at least divorced from general audience interest in the video game source material.
The films lived or died in terms of how general audiences, the ones who perhaps played a Resident Evil game here and there over the years but didn't care about faithfulness or source fidelity. Lord of the Rings, The Hunger Games or The Twilight Saga became big precisely by convincing general audiences that it isn't something only for the fans. The MCU succeeded precisely because it made comparatively cult-level comic book characters palatable to the masses. Hollywood listens to the loud online minority at their peril. See also: Dark Phoenix (audiences didn't want a remake of The Last Stand), The Amazing Spider-Man 2 (audiences weren't feverishly anticipating the violent death of Emma Stone's Gwen Stacy) and The Rise of Skywalker (audiences thought Last Jedi was "fine"). Giving the loudest, niche-iest fans in the room what they claim to want can crush your franchise.
To be fair, if Sony was going to reboot the $1.2 billion-grossing franchise, going with a smaller-scale, less fantastical, more horror-centric take made sense. You can "give the fans what they want" while still delivering a mainstream crowdpleaser that doesn't require obsessive IP adoration. Ghostbusters: Afterlife and Ready Player One are commercial successes that were appealing in spite of (not because of) their Easter Eggs and fan-bait callbacks. Regular audiences don't obsess over MCU mid-credit scenes or alleged clues to the next MCU movies anywhere near as much as the perpetually online. The interconnectivity of the MCU has always been seasoning rather than the main course. Alas, Welcome to Raccoon City no real reason to exist save for "I recognize that moment from the games!" visuals and plot beats, not unlike how Rise of Skywalker exists primarily to retcon Last Jedi.
As for Transformers: Rise of the Beasts, well, it's both a warning and a chance to learn from another franchise's mistakes. While the online fandoms (and related film nerds/media critics) would have you argue that Michael Bay's Transformers movies succeeded despite their over-the-top visuals, bawdy humor, unapologetic gung-ho sensibilities and bigger-than-big action spectacle, that's almost certainly not the case. Yes, there was/is interest in the Transformers IP, but the blow-out success of Transformers ($317 million domestic and $710 million worldwide in 2007) was partially rooted in its militarized bro-tech action, shameless lechery and the fact that it was a bigger-scaled blockbuster than anything since The Lord of the Rings: Return of the King. It was Small Soldiers meets Independence Day, filtered through a Spielbergian "boy and his non-human friend" coming-of-age story which also featured giant robots who blasted the hell out of each other.
Critics carped, but Revenge of the Fallen ($835 million in 2009), Dark of the Moon ($1.2 billion in 2011) and Age of Extinction ($1.1 billion in 2014) were blow-out blockbusters specifically due to in-franchise elements that you'd only find in Michael Bay's Transformers movies. Once the MCU caught up in terms of IMAX-scaled action and both its films and the Fast & Furious films offered comparative blockbuster packages in a slightly more wholesome and human-centric level, well, The Last Knight earned just $605 million in 2017. The 1980s-set spin-off Bumblebee was supposed to represent everything the "fans" claimed they wanted from a Transformers movie, including a more explicit Iron Giant sensibility, a female-lead and a more wholesome and kid-friendly fantasy narrative on a smaller scale. It grossed $127 million domestic and $468 million worldwide, including a face-saving $171 million from China.
If audiences flocked to the initial Transformers films not because of the IP but because A) films of that nature were still automatic events and B) they just liked the Michael Bay-helmed Transformers movies, that's a challenge for Paramount, Hasbro and friends. Just as Welcome to Raccoon City stumbled this weekend despite "giving the fans what they wanted," Rise of the Beasts is going to have to do more than just play to nostalgic 80s or 90s-era Transformers fans. The good news is that the Beast Wars flick is A) tapping an unmined corner of the Transformers universe and B) is helmed by Steven Caple Jr. He took a pretty lazy fan bait premise (Adonis Creed fights Ivan Drago's son) and made a genuinely good Creed II out of it. Caple and friends used the pitch as a challenge rather than a crutch.
Sony's Jumanji: Welcome to the Jungle was a crowd-pleasing, well-cast conceptually clever video game-centric action comedy that worked as decent four-quadrant entertainment even for folks who couldn't care less about Jumanji. It earned $404 million domestic and $962 million worldwide in late 2017. Jurassic World had a killer hook, "the park is open," and concocted an IMAX-friendly action fantasy (with a fun cast) that worked whether or not you cared about the meta-critical commentary on modern franchise bloat or welled up when you heard John Williams' Jurassic Park theme. Cue $652 million domestic and $1.67 billion global in summer 2015. Welcome to Raccoon City showed that just placating the "fans" isn't enough, especially when the previous films were appealing outside of the given IP. Rise of the Beasts will have to be a worthwhile flick even for folks who don't care about more Transformers movies.