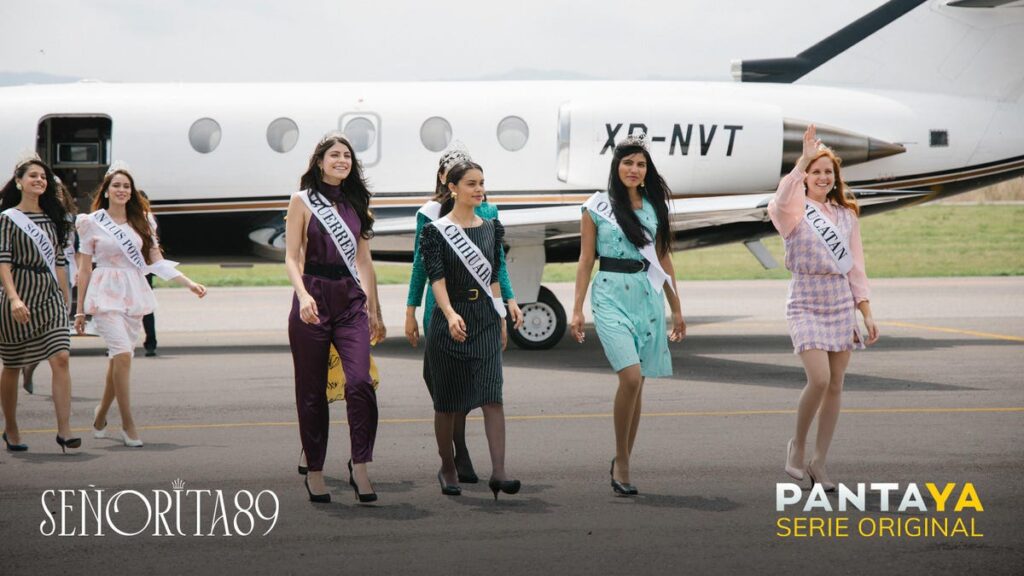 Pantaya Reveals 2022 Launch Date For Deadly Beauty Pageant Thriller 'Señorita 89'
Dreams of success, drugs, politics and death collide in Señorita 89, a dramatic thriller that exposes the dark glamour of a fictional Miss Mexico beauty pageant, set against the backdrop of the beautiful La Encantada hacienda. That's where 32 young women spend "90 days in paradise in exchange for a throne" in hopes of "a fairy tale that ended up being a prison for all the contestants," says the narrator at the beginning of the first episode.
Señorita 89 follows Concepción (Ilse Salas), the matriarch of the most important beauty pageant in the country, who, together with a team of expert makeup artists, trainers, and plastic surgeons, work to "polish" the contestants until they shine so they can win. But the beauty pageant business is harsh and not on their side.
The Pantaya and STARZPLAY series, which tapped into top international talent, released its first teaser trailer and announed a premiere date of February 27, 2022. A new weekly episode will drop every Sunday.
The eight-episode Señorita 89 is written and helmed by showrunner Lucía Puenzo (La Jauria) and executive produced by Juan de Dios Larraín, Pablo Larraín, Ángela Poblete and Mariane Hartard from Chilean production company Fábula and Christian Vesper at Fremantle.
"It deals with interesting and challenging issues such as the commodification of women's bodies, beauty standards and sexual harassment," states Ángela Poblete, executive producer at Fábula. "It's quite incredible to look back today on where we were a mere 30 years ago. Our team has really put together a thrilling series and we're so excited to bring this period to life."
The cast includes Ilse Salas (Güeros, Las niñas bien), Ximena Romo (This Is Not Berlin, Como si fuera la primera vez), Natasha Dupeyron (La boda de mi mejor amigo, La vida inmoral de la pareja ideal), Bárbara Lopez (Desenfrenadas, Amar a muerte), Juan Manuel Bernal (Monarca, Obediencia perfecta), Luis Ernesto Franco (Falsa identidad, La boda de la abuela), Edwarda Gurrola (Luciérnagas, Soy tu fan) and Ianis Guerrero (Nosotros los Nobles, Tigers Are Not Afraid).
This series continues to build on Pantaya's original programming push, since it launched its first scripted series, El Juego de las Llaves, in 2019. Señorita 89 marks STARZPLAY's first local language original production in Mexico.
The series will debut on Pantaya in the U.S. and Puerto Rico and on STARZPLAY in Spain, Latin America and Brazil.