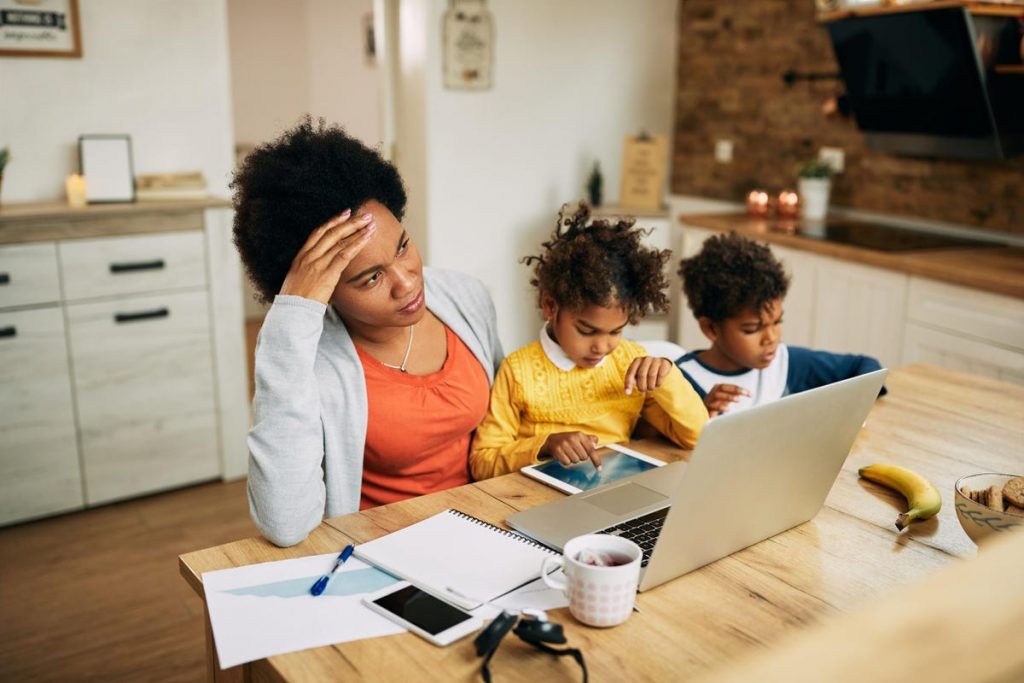 Pandemic Continues To Disproportionately Affect Women, Annual Women In The Workplace Report Finds
The Covid-19 pandemic has affected people everywhere to varying degrees, but perhaps no group has had to bear the burden more heavily than working women. After five years of hard-earned, gradual progress for women in the workplace, 2020 took a sizable and disproportionate toll on the demographic, leading many to leave or consider leaving the workforce altogether. Disruptions to schooling, daycare, and after-school programs forced the majority of childcare and housework needs onto mothers, who account for 25% of the female workforce in the U.S. All women continued to be underpaid relative to men and were still promoted to management positions at a far lower rate than their male counterparts. Less than a year in, the pandemic, it seemed, had stymied working women across the country and left many concerned about their futures.
Now, more than 18 months after Covid-19 began its vicious spread and altered life and work as we knew it, Lean In and McKinsey have released their sixth annual Women in the Workplace report, showing once again what a blow the pandemic has been to the group. The study, which is the largest analysis of the state of women in corporate America, looked at 423 companies, representing over 12 million employees, and surveyed more than 65,000 women, and the results were eyeopening.
While it remains too early to tell how the pandemic will affect the representation of women in the long-term, the report found that women are feeling increasingly burned out. This year, 42% of women say they "often or almost always" feel burned out, compared to 32% in 2020. The last 12 months not only brought an increase in the number of women feeling this way, but it also widened the gender gap, with burnout among men rising only slightly, from 28% to 32%, over the same period.
Following the nationwide racial reckoning of last summer, many companies committed to change and said they would prioritize racial equity, diversity, and inclusion. Although many have honored this commitment, expanding DEI initiatives, adding mental health benefits, and more, it's been mostly women leaders who've championed these efforts, and their work is going largely unrecognized. Roughly 61% of women managers regularly practiced three types of allyship, compared to just 48% of men of the same rank. The report also found that senior-level women were twice as likely as senior-level men to spend substantial time on DEI work that is not central to their formal job responsibilities, and women with marginalized identities (for example, Black women, LGBTQ+ women, and women with disabilities) were even more likely to do this work.
And even though these efforts are time and again seen as essential, they continue to be relegated to the category of "new office housework," meaning they contribute to the business as a whole but are not formally recognized in performance reviews or consideration for advancement and are usually not compensated. "Women's leadership is going unrecognized and uncompensated – women are doing more to manage employee' workloads and champion DEI initiatives at work, and more," says Jess Huang, a McKinsey & Company partner and co-author of the report. "Almost 90% of companies say that the work employees do to manage employee well-being is very or extremely critical, but only 25% of companies formally recognize this work in performance reviews."
Despite widespread awareness and increased focus on DEI issues, only 35% of women of color feel their company has followed through on their commitment, and many continue to have more negative experiences at the workplace. Approximately 18% of Black women, 13% of Latinas, and 11% of Asian women hear surprise at their language skills or other capabilities compared to just 5% of white women, and 17% of Black and Asian women have been mistaken for someone of the same race and ethnicity compared to 4% of white women. Additionally, one in eight women of color say is the only woman and the only person of their race or ethnicity in the room, making them two to three times more likely to experience micro-aggressions.
The study's findings come as a disappointment, particularly after last year's dire warning, but Lean In's CEO, Rachel Thomas, believes this could be the push needed to get things back on track. "In response to the pandemic, companies moved to remote work almost overnight and embraced flexible work at a level that would have felt impossible a few years ago," she notes. "Now, they need to push further so flexible work doesn't feel like 24/7 work and bring the same sense of urgency to building diverse, inclusive workplaces."
Thomas says companies can do this by putting guardrails in place to ensure that employees don't feel the need to always be "on," even as remote work continues. It's also crucial that they not only equip employees at every level to show up as allies but that they actually reward leaders who go above and beyond to support their teams' wellbeing. "Across all of this work, it's critical that companies embrace experimentation and a true growth mindset," the CEO adds. "There is no playbook for this moment, which means companies need to test many different creative ideas, listen closely to feedback from their employees, and iterate to find what works for their organization."