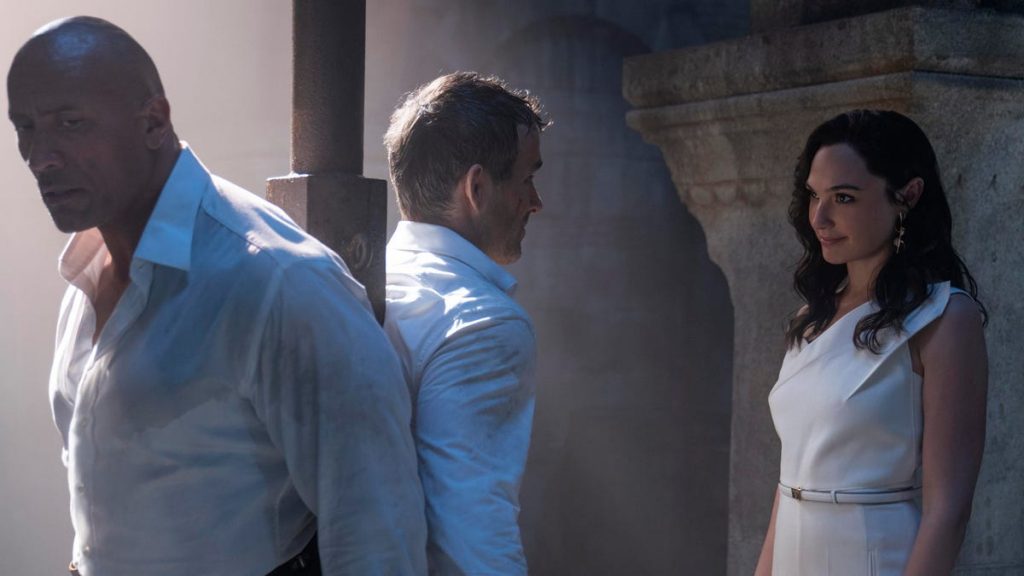 One Of Netflix's Worst Movies Will Soon Be Its Most-Watched Film
Netflix has announced a change in how it releases its streaming data. Beginning with the blockbuster debut of Red Notice, Netflix.com will now offer up a weekly top-ten list, divided by medium (movies or television) and whether the content in question is in English or a different language. It'll be listed by hours-viewed, which requires just one more math problem compared to the Nielsen's and will list global viewership rather than just American televisions. As such, just in time to brag about it, Netflix is noting that the Dwayne Johnson/Gal Gadot/Ryan Reynolds action comedy Red Notice logged 148.72 million hours for the week of November 8 through November 14. Considering the film dropped just this past Friday, that's an "opening weekend" of 8.923 billion minutes viewed, and almost triple anything else (Squid Game, Love Hard, Narcos season three, etc.) from last week.
Since the list is global for now (thus far, individual countries have top-ten rankings but no viewership stats), we're going to start seeing titles ruling globally which aren't currently available in the United States. For example, Venom topped globally among English-language movies in mid-October with 20 million hours, which makes sense as folks were catching up with (or rewatching) the Tom Hardy blockbuster before or after seeing Venom: Let There Be Carnage theatrically. As for Red Notice, which is obviously the big news, it has almost entered the top ten among all Netflix movies. Adam Sandler and Jennifer Aniston's Murder Mystery sits at tenth with 169 million hours in its first 28 days. I'm guessing it'll be in the top ten, if not the top five (Michael Bay and Ryan Reynolds' 6 Underground nabbed 205 million hours in late 2018) by the end of this week.
The poorly-reviewed flick, which began life as a Universal theatrical package before they cut bait and Netflix snapped it up, is a prime example of the Netflix advantage. Audiences will watch something on Netflix "for free" and "at home" which they wouldn't in theaters. The front page image of the three glamourous movie stars is enough to at least push play, and we don't know how many households actually finished the 115-minute feature or recommended it their friends. While Dwayne Johnson is absolutely a bankable name in the right package, an original action vehicle with little else to sell except "Hey look, it's The Rock approximating old-school 90's action films" can get you Skyscraper. That Die Hard meets The Towering Inferno romp, on paper a fine example of "rip-off don't remake," was a mostly weak imitation of the imitations. It struggled theatrically with $305 million worldwide on a $125 million budget.
Both Red Notice and Skyscraper were written and directed by Rawson Marshall Thurber, although I will defend Central Intelligence unto death. I don't love his We're the Millers, but how I miss the notion of a subpar star+concept comedy (with Jennifer Aniston, Jason Sudeikis, Emma Roberts and Will Poulter pretending to be a nuclear family to smuggle drugs) earning $270 million worldwide on a $37 million budget. If I'm grouchy when it comes to big Netflix originals which attempt to approximate Hollywood studio programmers, it's because most of them aren't very good and arguably trade in willful mediocrity banking that viewers will trade quality for convenience. Red Notice may be "for the fans," but Dwayne Johnson, Ryan Reynolds and Gal Gadot got that fan base partially by making better movies. Ditto the at-home successes of Mark Wahlberg's Spencer Confidential, Adam Sandler's Murder Mystery and Charlize Theron's The Old Guard.
However, they aren't slacking when it comes to genuine prestige flicks, like Spike Lee's Da 5 Bloods (maybe the best Netflix original of all) and Martin Scorsese's The Irishman (which is current third of all-time among Netflix originals). Jane Campion's Power of the Dog (likely to end up in the Oscar race) is very good. Ditto Rebecca Hall's precise directorial debut Passing. In terms of genre flicks, Jeymes Samuel's all-star western The Harder They Fall is a blast, coming off like a pulpy cross between Silverado, The Quick and the Dead and the Sunset Riders video game. Chris Hemsworth's Extraction is a rare "mockbuster" that feels like the genuine article, and I'm happy that Zack Snyder found a place where he can make his own mythology (I quite enjoyed Army of the Dead) without conflicting with IP-specific obligations. I just wish their "biggest" movies weren't also some of their worst.