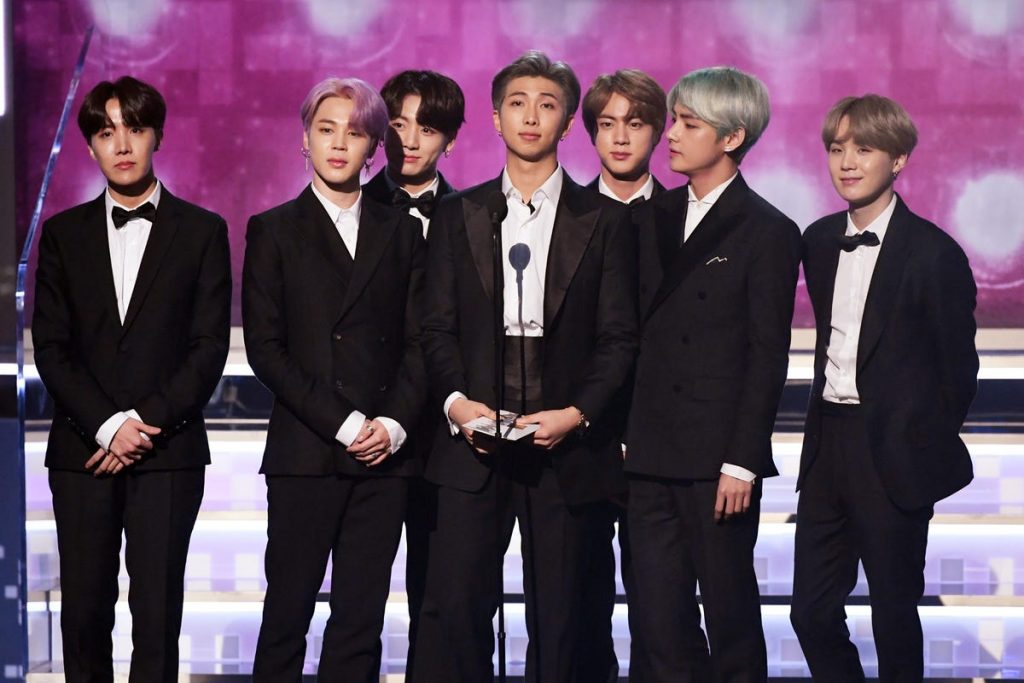 Not Every Musician Who Doesn't Earn Grammy Love Is 'Snubbed'…But Yes, BTS Was Snubbed
The nominees for the 2022 Grammy Awards were revealed earlier today (November 23), and this time around, there weren't too many major surprises or snubs. Every year, some fan bases cry foul, and at times their complaints seem to be more legitimate than in other years. There are only so many spaces in each category for songs, albums and artists to be nominated, so while not every omission is a proper snub, sometimes it is a bit of a head-scratcher when someone is left out.
At the upcoming sixty-fourth annual Grammys, there is one fan base that seems to have a leg to stand on as they take to social media to point out that the musical act they love deserved more.
BTS was largely expected to compete for Record of the Year and/or Song of the Year with their single "Butter," but it didn't end up earning one of the 10 spots in either vertical. Their inclusion was predicted by many in the industry (including this writer), and when the CEO of the Recording Academy revealed moments before those lists were unveiled that the big four categories now include 10 slots instead of eight (which was a surprise), it seemed like the boy band had a lock on what would have been a historic nod, or possibly even two.
Sadly, after all 10 tracks were called in both categories, BTS's name hadn't been heard. The South Korean group's "Butter" is up for Best Pop Duo/Group Performance, and that win does help them double their career total Grammy nods. While that's certainly something to smile about, fans are upset that the global smash isn't also up for Record or Song of the Year.
MORE FROM FORBESGrammy Predictions: BTS, Taylor Swift, Bruno Mars And Justin Bieber For Record Of The YearBy Hugh McIntyre
Grammy voters aren't known for rewarding boy bands and girl groups, as they are often considered to be less like artists and more like products. This is a taste that changes, as acts like Nsync and the Backstreet Boys have been nominated for a number of awards, with the latter picking up a shocking nod just a few years back. BTS is an all-male vocal act, but at this point, they seem to have pushed past the stereotype, and critics are catching up to their success.
And it's that incredible success that highlights why "Butter" should have been nominated, at least for Record of the Year. While the Recording Academy says it doesn't take sales or chart positions into account when picking possible champions, it's hard to ignore the incredible feats that Billboard's Song of the Summer managed. "Butter" is the longest-running No. 1 hit in America this year, and the only one to manage double-digit frames atop the Hot 100. It is also the bestselling track in the nation in 2021, outperforming every other title by a healthy margin.
It's not necessarily the most daring artistic creation, and it doesn't exactly push boundaries or push pop into new territory, but the Recording Academy clearly doesn't have an issue selecting pure-pop smashes tailor-made for top 40 radio for Record of the Year glory.
MORE FROM FORBESGrammy Predictions: Taylor Swift, Billie Eilish, H.E.R. And Giveon For Song Of The YearBy Hugh McIntyre
In the past few years, poppy singles like Doja Cat's "Say So," Dua Lipa's "Don't Start Now," Ariana Grande's "7 Rings,' Bruno Mars' "24k Magic" and Cardi B, Bad Bunny and J Balvin's "I Like It" have all been nominated. This time around, masses-approved pop tunes like Doja Cat and SZA's "Kiss Me More" and even ABBA's "I Still Have Faith In You" earned recognition, but not "Butter."
Last year, The Weeknd suffered one of the all-time worst snubs when his single "Blinding Lights" was shut out entirely, as was his chart-topping album After Hours. The song was expected to win Record of the Year, due in part to its massive commercial success. When it didn't end up with a single nod, there was an outcry, and the Canadian pop/R&B star vowed not to submit his work any longer (though he's up for several Grammys this period). Many criticized the Recording Academy, pointing out how long the cut had charted and how well it had sold as part of the reason for their anger. If those same metrics are applied to BTS's "Butter," it's fair to say it should have been included.
While BTS fans are upset and annoyed, the good news is that the K-pop powerhouses are already frontrunners for the one Grammy they are competing for. Nothing is certain until a name is called, but the boy band stands a good shot at collecting gold, and when (and if) they do, it will be a momentous occasion and a historic moment in Grammy history, and perhaps just the first for the adored band.
MORE FROM FORBESBTS Scores A Second Consecutive Grammy Nomination In The Pop Field With 'Butter'By Hugh McIntyre