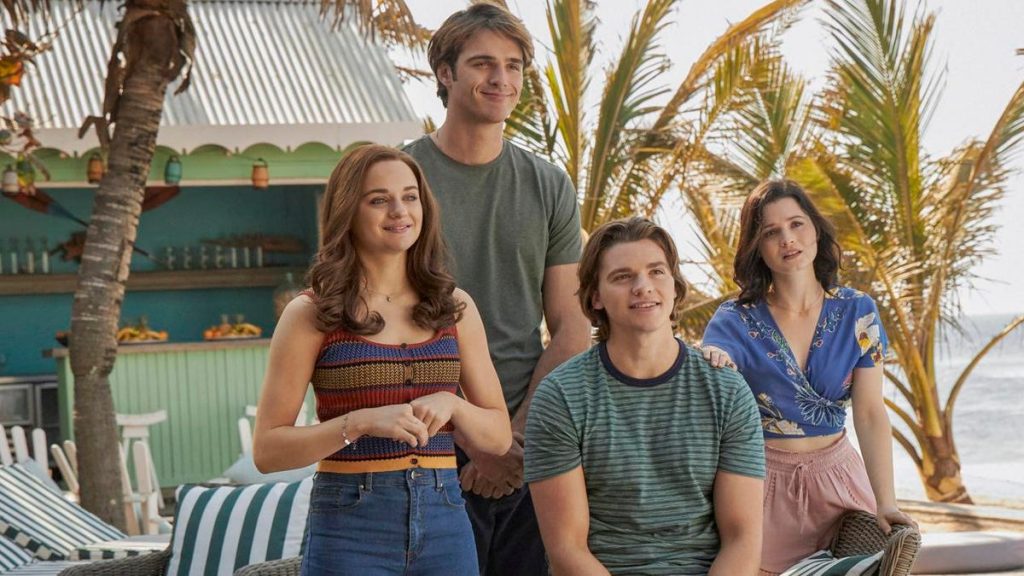 Nielsen's: 'Kissing Booth 3' And 'Paper Tigers' Impress As 'Jungle Cruise' Drops 48%
In Nielsen ratings for the week of August 9 through August 15, Sony Animation's Vivo was the top movie for the second-straight frame. The Netflix acquisition, helmed by Space Chimps/The Croods director Kirk DeMicco and written by DeMicco and In the Heights co-writer Quiara Alegría Hudes, earned a whopping 802 million minutes in its second frame (and first full week). That's a jump of 62% from its "opening weekend." That translates into around nine million viewings of the 99-minute feature (whose credits begin at 86 minutes), and another "win" for the slew of Sony Animation flicks (Mitchells Vs. the Machines, Wish Dragon, etc.) that became "property of Netflix" as a result of the pandemic. Of note, half of Vivo's audience came from kids 2-11 while 1/3 came from Hispanic households.
The film doubled the next "most-watched" movie, namely the opening weekend of The Kissing Booth 3. The threequel, which shot back-to-back with its sequel (which turned out to be a smart move when Covid shut down production worldwide), earned a still-solid 451 million minutes. That translates into around 4.1 million viewings of the 113-minute Joey King/Jacob Elordi rom-com melodrama. The trilogy, based on a literary series that began life on then-15-year-old Beth Reekles's WattPad, has been one of Netflix's flagship "new" franchises, a center piece of their "summer of love" 2018 blitz that featured a handful of high-profile "like Hollywood used to make" romantic comedies.
Whether you prefer The Kissing Booth or Set It Up or To All the Boys I've Loved, the mini-spree showed that Netflix could successfully approximate the old-school rom-com, a genre that theatrical Hollywood had decided was too un-cool to pursue (that an entire generation of young actresses were raised to think of Katherine Heigl/Jennifer Aniston romantic comedies as "less than" didn't help). This was right as, ironically, Crazy Rich Asians became a theatrical blockbuster ($237 million worldwide, including $170 million domestic, on a $35 million budget) at least partially because the Constance Wu/Henry Golding "hijinks with my boyfriend's rich relatives" was a distinctly old-fashioned studio programmer.
This specific "new to you" franchise was essentially taking the Twilight/Fifty Shades formula (an intelligent but inexperienced young female lead tries to woo an older, darker, brooding hunk and gets to indulge as she fends off a potential rival suitor who isn't taking rejection all that well) and setting it in "real-world" (and more sex-positive) environment. Yes, that's a compliment, because it's a solid "rip-off, don't remake" success story. Whether we like the movies or not (it helped that Elordi's "not-Edward" became a lot less scarily angry in the sequels), there were a clear case of Netflix being able to find success with a star-driven, high-concept, new-to-you adaptation that found success not through nostalgia or IP awareness but through today's kids discovering it today.
That's why I get so cranky when Netflix spends time and money on an Addison Rae-fronted, gender-swapped He's All That. Folks may watch, but Netflix, of all the streamers, doesn't have to rely on "IP for the sake of IP" rehashes. Anyway, Disney's Luca logged another 372 million views on Disney+, actually rising 11% from last week's 336 million-minute "performance." It's quite clear that the "was supposed to be in theaters" Pixar gem may become a perennial favorite for Disney+ alongside Moana and (thus far) Raya and the Last Dragon. Both films logged around 145 million minutes.
Disney's Jungle Cruise plunged 48% in its third frame, logging "just" 213 million views and again suggesting that most folks who purchase a big Disney+ "Premier Access" title do so in the first two weeks. Even more than Black Widow, I'd give your left eyeball to get the post-debut Premier Access revenue for this one, as I have to think it'd be leggier than the MCU flick even though the Dwayne Johnson/Emily Blunt comic fantasy "opened" with half the Scarlett Johansson film's $60 million Premier Access debut. We're allegedly (for now) getting a sequel, so either the numbers are solid or Disney really wants a new live-action franchise and the illusion of a theaters/Disney+ success story.
Meanwhile, Beckett, a distinctly old-school "innocent man on the run" thriller starring John David Washington, debuted with a decent 335 million minutes. That's around 3.1 million views of Ferdinando Cito Filomarino's political melodrama (about a vacationing American in trouble during a time of political unrest in Greece). It's the kind of movie that in normal pre-streaming times would have been a Focus Features-released "end-of-summer thriller for adults" for Labor Day weekend, and it would have been thrilled with a $10-$15 million Wed-Mon debut. I liked it well enough for what it is, and it was mostly successful in the whole "approximating a real Hollywood studio programmer" department.
Among older "forgotten" movies, Damon Wayans' Major Payne nabbed 335 million minutes and Sandra Bullock's The Net (which is both of its time and was ahead of its time) earned 143 million minutes, both on Netflix. Finally, in a case of Netflix truly giving a bigger audience to an otherwise under-the-radar flick, The Paper Tigers nabbed 131 million minutes. Bao Tran's years-in-the-making passion project (he claims to have turned down earlier attempts to make the movie with famous white actors like Bruce Willis and Nicolas Cage in favor of the cast he desired) is a charming and enjoyable comic actioner.
The film concerns three lifelong friends who grew up as kung fu prodigies have grown into past-their-prime middle-aged men, who now reunite to investigate the mysterious death of their childhood teacher. It's neither as farcical as Mystery Team nor as grim as The Kid Detective and the 108-minute offering is an easy recommendation for kids who really liked Shang-Chi but are too young for The Protector, House of Flying Daggers or The Raid. I can't say I expect it (or Beckett) to stick around on these charts, as evidenced by their quick disappearance from the "Netflix top ten."