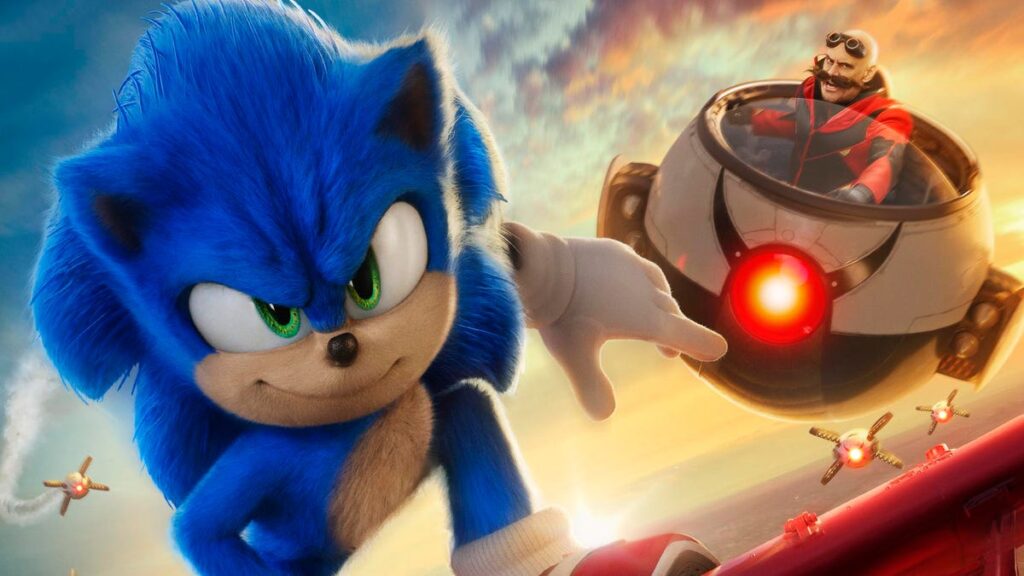 New 'Sonic The Hedgehog 2' Poster Teases Fan-Friendly Sequel
Paramount just dropped this colorful and lively first poster for Sonic the Hedgehog 2. First, kudos for not mucking up the works by calling it The Sonic Chronicles: A Fantastical Tales or Sonic the Hedgehog: Chapter 2, although the text clearly implies that they expect folks to just refer to it as "Sonic 2" (#SonicMovie2 is currently the hashtag of choice). Second, this poster is pretty lovely, offering the promise of a more source-faithful video game-based sequel whereby Sonic (Ben Schwarz) and Tails (voiced by Colleen O'Shaughnessey, who has been voicing the character in various capacities since 2014) battle Dr. Robotnik (Jim Carrey, now essentially looking like his video game-counterpart) in Mobius or wherever Robotnik ended up in the first film's mid-credits cookie.
There is something refreshingly old-fashioned about this franchise. First, against all odds (including the film being delayed from November 2019 to February 2020 to reanimate Sonic after online disapproval of the more realistic initial design), the finished film turned out to be perfectly enjoyable and refreshingly unassuming in terms of being just a solid kid-friendly adventure. Yes, there were Easter eggs and sequel-teases, but the film wasn't a glorified prequel to the sequel. Moreover, we heard little chatter about the next installment until the first Sonic film overperformed over President's Day weekend (a $70 million Fri-Mon debut), and official word of a sequel felt like a natural "reward" for a successful commercial run rather than phase two of a long-gestating do-or-die scheme.
Will Sonic the Hedgehog 2 be a breakout sequel when it opens on April 8, 2022? Maybe. Covid-specific circumstances means everything's less certain. There may be some drop-off in terms of "folks were only curious the first time." Moreover, with these kid-targeted IP franchises, it's always possible that a four-quadrant franchise-starter will produce a "just for kids" sequel, as we saw even with well-received flicks like The Secret Life of Pets, Peter Rabbit and The LEGO Movie. Still, Venom: Let There Be Carnage opened bigger and will end up pretty darn close to its predecessor's $213.5 million domestic and sans-China $585 million worldwide cume. Ditto A Quiet Place part II earning 85% of its predecessor's $188 million domestic/$341 million global cume.
Considering Sonic cost $82 million, presuming Paramount and Sega didn't overspend the second time out, it can earn less than the original's $146 million domestic and $306 million global cume and still be a hit. It's also got "added value elements" in the form of Tails and an Idris Elba-voiced Knuckles, although the "every character you love and more" approach (throwing in Krang, Bebop, Rocksteady, Baxter Stockman and Casey Jones) to Teenage Mutant Ninja Turtles: Out of the Shadows didn't work in summer 2016 partially because audiences didn't like the 2014 TMNT reboot much more than did critics. However, audiences young and old did enjoy Sonic and those with kids probably watched it a lot in the first months of Covid.
This poster is dropping in advance of the first trailer premiering during tomorrow night's The Game Awards, meaning Sonic the Hedgehog 2 is among the deluge of "big movies of 2022" trailers we're going to get in the next two weeks attached to West Side Story, Spider-Man: No Way Home, The Matrix: Resurrections and/or Sing 2. The first biggie of 2022 is, by default, Paramount's Scream on January 14, which has the disadvantage of being a fifth installment to a franchise whose third installment underwhelmed in 2000 and whose fourth installment bombed in 2011. That's not exactly a hopeful place to begin the next phase of the great theatrical recovery. We'll be holding our breath until The Batman in March and Sonic 2 in April.