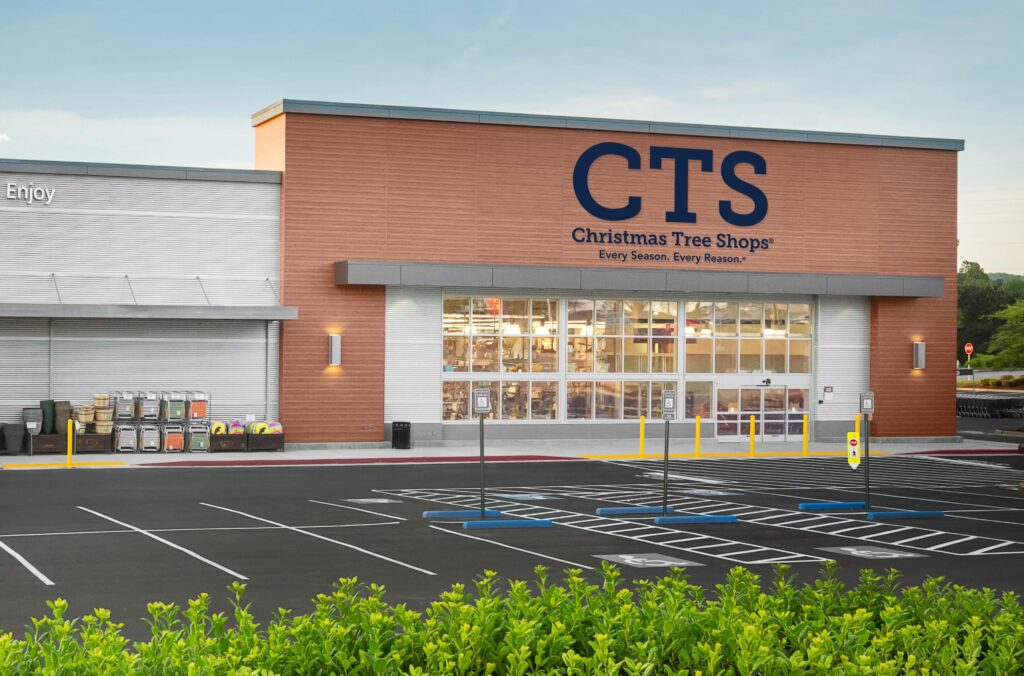 New Owners Find Christmas Tree Shops Is The Gift That Keeps On Giving
Christmas may be over it's really just getting started at Christmas Tree Shops, the specialty retailer that is in the midst of a major rebranding and remerchandising effort 15 months after it was sold to new owners and split apart from its former Bed Bath & Beyond parent company.
The 80-store chain which combines elements of off-price, dollar store and mainstream home furnishings merchandising into a hybrid format that goes far beyond its namesake holiday niche is on track to do $1 billion in annual revenue by the end of 2023, according to executive chairman Marc Salkovitz, who along with his wife Pam, CEO and president, bought the company in November, 2020.
Their company, Handil — it's a contraction of their kids' names, Hannah and Dillon — bought Christmas Tree operation for an undisclosed price as part of Bed Bath's plan to shed non-core businesses and concentrate on its nameplate brand, as well as BuyBuyBaby and Harmon Beauty. BBB has also sold off Cost Plus World Market and several smaller brands since this sale.
Bed Bath's loss appears to be the Salkovitz's gain as they worked to rebuild what he said was "unloved" under its prior ownership. "Nobody was paying attention to it.
"So, our biggest goal this year was to reintroduce a legacy business. We added 150 vendors, they hadn't added a single one in years. We had pricing on items that hadn't changed in 35 years so we went back to the value-price concept," he said, adding that the company has also doubled its distribution system over the past year.
The other big priority was to "carve out" its business from under Bed Bath where both buying and back-end operations had been fully integrated. "We're now 100% independent from them and the customer never noticed." Merchandising offices are still co-located with BBB in its Union, NJ headquarters but are run totally separate, Salkovitz said.
The new owners worked hard to invest in their acquisition, something they said was not being done before. "When private equity guys buy companies, they cut, cut, cut. We did the opposite, we didn't cut anybody and in fact we brought in additional people."
That investment is going beyond just head count and skus. Last year it tested 19 pop-up Christmas stores and plans to expand that program to 50 to 100 later this year. The 10,000-square-foot locations are within 50 miles of existing stores and feature only seasonal merchandise.
There will also be new full-line stores this year, including three in Florida, averaging 30,000 to 35,000 square feet although the Sarasota location will be larger at 45,000 square feet and will function as a defacto flagship. Plans are for 15 additional locations in 2023, primarily along the East Coast where most current stores are located.
Which brings up the issue of the retailer's name, a legacy from its Cape Cod, MA roots when in fact all it sold were Christmas goods, primarily to summer tourists. Because of its geographical history, stores in the northeast will continue to go by the full Christmas Tree Shops name but all new and existing stores elsewhere are being branded CTS. (A spin-off name under prior ownership, "And That", is being dropped completely.)
Holiday goods are, of course, only one part of its full-line stores. "We're so much more than just Christmas," he says. Food assortments have been expanded, particularly candy and it is featuring its two private labels, Petal & Stone and The Grainhouse, in a variety of merchandise classifications. About 35% of its product mix is developed internally. And the retailer continues to be an in-store-only operation with no e-commerce. That is still on the back burner for now as it concentrates on its physical locations.
All of this seems to be paying off for the new owners. "We just had the most profitable year – by double – in the company's history," Salkovitz said. "The stores and the people who work here just needed some attention and some love. We're so proud of this little baby.
"I don't think we knew it was going to be this good."