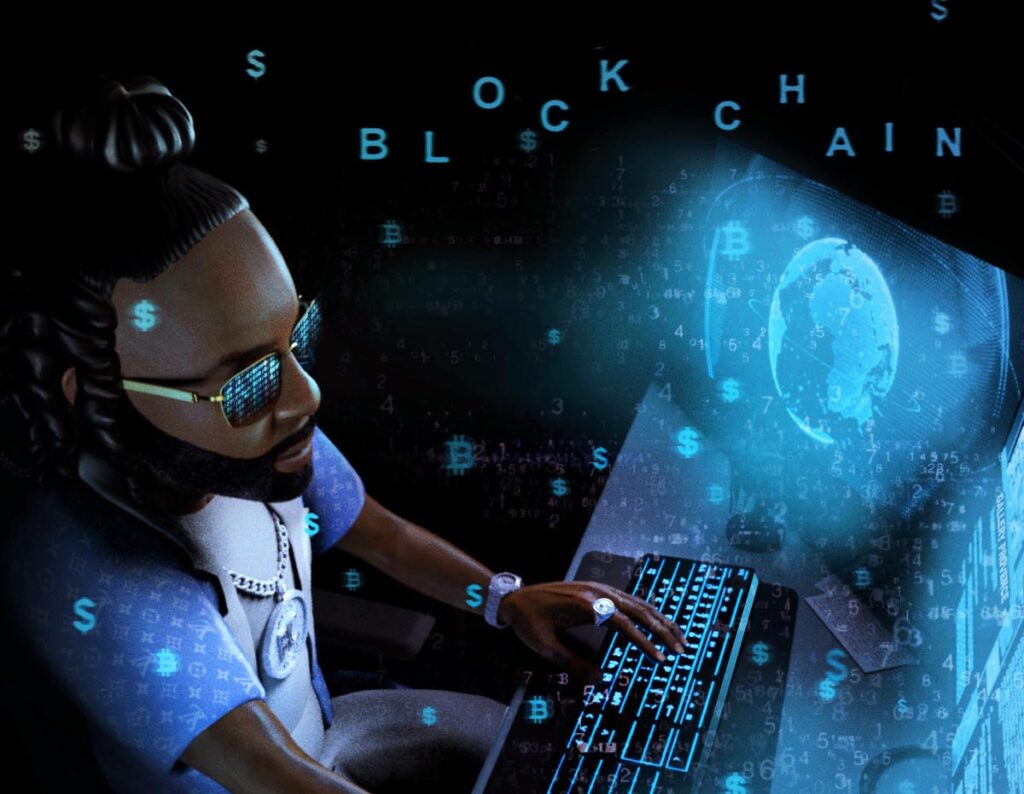 Money Man's $1 Million Bitcoin Advance Just The Beginning Of Empire's Blockchain Moves
First comes a $1 million advance paid entirely in Bitcoin. Next comes revolutionizing the way the music industry pays, and engages, artists.
Atlanta rapper Money Man, who released his new album Blockchain last month, made headlines when he became the first musician to receive his seven-figure advance for his next project in cryptocurrency, from indie label EMPIRE and its founder and CEO, Ghazi.
Around the time the two early crypto investors spoke at the Bitcoin 2021 conference, alongside the like of NFL players Russell Okung and Sean Culkin, Ghazi began connecting with companies that were using blockchain solutions for mass payments. "I was with Money Man one day and I said bro, I think we could break the Internet if we did your advance all in crypto," Ghazi says. "Ad he said, Let's do it." They used Cash App for the transaction.
But the implications are more far-reaching than a one-off promotion. The advance, and the NFT drop that accompanied the album, are more about cultural evolution, Ghazi says. "It wasn't about making a whole bunch of money. Money Man makes plenty of money. It was about the shift in culture"—both on the consumer and business side.
A second NFT drop is due out for Christmas. "We're still figuring out the utility use for it, but we're definitely doing an Empire/Black Circle/Money Man Christmas NFT drop for the holidays," Money Man teases.
Meanwhile, Ghazi is building a division of EMPIRE solely dedicated to blockchain initiatives, and the company will launch its blockchain payment solution by year's end. The move comes as other music companies are beginning to embrace crypto. Prescription Songs now offers a Bitcoin royalty payment option and Beatport recently announced it will accept payments in Bitcoin, to name two.
"The primary thing that was in my mind was I always knew in the record business we had the challenge of simple ways to pay people," Ghazi says. "It was just difficult, especially as we start to sign artists in places like Jamaica, Nigeria, Indonesia, China. It's hard to get wire information properly; there's no rhyme or reason to it."
He likens what's happening with crypto to the transition of music distribution and consumption from download to streaming—"We had a format change in music, and now we're having a format change in payments"—and says it's already changing the dynamics among Empire and its roster of current artists and potential signees.
"It's a continuity in an area where we've always been a progressive company," notes Ghazi, who says Empire was early making ACH payments to artists using a system that would send them by email notifications. "The next phase is to figure out a way to put money directly into people's wallets via crypto. When artists see us doing that type of stuff, the relationship is just so much more passionate and empowered."
The music industry is just beginning to count the ways blockchain and crypto can alter business, he adds. "It diversifies product, it diversifies payment systems. You can touch people better globally and if you can do that, you can engage creators on a whole different level. It adds a lot of resources and utility when it comes to marketing and communication, where you could use your NFTs for access to a Grammy party, access to merch."
From the artist perspective, "This is a renaissance time for artists. Let's be clear, once you step into the metaverse and the metaverse evolves fully, its going to be a lot easier to reach a lot of people and target fan bases," Money Man says.
"It's easier to get investments and do crowd-funding from your fans if you can create a type of awareness of blockchain technology. Cryptocurrency right now is all about community. You have to be in some type of community, that's what makes it work. Artists should be looking at unique ways to further their music inside the crypto space."
The drop of 500 motion NFTs—including three iterations with unique colorways—that accompanied Money Man's Blockchain release sold out in 24 hours at a price of .3e, or about $150. The first 100 purchasers received a free hoodie, the remaining 400 got 25% off the merch store, and the fixed price for all was very intentional.
"A lot of people were viewing NFTs as a lick, just to make a big bag of money and not really understanding the utility and where this is headed," Ghazi says. "We felt like if we created an NFT that had utility you could create confidence."
The NFT creation and management were handled internally by the EMPIRE team. "We didn't outsource it like a lot of artists and companies are doing. We did it on our own, in our own company we are building the entire framework so that as we scale, any EMPIRE label artist or partner that wants to do an NFT can do one and we can launch it and scale it properly and message it properly."