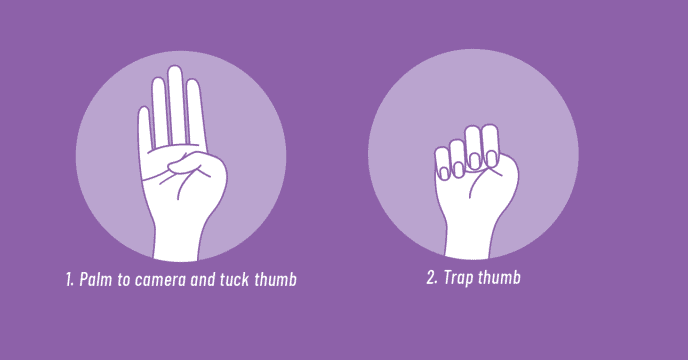 Missing Girl Is Rescued After Using Hand Signal From TikTok
Millions of people have seen videos featuring the signal on TikTok and YouTube, while organizations including the World Bank and the Women's Funding Network have promoted it since April 2020. It began as a Covid-era lifeline for women in abusive relationships, intended to be used on video calls as a signal that others should check in on them.
The Canadian Women's Foundation advises that anyone who sees the signal should not necessarily immediately call the authorities, but should instead reach out safely, if possible, to the person who used it. The signal does not correspond to anything in American Sign Language, so it relies on general awareness to be effective.
"It is a relief to hear that somebody was able to use the signal in a very dangerous situation, and that somebody knew how to respond," Andrea Gunraj, the Canadian Women's Foundation's vice president of public engagement, said in an interview on Monday.
When officials at the foundation were deciding what the signal should be, she said, they settled on a one that they believed was easy to do and would be visible on a video call.
Ms. Gunraj said that while it was encouraging that the signal was becoming more widely known, there was more outreach and public education to be done.
"We're very aware that as many as these situations that you might hear about in the news, there's going to be thousands more that will never make the news that will be shrouded in silence because they happen behind closed doors," Ms. Gunraj said.
Angeline Hartmann, a spokeswoman for the National Center for Missing and Exploited Children, said in an interview on Monday that it was remarkable to think "how many things went right in this scenario" involving the rescue of the girl in Kentucky.
"We always say it only takes one person to bring a missing child home," Ms. Hartmann said. "This was that one person, and you never know when you're going to be that one person. In this case, she made a signal, that person paid attention and a call was made."