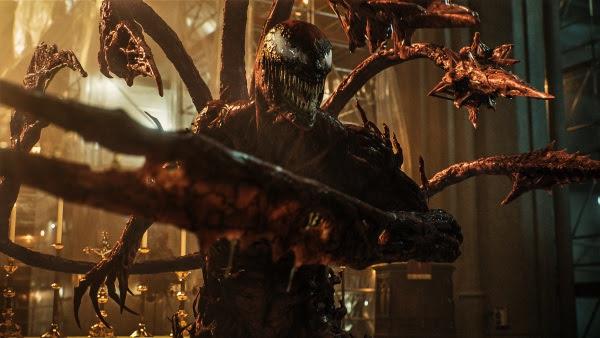 Minimum Carnage: Why Sony Never Intended 'Venom 2' To Be R-Rated
We got word this morning that Sony's Venom: Let There Be Carnage will indeed be rated PG-13. The Andy Serkis-directed sequel will apparently contain… "intense sequences of violence and action, some strong language, disturbing material, and suggestive references." For reference the first Venom flick snagged a PG-13 for "intense sequences of sci-fi violence and action, and for language." So, yeah, my two older kids (14 and 10) will be thrilled at the addition of "disturbing material" although less so at the "suggestive references" (they are oddly prudish about that). While I'm hoping to convince them to see Shang-Chi and the Legend of the Ten Rings with me this weekend (I've assured them it's closer to Aquaman than Mulan), the upcoming Venom sequel is the one they want to see. So if you're wondering why it didn't end up with an R-rating, there you go.
As we saw with the first Venom, there was chatter that this installment, which pits Tom Hardy's Eddie Brock against Woody Harrelson's Cletus Cassidy, might go for an R-rating. Sure, I suppose that tracks, as Venom is a "lethal protector" who occasionally bites the heads off of bad guys. And, yeah, the likes of Deadpool ($763 million on a $59 million budget), Deadpool 2 ($785 million, counting the PG-13 Once Upon A Deadpool, on a $110 million budget), Joker ($1.073 billion/$63 million) and Logan ($619 million/$97 million) show that an R-rated comic book flick can make top-tier box office. However, Venom's PG-13 was a smart play, as was the choice for The Meg ($530 million on a $150 million budget) to forgo an R-rating earlier that year. It allowed kids to see a film that felt just transgressive enough to make them think they were getting away with something.
Venom opened in October, alongside the R-rated and/or adult-skewing likes of The Nun, A Star Is Born, Halloween, Bohemian Rhapsody and First Man. So for those craving four-quadrant action/fantasy franchise thrills, Venom was the only game in town up until The Crimes of Grindelwald in mid-November and/or Aquaman in mid-December. In this case, going with an R-rating wouldn't have just limited the film's demographic potential, it would have made it just another R-rated movie in a sea of "restricted" studio releases. That was one issue with Birds of Prey, as the terrific Cathy Yan film opened alongside the also-R rated likes of 1917, Bad Boys For Life and The Gentleman. Yes, that's one reason the PG-rated Sonic the Hedgehog broke out a week later, as it was the first kid-targeted blockbuster since Jumanji: The Next Level and Star Wars: The Rise of Skywalker.
Venom: Let There Be Carnage was green-lit with the intention of opening last October, where it would have faced off against the usual amount of first-out-of-the-gate Oscar flicks (like Aaron Sorkin's The Trial of the Chicago 7) at least a few horror movies (Malignant, Halloween Kills and The Witches) and other not-quite-four-quadrant fare (like the older-skewing Death on the Nile) as studios wanted to give some distance between themselves and November's biggies (Eternals, Raya and the Last Dragon and Godzilla Vs. Kong). So, yeah, the plan was the same because the variables would likely be similar. Even now, the film's October 15 date puts it between Dune and No Time to Die, two possible biggies (both PG-13 of course) which may skew older. The scheduling as a four-quadrant biggie amid "movies for adults" season is part of why Venom earned $854 million worldwide.
When your PG-13 movie overcomes years of bad buzz and mixed-negative reviews to overperform in North America ($214 million off an $80 million opening weekend), China (a stunning $262 million gross) and worldwide (9.5x its $90 million budget), you don't mess with that formula for the first sequel. You make yet another PG-13 movie, especially as it was the camp and farce (rather than the grimdark elements) that made folks like the first movie in the first place. Not to pick on The Suicide Squad (which, in a sane timeline, would have at least followed well-received and commercially successful runs for Wonder Woman 1984 and The Batman), but that's a lesson for making a $185 million R-rated sequel to a $175 million PG-13 hit. The film's reception is more complicated than that, but such results wouldn't have encouraged a last-minute orgy of R-rated CGI gore.
Sony seems set on the October 15 date. We got a new theatrical poster yesterday with that release date. Furthermore, Sony took the just-vacated November 19 slot (since Top Gun: Maverick moved to May 27, 2022) not with Venom: Let There Be Carnage but with Ghostbusters: Afterlife. That means the film has about six weeks to go. It's now longer positioned as the "kick-off" flick for the post-summer season, as by default No Time to Die (September 29 overseas and October 8 in North America) now has that title. It's possible that Covid and related variables will cause Venom 2 to merely gross about what we all expected from Venom. A $350-$450 million gross on a $90 million budget would have been just fine. Either way, going with an R-rating made even less sense for the second Venom than it did for the first.