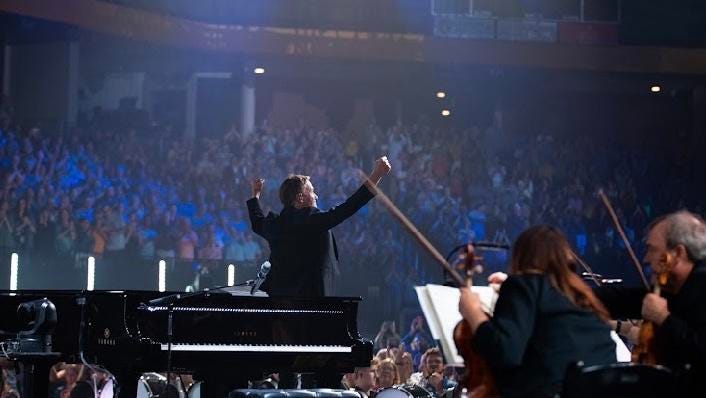 Michael W. Smith Marks 20th Anniversary Of "Worship" With New Album & TV Special
Twenty years ago, on September 11th, 2001, Michael W. Smith veered a bit from the contemporary Christian music he'd previously, to release an album full of praise and worship music. It was less the type of music people were listening to on Christian radio, and more of what is typically heard in church.
"It was the very first sort of record like that I'd ever done," Smith explains. "I'd been a worship leader at my church for 19 years, so it wasn't hard. I just tried to pick the best songs I could.
Released on 9/11, the day of the horrific terrorist attackson America, Worship went on to become his best-selling album to date. Smith, a three time GRAMMY-winner and one of Christian music's most successful artists, believes the album did so well, because it gave people hope and comfort, at a time they desperately needed it.
"I think it really became a healing record for our nation," Smith says.
This year, to mark the album's anniversary, he came up with the idea to re-record the album with the power of a full orchestra behind him. It would be called Worship Forever.
"I started to think about the 20th anniversary of 9/11 coming up and my crazy idea was, what if I went back and recorded that record, but with a completely different approach. What if I did it with a full orchestra? So, I pulled up my orchestra templates on my computer and began to experiment. And after two or three songs, I thought, I can make this work."
That new, re-imagined version of the album, recorded live in Nashville this past July, becomes available today. It's also accompanied by a TV show set to air tonight on TBN. (It premieres 8pm EST/7pm CT.)
Along with the orchestra, under the guidance of concertmaster, David Davidson and with David Hamilton as conductor, the album (and TV show) features guest appearances by Amy Grant, Tauren Wells, and Matt Redmond. Smith says the live recording went surprisingly well.
"Of all the things that could have gone wrong, you've got one shot with a lot of moving parts, a lot of people on stage, very little rehearsal time, and it was just a beautiful evening. And not only did it come off great in terms of audio-wise, but we also filmed it and it turned out extraordinary."
And he thinks people will be pleasantly surprised to hear those familiar songs with all of those different instruments added to the mix.
"When you take songs like 'Heart of Worship,' or 'Draw Me Closer,' or 'Above All,' and you've got this full orchestra at your back, I mean the hair is standing up on your neck. When you combine a worship experience with a big symphony orchestra and those arrangements, it's a beautiful thing!"
The timing of Worship Forever, which comes exactly two decades after the original album seemed to help soothe a hurting nation, is not lost on Smith. Today, when Americans are so divided, he hopes this music can help heal again.
"In the midst of not only heartache, but this pandemic, the world, Afghanistan, then there's earthquakes, floods, and Hurricane Ida, it's a little overwhelming," he says. "I think we have more in common than not and we've let things divide us. Everybody is fighting and that's not the way we're supposed to do life. So, I hope this record can maybe just kind of pull us together and help us heal."
Along with his work on Worship Forever, Smith has been busy as with an upcoming film called The Jesus Music that documents the history of Christian music. He was approached by the Erwin Brothers (Filmmakers Jon and Andrew Erwin, the two men also behind the film I Can Only Imagine), and asked if he'd join the project as Executive Producer. He's been watching it all come together through edits and revisions, and is excited about its October 1st release.
"First and foremost, this story has never really been told. I mean, we've read books about it, people have done some history on Christian music, but the whole story has never been told, especially on the big screen. And what I love about the film is it has some rawness to it. There's been a lot of drama on some level throughout these past five or six decades and the film shows the struggle. It talks about the love of God, but in the midst of all of that we're just trying to figure it out and sometimes we make mistakes. I'm glad they show the human side because that's part of life."
As he celebrates the new album and the upcoming film, Smith is also getting ready to hit the road for his fall tour. Even after more than 35 years in the business, he's constantly creating, always moving forward, and consistently working to share this music with new audiences. He says songs of faith, like those on Worship Forever can connect with people and make a difference, when words cannot.
"I still believe, and I've believed it my whole life that music is the most powerful universal language in the world. A three-and-a-half minute can change somebody's life. And that's one of my hopes for this record. I think it has the ability to draw us together."