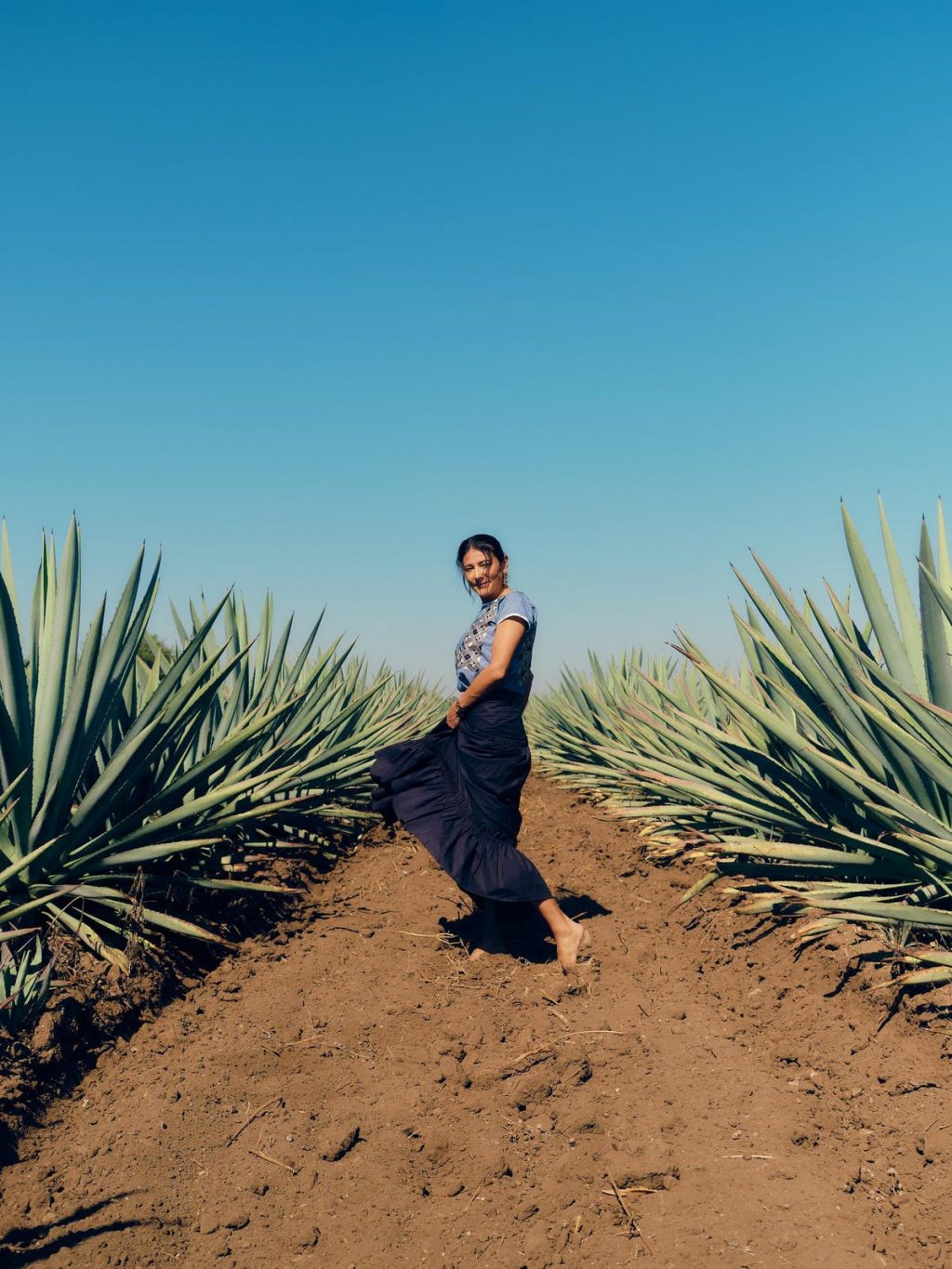 Meet The Woman Reinventing The Mexican 'Spirit'
It is the dry heat of Oaxaca that makes the agave plant species thrive here. For hundreds of years, agave was venerated by the natives bringing a tradition of extracting the heart of the plant, the piña, producing a drink they considered a gift from the gods, mezcal.
Sonya Vega, Owner and Founder of Doña Vega Mezcal is taking a new interpretation to this historic drink. "I've heard of people being turned off by mezcal, saying it's too smokey, or having a burn at first sip. They often say that they've tried mezcal before and that it's just not for them. With this, my idea was to craft a mezcal that is smooth and approachable. I wanted it to mix well in a cocktail with a smoky element, but also to be enjoyed neat and sipped all night long," says Vega.
Vega who is Mexican-American, formerly a PR executive, began what started as a passion project to create the perfect mezcal. She traveled throughout the region of Oaxaca to research and finesse a blend which became Doña Vega Mezcal. A gastronomic adventure that took going to 22 farms and trying 73 recipes across the state. After 2 years, she finally found her pairing. In the small town of Santiago Matatlán, a 5 generation run farm run by all women, a mother and her two college-educated daughters, was where she found an undeniably smooth and much more delicate Mezcal.
"The method Doña Vega mezcal adheres to is to hand-select agave found in higher altitude outside of Oaxaca. The process is entirely artisanal and organic. We mature our espadín agave plants 3-4 years longer, which is a process that gets labeled Capón. Our agaves are extra ripe, which brings a natural sweetness to its profile. This eases and softens the bite traditional mezcals have. Being all organic without added sugar, it is also much better for the health. As I like to say, mezcal is your friend in the morning."
Typically, wild-grown espadín agave plants mature at 3-4 years, while Doña Vega chooses to mature theirs between 8-9 years. "When we were testing, each producer had their own recipe. There are so many variations, maturation periods and techniques – some are matured in the ground others aren't. Then I tried what is now our variation that matured for double the time and I said, 'I can't go back now!' I took the back end hit because I thought we have to bottle this," said Vega.
The origin of mezcal is steeped in myth and often a hint of smoke. According to the city of Oaxaca, local lore claims that it was a lightning bolt that struck an agave plant sparking the fermentation process that would produce the drink. But what has remained to be a point of pride for locals among the different cities of Oaxaca, is that mezcal is known as the drink derived from the heavens, an "elixir of the gods". Historically, mezcal has been consumed in religious ceremonies and today you will often see it present at weddings and any moment of celebration.
And the global market would agree. Sales of mezcal are expected to increase nearly 18% by the end of 2022, reaching $840 million globally, according to a study by Future Market Insights. Though it's yet to equal the 17.2 million 9-liter cases of tequila sold in the U.S. last year, demand for mezcal is up and creating concerns about over harvesting agave.
With the recipe and the right partnership, Doña Vega was launched in November 2019, just pre covid. "Because of my fashion background I spent many years working with different venues, one being Soho House so I asked if I could have a launch party and that's how we got started. I then started heading to other cities, Aspen, Miami – but then everything shut down. At least I was on the shelves, so that was positive."
There is a popular Mexican saying, "For everything bad, mezcal and for everything good too."
The business of mezcal and the resilience the Oaxacan heat informs has been in Vega's blood line for years. When her grandparents in Mexico needed to make more money for the family, it was Vega's grandmother that stepped up when times were hard, "to help with family finances, they would take donkeys into town to sell the essentials of life like soap, brushes and always tequila and mezcal. It was my grandmother who really helped keep the finances afloat by making those sales."
The most traditional way to consume mezcal is room temperature with a slice of orange and mezcal salt. Doña Vega has a variety of mouth-watering seasoned salts like hibiscus mole, green jalapeño, and ginger berry, created by Mezsal Salts. But Vega also says that there are so many fresh takes to enjoy mezcal. "My favorite way to drink it is with a large ice cube, I love it cold." but cocktail bars and restaurants in the most in-vogue cities across America are inventing new interpretations for this upgraded mezcal.
"Casa Tua has a cocktail with our mezcal that is based with ginger and mint that is delicious."
"The other one I love is from LPM, this bartender created a drink that came to him in a dream after trying the mezcal. It's called a French Paloma, brioche bread is infused with mezcal, clementine, and sauternes. It's so refreshing and such a creative take."
It is the terroir of Oaxaca that has created a uniquely flavored and incredibly varied spirit thanks to the land, vast biodiversity, and traditional methods that are now inspiring cocktails around the country. The renaissance of mezcal has been felt, but what is new is the more approachable fresh take to the Mexican spirit.