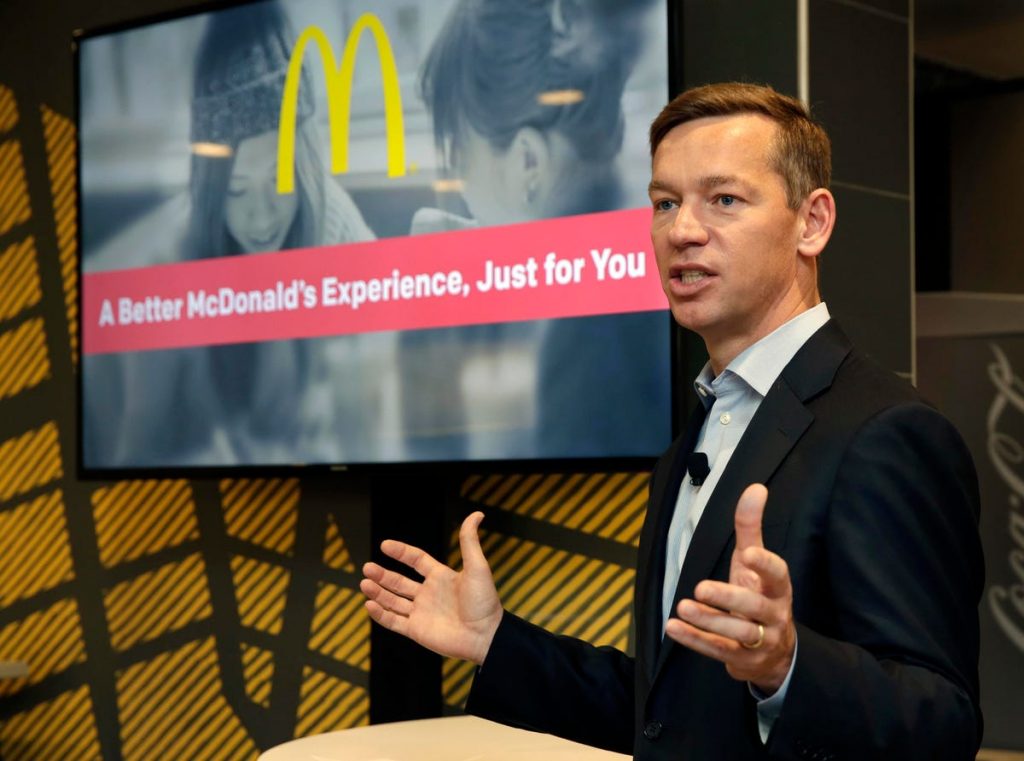 McDonald's CEO Faces Tall Task In Rebuilding Trust With Black, Brown Communities
Jim Byrd, a Black McDonald's Corp. franchisee in Memphis, TN, said he was saddened by recently unearthed text messages from McDonald's President and CEO Chris Kempczinski, which appeared to criticize the parents of children killed in two Chicago shootings earlier this year.
The 32-year franchisee said he felt Kempczinski's comments—sent in an April text exchange with Chicago Mayor Lori Lightfoot and made public last week—seem to run counter to the company's diversity, equity and inclusion pledges that came in the wake of the killing of George Floyd.
"I've got three daughters. I have a grandson. I have a number of Black employees," said Byrd. "And with the reset that McDonald's has said they were doing, it was just shocking to me as a Black man in America to hear it."
Kempczinski's April 19 exchange with Lightfoot came following the spring shooting deaths of 13-year-old Adam Toledo, a Latino boy, and 7-year-old Jaslyn Adams, a Black girl shot at a McDonald's property. Kempczinski wrote: "With both, the parents failed those kids which I know is something you can't say. Even harder to fix."
He later apologized.
Kempczinski's comments have become public at a time when the fast-food restaurant is facing lawsuits from Black franchisees who allege McDonald's steered them into owning underperforming stores, among other allegations. It's also been vilified for targeting Black consumers with products that contribute to obesity, diabetes and other health problems.
McDonald's has long had various initiatives aimed at engendering trust with Black and Brown communities. But Kempczinski's remarks could diminish trust and prompt those communities to question the company's sincerity, according to current and former franchisees, marketing experts and historians.
"It makes me skeptical about everything they're trying to do," said Aronte Bennett, associate dean of diversity, equity and inclusion at the Villanova University School of Business. "It's scapegoating the exact same people it built its franchise upon."
Bennet said Kempczinski's remarks were problematic because they blame the victims' parents without consideration of other societal factors such as access to firearms.
McDonald's declined to comment for this article.
McDonald's has long targeted Black consumers, including in the 1970s when it ran ads that encouraged them to "Do Your Dinnertimin'" at the restaurant. More recently, it expressed solidarity with Black America in June 2020 with its "They were one of us" statement and has collaborated with Black celebrities including Saweetie and Travis Scott for its Famous Orders campaign.
Since the killing of George Floyd, the company has announced several spending commitments and partnerships aimed at removing growth barriers for what it calls diverse-owned companies. They include increasing its ad spend with Black-owned media companies from 2% of its national budget to 5% over the next four years and increasing spending with diverse-owned suppliers by nearly 10% by 2025.
The company has also tied executive compensation to DEI goals.
Critics say such efforts don't always translate to positive actions on the ground. Last year, 77 former Black franchise operators sued the company for steering them into underperforming stores, among other allegations.
Byrd, the Memphis-based franchisee, is part of a separate lawsuit with similar allegations. He said he couldn't comment further on the company because of the litigation. McDonalds is defending itself against the allegations in both suits.
Van Jakes, a Black former franchisee, said the company promotes itself as a champion of Black culture and advancement, but the CEO's remarks belie that message. Jakes, who operated stores in Atlanta from 1991 to 2016, said it's a problem that Kempczinski felt comfortable making those remarks, which stereotype people of color.
In a video sent Saturday to McDonald's employees, suppliers and franchisees and obtained by Forbes, Kempczinski expressed remorse to the families of the victims.
"Part of what I feel so badly about is that my comments have compounded the grief that Adam Toledo's family and Jaslyn Adams' family have already experienced," he said. "And I have reached out to those families, and I hope to have the opportunity to sit down with them in person and apologize."
It can be difficult to win back trust from Black and Brown communities after comments that can be deemed racist, said Cassandra Newby-Alexander, who specializes in African-American history at Norfolk State University. But it can help for leaders to embark on a sincere journey of education about race issues.
"These corporate leaders are culturally and intellectually unaware of embedded racism in our society," Newby-Alexander said. "And they need to learn. They need more knowledge. They need more than a workshop."