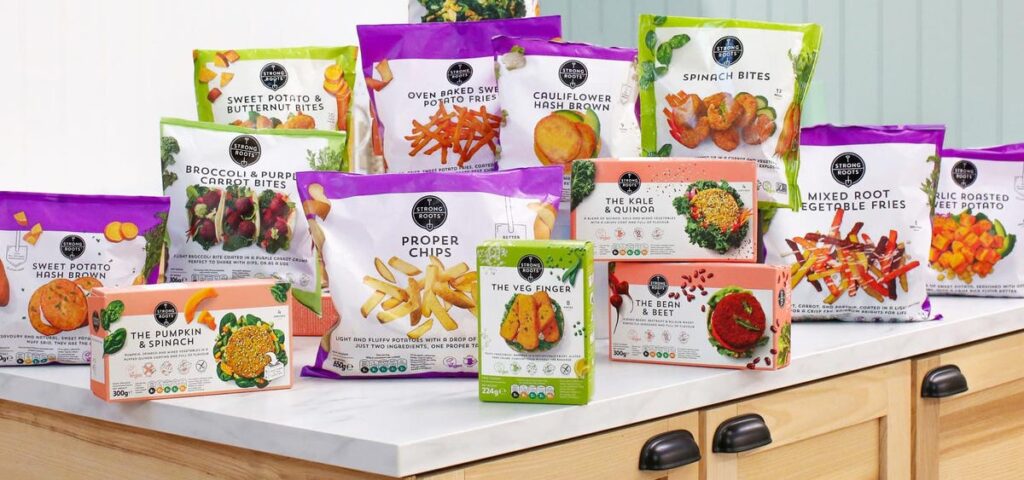 McCain Foods Invests $55 Million In Plant-Based Startup Strong Roots
Strong Roots, the Irish plant-based frozen foods startup that is seeking to become a global brand, has sold a minority stake in the company to frozen food giant McCain Foods for $55 million.
Strong Roots will continue to operate independently, but the deal gives it access to the supply chain and worldwide distribution networks of one of the largest frozen food brands.
McCain Foods, in turn, gains another foothold in the fast-growing plant-based and meat-substitute frozen category, and adds a sustainability-focused brand to its portfolio.
In the United States, sales of plant-based foods grew 27% in 2020, according to the Plant-Based Foods Association.
McCain's previous investments in plant-based and sustainable food brands include The Simple Root, a producer of dairy alternative brands; Simulate, a plant-based chicken nugget alternative; and GoodLeaf Farms, an indoor vertical farming company.
The investment "helps us grow our portfolio of healthier food that meets changing consumer demands in a sustainable way," said Max Koeune, president and CEO of McCain Foods.
Strong Roots this year was awarded B Corp certification for its environmental and social efforts.
McCain, according to Strong Roots Founder Samuel Dennigan, was "the obvious choice" for investment partner. McCain, Dennigan said, not only can "leverage manufacturing, supply chain," but also brings "a huge amount of R&D potential that could work incredibly well with our brand." The partnership, he said, will help his company "achieve our ultimate goal of turning Strong Roots into a global household brand name, which has been our objective since the start."
"When you look at their footprint across every major continent and market and retailer and food service and QSR, who better to try and realize our goals than someone who's already built one of the best systems around as one of the biggest food companies in the world," Dennigan said.
Strong Roots sells veggie burgers, snacks, and side dishes such as Cauliflower Hash Browns, Kale and Quinoa Burgers, Mixed Root Vegetable Fries, and Broccoli and Purple Carrot Bites.
The company was born in Ireland in 2015, with Dennigan aiming to create a company that would create healthier, plant-based frozen foods with simple, natural ingredients.
The company opened a U.S. office in Manhattan in early 2020.
Strong Roots did not disclose the size of the stake McCain received for its $55 million investment, but the partnership comes following the exit of the previous investor, U.S. private equity firm Goode Partners, which held a 38% stake in the company. Goode Partners initially invested $18 million in 2019 to fund the U.S. expansion, but had what Dennigan described as "a successful exit". That exit followed a court dispute in Ireland over control of the company.
The McCain's partnership was proposed as Strong Roots was preparing to embark on a second round of funding, with interest from two dozen potential investors.
After three or four in-depth conversations with McCain executives it was clear they were the right match, Dennigan said.
"When we shared our goals of what we wanted to achieve, it was very clear that they were completely aligned," said Dennigan. "The work that we wanted to continue doing in sustainability in food and the improvement of food systems, ultimately that's what they're trying to do within their organization, obviously from a much bigger base," he said.
Strong Roots also "wanted to remain as a challenger brand and ensure that we could maintain our voice, personality, and do things the way we wanted to do them," and the deal allows that, Dennigan said.
Koeune of McCain Foods called it a partnership "built on mutual admiration and a shared vision for growth."
"We also know that collaborations like this are critical in the drive to produce our food more sustainably and to lessen the impacts of climate change. To be truly successful we must seek out like-minded partners and that's exactly what we have found with the Strong Roots Team," Koeune said.
McCain's executives will sit on the Strong Roots board.
McCain Foods was founded by the McCain family in Canada in 1957. It is the world's largest manufacturer of frozen french fries and other frozen potato products. It also sells appetizers, vegetables and desserts and sells to restaurants and stores in more than 160 countries.
Dennigan said he shared news the Strong Roots staff prior to today's announcement "and it was met with huge excitement. Everyone understands what a fit it is," he said.