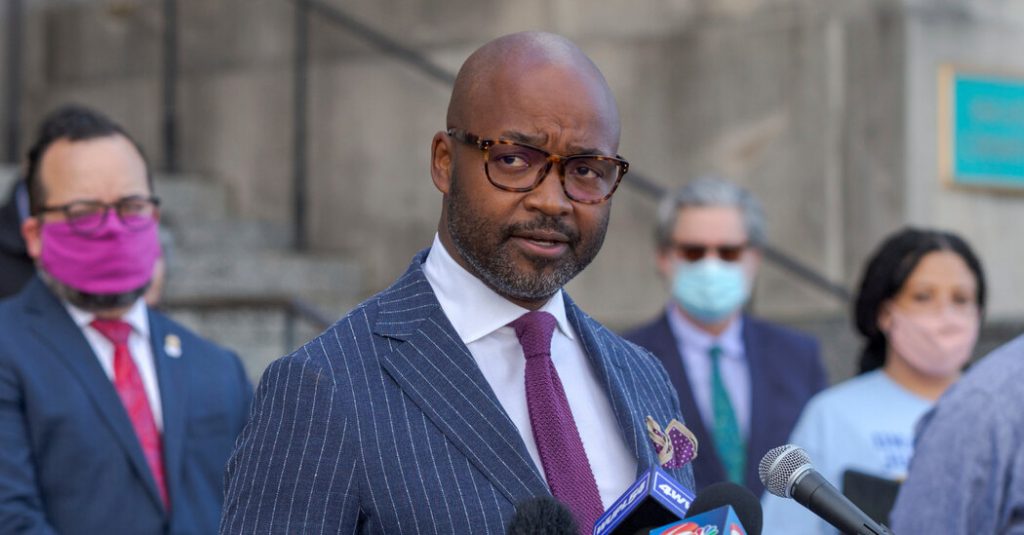 Louisiana Inmates Who Were Promised a Chance at Parole May Be Released
For dozens of Louisiana's oldest and longest-serving inmates, the choice could not have been more stark: Risk getting sent to the electric chair for rape or murder, or sign a plea agreement that carried a life sentence.
In 10 years and six months, they were told, they would be eligible for parole.
It was the law — until it wasn't. In the 1970s, the state raised the parole eligibility requirement to 20 years, and then to 40 years. And by 1979, the chance of parole was gone altogether.
Now, five decades later, many of those languishing inmates are well into their 70s or 80s, and for some, their release is imminent.
The plight of the inmates, most of whom are Black and are known as "10-6 lifers," drew the attention of Jason Williams, the first-year district attorney for New Orleans.
Mr. Williams's office said it had recommended the release of two Black men who had each served more than 50 years in prison and was working toward what it called post-conviction plea agreements with two additional men. The office also confirmed that its prosecutors would review the cases of about 14 other inmates from New Orleans who were in similar predicaments.
In an interview on Wednesday, Mr. Williams said reneging on the parole terms was "just one example in a very long line of a betrayal of promises to Black folks in this country."
"Every word in a plea deal is as important as a contract when you're buying a house or a car," he continued. "The promises made to these men were absolutely broken by the state."
The four inmates are among at least 60 of the 10-6 lifers statewide who are still in prison, according to advocates for criminal justice reform.
Mr. Williams, a Democrat and former criminal defense lawyer who is Black, pointed out that he had created a civil rights division in the district attorney's office whose focus has included the cases of the 10-6 lifers.
"When these folks went to prison, Lyndon B. Johnson was president and no man had walked on the moon," he said. "Lo and behold, everything changes while they're behind prison doors."
Next week, a criminal district court judge in New Orleans will review the post-conviction plea agreements for Louis Mitchell and Leroy Grippen, two of Louisiana's longest-serving inmates. If the judge approves them, both men could be released soon thereafter.
"If they would have known that they would have been in prison for the rest of their life, I don't think any of these people would have pled guilty," Jane Hogan, a lawyer for Mr. Mitchell and Mr. Grippen, said in an interview on Wednesday.
The post-conviction plea agreements were reported earlier by Nola.com, which also detailed that Gov. John Bel Edwards of Louisiana, a Democrat, had separately granted clemency last month to the state's longest-serving female inmate. The woman, Gloria Williams, 76, convicted of murder in 1971, is considered a 10-6 lifer. Ms. Williams, who is Black, still faces a parole hearing in December.
In an email on Thursday, a spokeswoman for Mr. Edwards confirmed that the governor had granted Ms. Williams clemency and said that a parole panel would take up her application.
Mr. Mitchell, now 74, was 19 years old when he was arrested on two counts of aggravated rape in 1966 — the women were white, according to Ms. Hogan. At the time, a person convicted of rape could receive the death penalty, a punishment later outlawed by the U.S. Supreme Court. Mr. Mitchell has served 55 years in prison.
When faced with "death by the electric chair and being out within 10 and a half years, he chose the lesser of two evils," Ms. Hogan said.
Mr. Grippen, 73, pleaded guilty in 1970 to one count of aggravated rape that carried a life sentence and two counts of armed robbery, for which he was sentenced to two 25-year sentences to run concurrently, according to Ms. Hogan. Under the laws at the time, he would have been eligible for release after 23 years. Both Mr. Grippen's mother and sister have died since he went to prison 51 years ago.
"He's got really no one," Ms. Hogan, who was hired by the Louisiana Parole Project to represent Mr. Grippen and Mr. Mitchell, said on Thursday.
Andrew Hundley, the Parole Project's executive director, had been sentenced to life in prison without parole for second-degree murder when he was 15. He served 19 years but was paroled in 2016 after the Supreme Court ruled that a ban on life-without-parole sentences for juvenile killers should be applied retroactively.
In an interview on Wednesday, Mr. Hundley said that the cost of keeping 10-6 lifers incarcerated was particularly high because of the age of the inmates, who he added would pose a low risk if released.
"It's the most glaring justice inequity in Louisiana prisons," Mr. Hundley said, "the individuals who have been in prison the longest that have had the goal posts moved on them."
Mr. Hundley pointed out that about 80 percent of so-called 10-6 lifers and 70 percent of all inmates serving life sentences in Louisiana are Black.
"There's no escaping that there is a significant racial justice issue that is in front of us," he said, adding that the Parole Project would provide housing, social services and additional support to inmates who are released.
Burk Foster, a former longtime criminal justice professor at the University of Louisiana at Lafayette who has studied the history of the Louisiana prison system extensively, said on Wednesday that the state really didn't have different levels of punishment for rape and murder in the late 1960s and early 1970s. It became a risk-benefit calculation, he said, between the death penalty and a chance at probation after a decade.
"So that was a pretty good selling point for somebody who was charged with a capital crime at the time," he said.
Mr. Williams, the New Orleans district attorney, said he wasn't downplaying the gravity of crimes in the cases.
"These are serious offenses," he said. "I'm not suggesting they're not."
Those inmates who were promised they would be eligible for parole, he said, were mostly ignored as the state changed its laws.
"Just like Joseph Stalin in Russia would change men's sentences while they were serving time," he said, "that's sort of what happened here in our state."