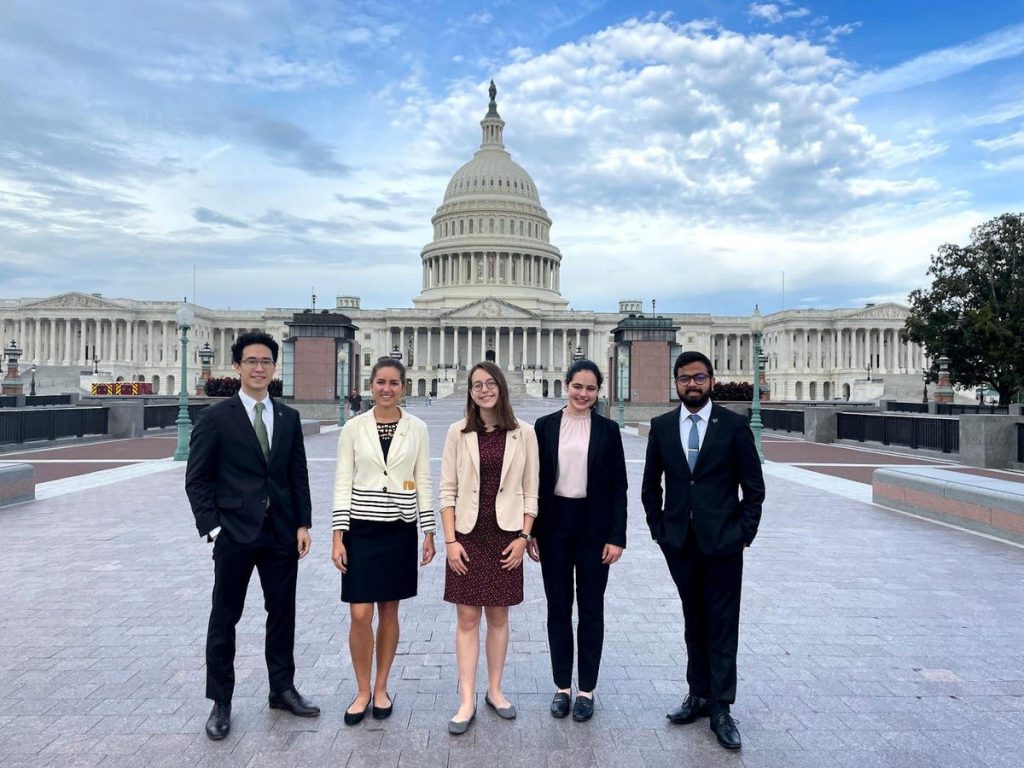 Looking Beyond The Ballot Box: A Holistic View Of Nonpartisan Democratic Engagement
College students across the country blew all previous records by voting in even higher numbers in the 2020 election. 66 percent of eligible college students voted—a fourteen percent increase from the previous Presidential election in 2016—per the Institute of Democracy & Higher Education at Tufts University. This is a testament to the year round efforts put in by student organizers on college campuses around the country towards nonpartisan democratic engagement.
At Carnegie Mellon University in Pittsburgh, these include the Graduate Student Assembly (GSA). The GSA, through its External Affairs Committee, works to elevate the issues and concerns that are important to students at Carnegie Mellon, and ensure our constituents hear how the candidates plan to address them. For example, in every election, we reach out to all candidates with questionnaires geared towards student-specific issues and share their in-depth responses with students to help them cast an educated vote. Not only has this practice been lauded by the students—who feel that their concerns are not covered by the media—but also by the candidates themselves. Such nonpartisan advocacy is crucial to our efforts in improving voter engagement on our campus.
But nonpartisan democratic engagement is much broader than voter registration, education, and turnout. Just last month, students from CMU went to Capitol Hill to advocate for several policies that would dramatically improve the way we do science in America. Amongst these students were Hannah Morin and Katie Jordan, two CMU PhD students for whom this was the first time interacting with policymakers. Both Hannah and Katie led several meetings, including with senior staff on the House and Senate Committees dealing with immigration, higher education, and science issues. And they are continuing this engagement with these Congressional offices, helping influence policymaking at the highest level. Nonpartisan democratic engagement such as this would likely set them on a future course for civic engagement and advocacy at CMU and in their communities.
Carnegie Mellon graduate students during their advocacy visit on Capitol Hill on October 1, 2021. Photo: CMU Graduate Student Assembly.
The GSA at Carnegie Mellon has been advocating for students at levels of government for years. We have filed Amicus Briefs in lawsuits impacting our students, hosted research showcases on Capitol Hill to build a bridge between researchers and policymakers, advocated for policies to improve higher education, and helped highlight student experiences in Congressional hearings. Many of these efforts have even been highlighted by several media outlets. But what's crucial is that we do so in a nonpartisan manner. By engaging in nonpartisan political advocacy, we have voiced our views on issues that impact not just the students but also our campus community at-large. And these issues are certainly on the ballot every year as we elect representatives who can enact change.
Last month, in a town hall with the Democratic nominee for the Mayor of Pittsburgh, State Representative Ed Gainey, I asked what the City could do to help fight collegiate food insecurity. A recent University of Pittsburgh report had found close to 30 percent of college students in southwestern Pennsylvania face moderate to severe levels of food insecurity (rates higher than even children and the elderly), but as State Representative Gainey pointed out, elected officials like himself are not aware that the situation is this dire.
The point of that question was not to get an immediate policy response but to raise awareness about the issue.
And beyond raising awareness on such issues, the GSA and Carnegie Mellon students have advocated to improve access to the ballot box, not just for ourselves but also for the broader Pittsburgh community. Last year, in a moment of dire need for poll workers, 50 CMU graduate students signed up to be poll workers, helping keep multiple polling locations open in Allegheny County. The importance of these students stepping up to fill this void was highlighted by Allegheny County Councilperson at-large and Board of Elections Member Bethany Hallam who said, "It's so inspiring to see the number of university students getting involved in the poll worker process. Especially in the midst of a global pandemic when so many of our usual elderly or immunocompromised poll workers are unable to take the risk of being in public, Allegheny County is so lucky to have students stepping up to fill this crucial role in preserving our democracy." This work was made possible by a grant from the Students Learn Students Vote Coalition.
These students helped ensure the people of Allegheny County, regardless of their political affiliation, were able to cast their votes in the Presidential election last year. Many of these students are staying on as poll workers this year, and many new students have signed up to be poll workers as well. In addition to these, hundreds of students signed up to vote over the last two years. And some of these students have cast their first vote in the municipal and judicial elections in Pennsylvania this year.
Carnegie Mellon graduate students with Rep. Conor Lamb (PA-17) at a research showcase held on Capitol Hill in August 2019. Photo: CMU Graduate Student Assembly.
But this work is not just happening at Carnegie Mellon. In fact, it is happening at numerous campuses across the country. Collectively, student governments representing over 800,000 students across the country have been pushing Congress and the executive branch to enact bold legislation on issues impacting our generation. Whether it's about pushing for a pathway to citizenship for our undocumented students or improving voting access or enacting policies to combat climate change or serving as election poll workers, our students are standing up to be the most fervent proponents of democracy and increasing access to our democratic institutions.
Establishing a culture of civic engagement on college campuses requires sustained organizing efforts and an engaged student body. So as we work towards realizing our aspirations of a 100 percent student voter registration and turnout, it is crucial that we adopt a holistic approach to nonpartisan democratic engagement that extends beyond the ballot box.
More than 830 colleges and universities currently participate in the ALL IN Campus Democracy Challenge, including Carnegie Mellon University. Learn more about the Challenge and donate to advance our work here.