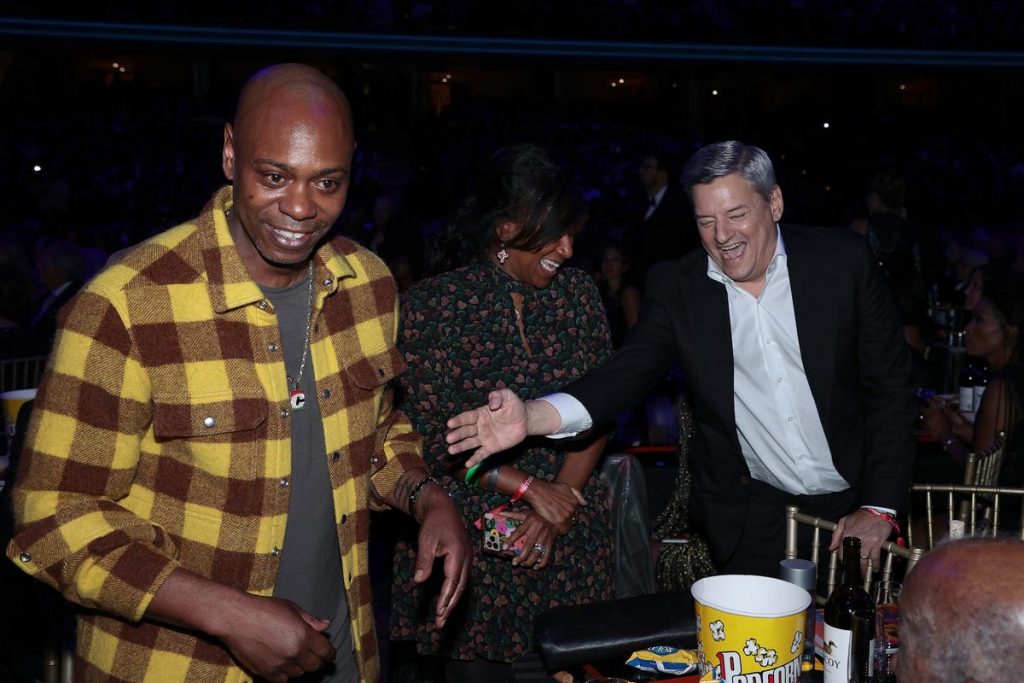 Life Goes On For Chappelle, Netflix, As 2 More Trans Women Killed
"Welcome to Ohio to all the inductees. I would like to apologize," said comedian Dave Chappelle on Saturday, apparently in reference to the controversy that has embroiled the stand-up comic and Netflix because of his jokes about transgender people. These were his first words, according to Rolling Stone, as he prepared to induct Jay-Z into the Rock & Roll Hall of Fame.
Chappelle paused, then, reports say, he continued: "Nah, I'm just fucking with y'all."
As the audience laughed, the LGBTQ community looked through tears at news of the latest killings of transgender Americans, in an already deadly year: Two more women, at least the 42nd and 43rd trans people to lose their lives in 2021 because of who they are. This year's death toll outpaces 2020, which set a record.
Chappelle's Netflix special, which has been widely condemned as transphobic, has led to worldwide headlines, a "non-apology" apology and a public demonstration criticizing the company, as Forbes.com's Jack Kelly reported.
In a public show of support, Netflix co-CEO Ted Sarandos shook Chappelle's hand at the 36th annual introduction ceremony and also appeared in photographs with Chappelle at Rocket Mortgage Fieldhouse in Cleveland, Ohio. He was seen candidly laughing at the comedian during a conversation, according to the Daily Mail.
There were no jokes, or comments, however, about the lawsuit filed by two Netflix employees at the heart of the Chappelle controversy. The National Labor Relations Board is reportedly investigating their "unfair labor charge."
TheVerge.com reports the two claim the streaming giant retaliated against them for engaging in protected activity. B. Pagels-Minor, a Black transgender program manager, was fired while organizing the Oct. 20 walkout in response to Netflix's support of Chappelle's comedy special, The Closer. Netflix said it fired Pagels-Minor, who is at least 35 weeks pregnant, for allegedly leaking confidential information—a charge they have categorically denied.
"I want my child to grow up in a world where they see that their parent, a Black, trans person—because I exist, contrary to what the special says, contrary to what many people say—that I'm valued, and I'm an important person," Pagels-Minor told demonstrators outside Netflix headquarters at the walkout.
The other employee, Terra Field, a trans software engineer, was suspended after posting a Twitter thread about the issue that subsequently went viral. Netflix later said Field wasn't suspended for that, but for allegedly crashing a virtual meeting along with other supposedly uninvited employees, and following its own investigation, cleared Field and the others, but did not reverse its termination of Pagels-Minor.
Field continues to be active on social media:
This past week, Field spoke publicly for the first time, on the record, alongside Pagels-Minor, when they joined trans journalist Katelyn Burns and trans nonbinary journalist Oliver Ash-Kleine on their podcast, Cancel Me Daddy:
"It's hard for me to believe that the company that I was so sold on can be this malicious," said Pagels-Minor to the podcast hosts.
"I was cleared of any wrongdoing internally," said Field about the suspension, "but that was after the company had gone to the media. There was the Variety article, that kind of characterized me as sounding like I was some kind of radical trans activist, kicking down a boardroom door, barging into meetings and whatever. I couldn't even participate in the meeting, all I could do was listen." You can hear the full interview on Spotify, Apple Podcasts and wherever you find the Cancel Me Daddy podcast.
Field has applied for medical leave from Netflix, and has been both doxxed and targeted with death threats deemed credible. "This is what happens with trans people," Field told The Verge. "We're tolerated as long as we're quiet, but if we speak up we get harassed. It has been a really stressful few weeks, but I intend to keep fighting for our community."
As for Pagels-Minor, the highest priority is a baby on the way. "As a high-risk pregnancy, I have to be careful. We don't even know what our health insurance situation is, and we are scheduled to be in a hospital having a baby in less than 30 days."
So far, there's been no response from Netflix to demands by its transgender employees, to invest in trans creators and to change its internal policies on commissioning potentially harmful content. Sarandos has walked back previous claims that "content on screen doesn't directly translate to real-world harm." For his part, Chappelle has said he'd be willing to meet with trans employees at Netflix, under certain bizarre conditions:
"First of all, you cannot come if you have not watched my special from beginning to end," he said in a video posted last week to Instagram. "You must come to a place of my choosing, at a time of my choosing. And thirdly, you must admit that Hannah Gadsby is not funny." Gadsby recently criticized Sarandos and Chappelle on her own Instagram, as reported by The Hollywood Reporter.
And as all this controversy generates headlines and tweets and Instagram posts, there are two more names to be read at November's Trans Day of Remembrance: Jo Acker was a white 26-year-old transgender woman who was killed in Boise, Idaho on October 26. According to the Human Rights Campaign, Acker's family said she ran toward the gunman in a tragic shooting at Boise Towne Square mall while working security. Her family called her "a hero" and "the type of person that always wanted to help people."
The body of Jessi Hart, a white 42-year-old transgender woman, was found in Banks, Ore. on Oct. 17. As PGHLesbian.com reported, Hart and her teenaged son, Caleb, had been living in her car. Authorities believe she had been killed two weeks prior to the discovery of her body.
"As transgender people, we often face so many challenges and uncertainties, including housing and employment security," said Tori Cooper, HRC Director of Community Engagement for the Transgender Justice Initiative. "Sadly, these situations can lead to greatly unfortunate outcomes. My heart and that of the community goes out to her son, Caleb."