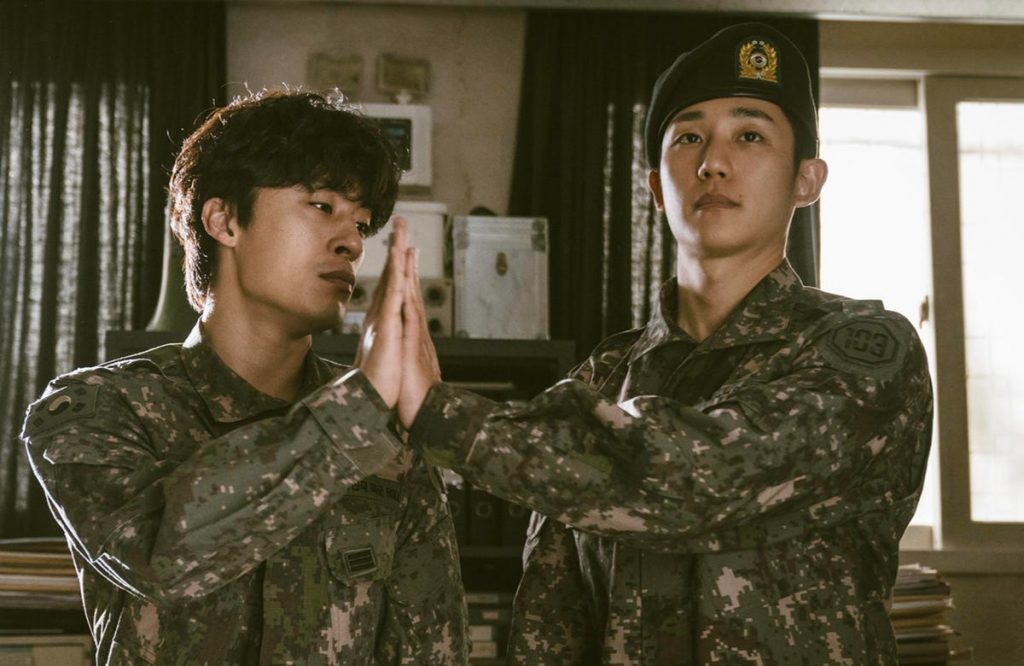 Korean Drama 'D.P.' Examines The High Cost Of Military Hazing
Soldiers in the Korean drama D.P. chant "train like its battle"as they crawl through the mud with their rifles. But the sit-ups and squats required for military training are easier to endure than the vicious harassment that sometimes takes place behind closed doors. While such hazing is carried out in the name of establishing military discipline, the drama portrays incidents so extreme that some soldiers desert or commit suicide.
Ahn Joon-ho, played by Jung Hae-in, is a new soldier in the drama D.P. He's no pushover. Joon-ho knew how to stand up for himself before starting the mandatory military service required of all South Korean males, ages 18 to 28. Long alienated from his family and his abusive father, Joon-ho knows how to fight for what he needs. As a private in the army, he does everything that's required of him, but that does not protect him from hazing.
When given the option of joining the military police, hunting down deserters, he jumps at the chance to get out of the barracks where almost everyone is treated badly. His experience with both abuse and hazing helps him empathize with the reasons some soldiers run away. Joon-ho is quiet, obeys orders, and keeps his eyes downcast, but he has limited tolerance for injustice.
Joon-ho is first assigned to work alongside a superior officer, played by Go Kyung-po, who parties while he should be chasing deserters. Then he's matched up with Corporal Han Ho-yul, played by Koo Kyo-hwan. Ho-yul is easier to get along with and the two make an efficient team, but Joon-ho's sense of justice is not so easy to suppress.
The Netflix NFLX drama is based on the webtoon D.P: Dog Days, written by Kim Bo-tong and Han Jun-hee. Kim and Han collaborated on the script. Han, who is best known for directing the hit film Coin Locker Girl, directed the drama.
D.P. also stars Kim Sung-kyun, Son Seok-koo and Lee Jun-young. Jung appeared in the film Tune In For Love and the popular TV dramas Something In The Rain and One Spring Night. Koo, who produced the film Maggie, also appeared as an actor in the zombie film Peninsula.