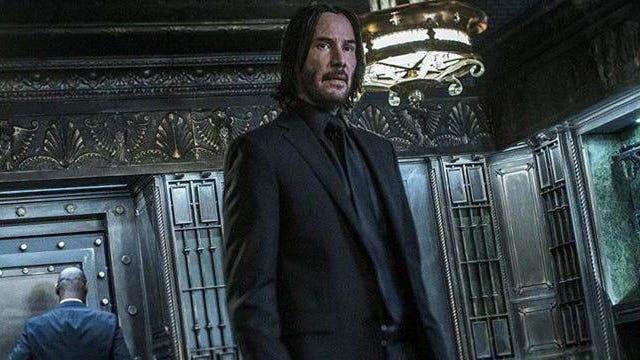 Keanu Reeves' 'John Wick 4' Blinks And Moves To March 2023
While we wait to see how well The Matrix Resurrections is performing on its first day in domestic theaters, Lionsgate dropped this cute announcement video concerning the new release date for the other "part-four" installment of the other R-rated Keanu Reeves action franchise.
John Wick: Chapter 4 was supposed to open May 27, or Memorial Day weekend, but then Paramount moved Tom Cruise's Top Gun: Maverick to that same holiday weekend. Without getting into winners and losers, it was silly for both real world action franchises to open concurrently, so Lionsgate (to its credit) just shifted John Wick: Chapter 4 to March 24, 2023.
That's the same date where Lionsgate launched The Hunger Games in 2012 to a non-sequel-record $152 million domestic debut weekend on the way to $409 million domestic/$695 million worldwide. It's the same date where they launched Power Rangers in 2017.
The film didn't click globally, but they did parlay buzz, fandom and mixed reviews (I liked it a lot more than I expected considering I was never a Power Rangers fan) into a $40 million opening weekend. Even with an A+ from the under-18 crowd, the $100 million flatlined and ended up with $85 million domestic and $140 million worldwide.
Batman v Superman opened on this weekend in 2016 with $166 million domestic and $424 million worldwide on the way to a $330 million/$873 million cume. This isn't some cast-off date, even if I am surprised that it's not being kept in 2022 . I'm not thrilled about the four-year gap between installments in terms of continuing the shockingly large upward trajectory for the franchise.
Even if the series may have peaked domestically with John Wick: Chapter 3 ($173 million from a $56 million debut in May 2019), the hope was that it would soar overseas compared to its current 50/50 split. John Wick earned $43 million domestic and $88 million in 2014, while Chapter 2 earned $92 million/$171 million in 2017 and Chapter 3 earned $173 million/$322 million in 2019.
It remains possible that Chapter 4 would follow in the footsteps of the fourth installments of Fast & Furious ($155 million/$360 million, Mission: Impossible – Ghost Protocol ($209 million/$695 million) and Jason Bourne ($162 million/$415 million) and just soar overseas on the fourth try. That's why they had to get away from Top Gun: Maverick. Frankly I would have bet on Wick domestically, but not outside of North America or globally.
March is already among the more crowded months of 2023. John Wick: Chapter 4, again directed by Chad Stahelski and again starring Reeves as the world's deadliest assassin, will now open right between Warner Bros.' Timothée Chalamet-starring Wonka prequel on March 17 and Paramount's spin-off and/or sequel to A Quiet Place on March 31. Of note, March 4 will see the release of Paramount's ensemble Dungeons and Dragons movie, starring Chris Pine, Michelle Rodriguez, Justice Smith, Regé-Jean Page, Hugh Grant, Sophia Lillis and Chloe Coleman.
The Wick pic co-stars Donnie Yen, Scott Adkins, Hiroyuki Sanada, Bill Skarsgård, Shamier Anderson and Clancy Brown. Alas, we'll have to wait almost an entire year for John Wick: Chapter 4, a film that in a non-Covid world would likely have opened this past summer.