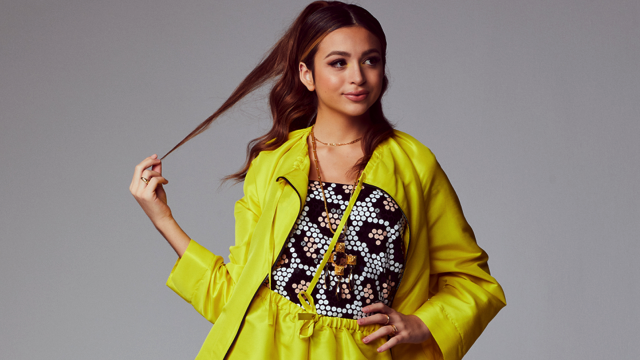 Josie Totah Brings Her Modern Voice To 'Saved By The Bell' On Peacock
You more than likely know the name of the show, but these days, Saved By The Bell is drawing in not only nostalgic adults but younger generations that weren't even born when Zack, Kelly, Slater, Jessie, Lisa, and Screech roamed the halls of Bayside as a certified '90s television phenomenon. Actress and producer Josie Totah of the reboot series is worthy of taking some of the credit for the show's continuing success.
With season two of Saved By The Bell freshly added on the Peacock streaming service, Totah has already made a lasting impression on viewers and is ready to continue in the show's entertaining narrative, playing the popular girl at Bayside who often struggles with deciding to give in to her newfound kindness towards others or to simply embrace her usual mean girl ways.
"One of my favorite things about Lexi is that she is on the journey to self-discovery and growth and becoming a better person," Totah tells me at Forbes. "I think one of the major themes for our show is privilege and investigating privilege and with her especially, it's incredibly fun to throw her on that journey."
Both on Saved By The Bell as Lexi and in her own life, Totah identifies as trans woman. She goes on to inform me that she has always been Josie, a fact I am grateful that she even educated me on further during our conversation, and an announcement made respectfully and in good taste to viewers early on in season one.
"We wanted to recognize it because we didn't want to tokenize her but we definitely want to make her identity one part of who she is, since humans in real life are multi-dimensional. They're not just one part and I think that speaks for not only my character, but all the other characters on our show. They're really well-developed people."
The acceptance and support Totah feels on-set goes well beyond just her acting scenes with her co-star friends, but is felt within the safe and healthy work environment around her. "Everyone at Peacock is such a wonderful family and UTV (Universal Television). I've been working with these people for several years now with other shows that I've done under their umbrella. I'm really grateful that they're just such an inclusion and warm and compassionate community that makes good shows."
Being only 20 years old and also a dedicated producer on Saved By The Bell, I wondered if Totah ever feels she has to fight to be taken seriously due to her younger age within her important role. She replied, "That's fortunately not something that I struggle with. I bring value to the table simply just by being the person that I am and I think the show benefits by having someone like me behind the camera. I don't think representation would be authentic, just being in front of [the camera]. And I think that Tracey Wigfield, our showrunner, really believes in that and values that in our relationship. I'm very grateful for her and I'm honored that I get to have this incredible learning experience where I get to be brought into these rooms and have a seat at the table."
In season two of Saved By The Bell, Totah's Lexi character receives a powerful storyline midseason that allows the actress to shine a spotlight on the difficult moments and obstacles her transgender community continues to face today. When speaking about Lexi, Totah reveals, "In episode five, she is forced to basically recognize with her trans identity when something awful happens a local school nearby and she sort of goes on this rabbit hole journey of deciding when and how she should speak up for her community."
In reality, Totah has noticed the progress and positive strides that Hollywood has made to further embrace the transgendered community, but knows there is still much progress to be made, both in front of and behind the camera.
"We should be continuing to have more conversations and none of us are at a place where we can celebrate and give up ever. I think that goes with any conversation with any marginalized community. We are a growing community and I'm really proud that we have come a long way, but we of course have so much more to go."
Life is quickly imitating art for Totah as she makes time beyond playing a high school student on-screen to study Film right now at Chapman University, having only one semester remaining until she graduates. She says that she realizes it is a privilege in America to get a higher education, something her parents have made a priority and opportunities that Totah says she is eternally grateful to receive.
As we wrapped up our conversation, I asked Totah if she has any encouraging words of comfort for people in the world struggling with their own identity right now, unsure of where to turn for guidance and strength.
"I think I would just tell them that they're loved and that they're not alone. I think it can be really easy to feel alone and like there's no one else like you in the world but just take me as an example of someone who sees them, who values them, and who is proud of them."