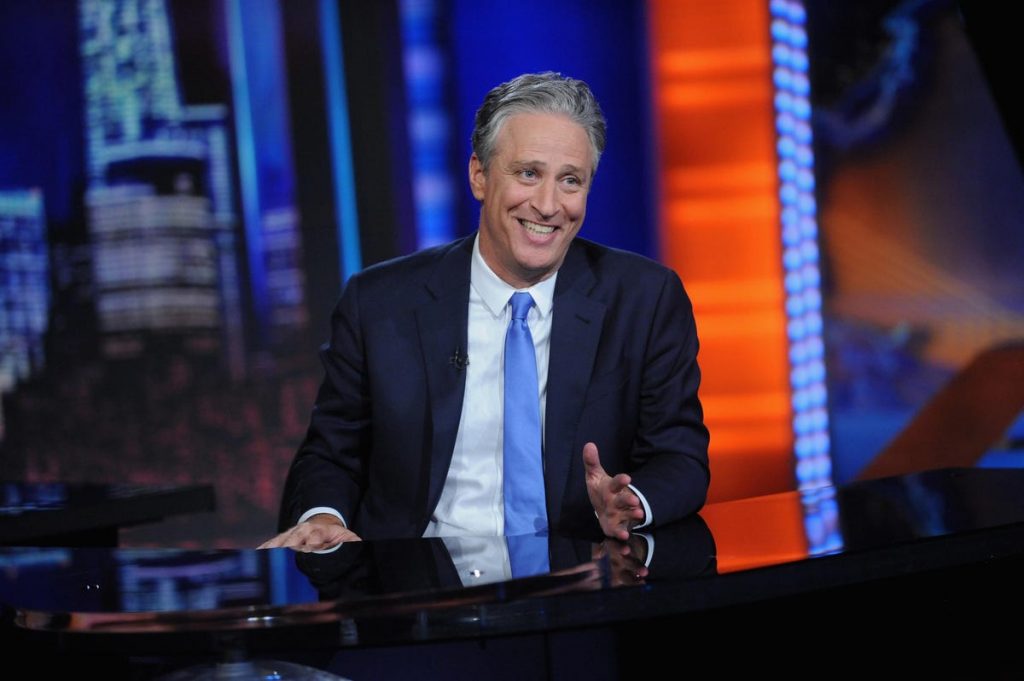 Jon Stewart's New Talk Show Could Be A First For Streaming
HBO's loss is certainly Apple AAPL TV+'s gain, as Jon Stewart's highly anticipated new program, once planned for the pay cable network, debuted today.
Stewart is a star, and Apple has promoted him as one, putting marketing dollars behind the new launch The Problem With Jon Stewart and hoping he will continue the momentum provided by the breakout success of Ted Lasso and the recent return (after a prolonged, COVID-driven layoff) of once-buzzy drama The Morning Show.
But the question facing Stewart is much bigger than just "can he do well for Apple?" It's "can a talk show actually succeed on a streaming network?"
So far, it hasn't happened.
"Despite launching more traditional talk shows built around popular hosts like Chelsea Handler and topical news shows starring Sarah Silverman and Hasan Minhaj, the streamers have not had as much success breaking through in culture with this category," notes Linda Ong, CEO and founder of CULTIQUE, CIVIC's cultural insights and strategy arm.
It's partly a matter of format. Talk shows demand quick reactions. Streaming isn't built that way. Plus, people increasingly get their hot takes on social media.
"Traditionally, talk show hosts were the 'first responders' of culture, helping people frame and process the events of the day," Ong says. "Because topical talk is reliant on immediacy, today many people get their topical comedy delivered throughout the day by Twitter and other social media. So unless a fan is really driven to seek out a particular personality's POV, streaming talk shows can feel dated even the minute they come out. There's no FOMO (Fear Of Missing Out) driving urgency to view."
Stewart's show, to be sure, is biweekly, so while his subjects may be topical, they won't be of-the-moment, not in the same way Stephen Colbert or Jimmy Kimmel can respond to something that happened that morning.
There's also a generational itch. Millennials and Gen Z didn't grow up with the same TV talk shows that dominated when Gen X and Baby Boomers came of age. The younger generations haven't been conditioned to look to talk shows in the same way—and they are most likely to be watching streaming networks.
The culture of TV has changed in just the six years since Stewart left The Daily Show. Even there, Stewart's celebrity outweighed his actual audience. At his peak, the night he signed off, Stewart drew 3.5 million total viewers, according to Nielsen. By comparison, that's a little more than watched top late-night talker Colbert's The Late Show last season (3 million), still a tiny fraction of the country.
Streaming programs need fewer viewers to make a hit—AppleTV+, after all, reportedly has fewer than 20 million subscribers, and it doesn't release actual numbers for its shows. Still, critical perception and buzz play a role in making a hit, and no streamer has pulled that off with a talk show.
Silverman's Hulu program and Handler's Netflix NFLX show were canceled with little fanfare. Minhaj's Patriot Act received great acclaim for Netflix and ran for six seasons, but it was no Queen's Gambit (or even The Witcher) in terms of popularity.
Jerry Seinfeld's Comedians in Cars Getting Coffee, Oprah Winfrey's AppleTV+ interview series and David Letterman's second act on Netflix have all earned attention because of the hosts' high profiles, yet Winfrey's biggest get in recent years, a sitdown with Prince Harry and Meghan Markle, aired on CBS, not streaming.
Still, Stewart's familiarity to viewers—he has hosted major awards shows and been an activist for benefits for 9/11 first responders—bodes well, and he's a voice many have missed.
"With a built-in fan base and the farm team of other comedic voices that The Daily Show launched (many into major players), Jon Stewart may be catnip for Gen Xers longing for the cynical POVs less common today in a Gen Z-driven culture," Ong says.