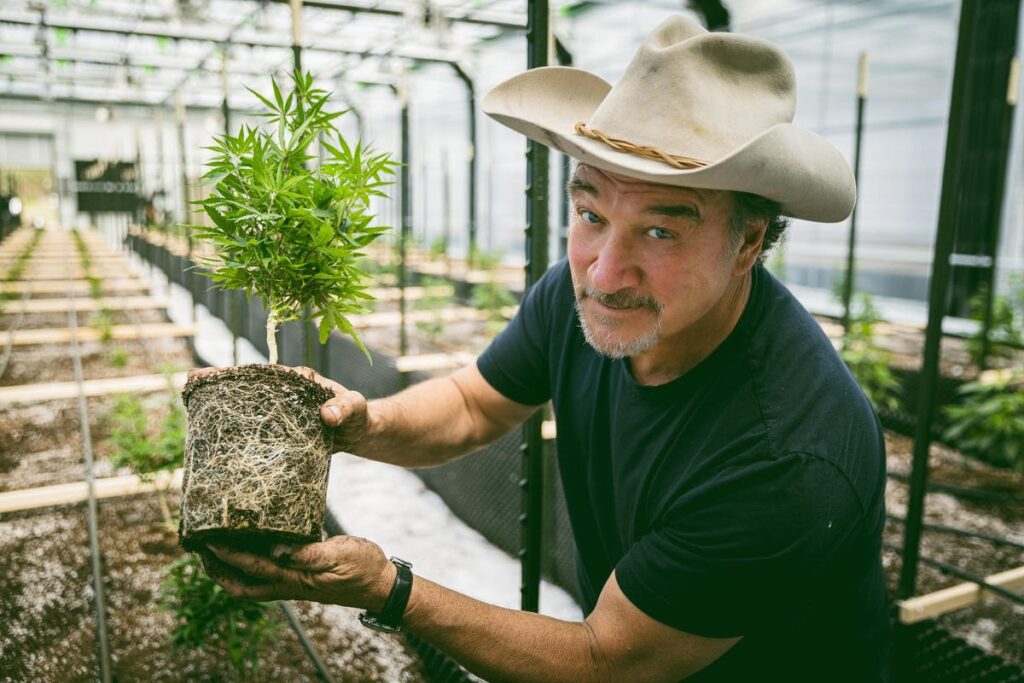 Jim Belushi Talks About New Season Of His Cannabis 'Reality' Show
In case you hadn't heard, actor, musician and comedian Jim Belushi is concentrating on a new profession these days: cannabis farmer.
Belushi has been cultivating marijuana on his farm along the Rogue River in Oregon since 2015, starting with only four dozen plants and a license from the state to cultivate medicinal cannabis. Belushi's Farm has since grown to include four greenhouses and indoor cultivation rooms as well as drying, curing and processing infrastructure situated on 93 sprawling acres.
Television viewers got an inside look at the cannabis cultivation operation in 2020 with Growing Belushi, a three-episode Discovery series that chronicled the ups and downs of the farm and a trip to Colombia to secure seeds of legendary but rare cannabis strains. And starting this month, the series returns with a new crop of weed and programming.
Growing Belushi Season 2 Premieres This Week
Season 2 of Growing Belushi focuses on fixing problems that caused the operation to suffer losses of product and revenue. Belushi explains in an interview that the low-tech greenhouses called hoop houses the operation used to grow cannabis had insufficient ventilation and too much moisture, causing mold to ruin about 300 pounds of cannabis flower. Pests including aphids and russet mites took their toll as well, making another 700 pounds unusable.
The loss of inventory, coupled with Belushi's accidental death blow to hundreds of plants dubbed Captain Jack's—a variety of marijuana known as the Smell of SNL for its popularity with early cast members of Saturday Night Live—meant that the farm was unable to meet growing demand for its products. Things had to change.
"This season was about recreating the farm," Belushi says in a recent Zoom interview. "So, the audience gets to see exactly how cannabis is grown, and the trials and tribulations of that."
The Laughs And Lessons Of Cannabis
But the semi-reality series isn't all about work on the farm. Belushi continues the sparring with cousin and Belushi's Farm general manager Chris Karakosta that made for plenty of laughs in the first season, while visits from celebrities including Dan Aykroyd, chef of excess Guy Fieri and According to Jim alum Larry Joe Campbell promise to keep things exciting.
Belushi explains that in addition to the fun on the farm, he also has a mission behind Growing Belushi. He is keen on sharing information about cannabis and its benefits, as well as how the plant can positively impact people's lives.
"I call it edutainment. Education because Discovery likes that educational process," he explains. "And there's a lot of humor and charm in it. So, there's a lot of smiles, and a few good laughs and education."
"There's a lot of different storylines going on in this, but it's funny and very informative," Belushi continues. "I want the audience to really have confidence in regulation of cannabis. We show testing, we show our grows. We show how to trim it. We show how to dry it, cure it. We show when to use it."
Looking Inside
Belushi freely admits he still has much to learn about cannabis, referring to investments in the farm as "tuition." The costly lessons are paying off, however. During Season 2 of Growing Belushi, he says he has upped his game as a weed farmer.
"I learned a difference between it being a hobby and being a professional," says Belushi. "You know, it's like acting. You can either be doing community theater or you can commit 100%, and go for it, and we went for it."
Belushi not only gained more about cannabis during the production of the new season of Growing Belushi, he also learned more about himself.
"I've just become a more empathetic, compassionate, thoughtful and gentler man," he reveals, adding, "It's kind of spiritually put me back in my body, put me back in my community."
With the new season of the show set to premiere, Belushi is already looking ahead to new installments of the series. Next, he says he'd like to become the 'Anthony Bourdain of Cannabis,' traveling to different states and countries with legal marijuana to explore cannabis culture and commerce.
"My goals are to get picked up for a third season to continue on this path," Belushi says. "Because there's more knowledge and more challenges to go on his journey of cannabis."
The second season of Growing Belushi kicks off on Wednesday, January 19 at 10 p.m. ET/PT on Discovery. The series is produced for Discovery by Whitehorse Productions.