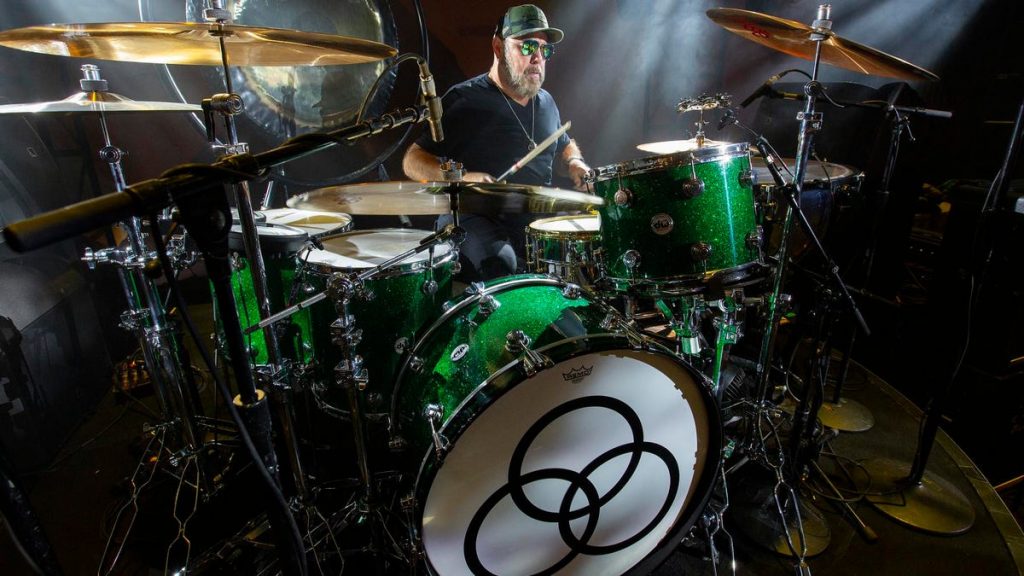 Jason Bonham On Preserving The Legacy Of John Bonham And Revisiting Led Zeppelin On Stage
"I only meant to do it once. That was supposed to be it," said drummer Jason Bonham prior to a performance by Jason Bonham's Led Zeppelin Evening at the Genesee Theatre just north of Chicago in Waukegan, Illinois.
Since 2010, JBLZE has celebrated the music of Led Zeppelin, giving fans a rare look into the legendary group's inner sanctum.
It's a project born out of Led Zeppelin's one-off 2007 reunion concert in London, one dubbed Celebration Day, a flawless performance which saw Jason join Jimmy Page, Robert Plant and John Paul Jones live on stage, paying homage to his late father John Bonham, arguably the greatest drummer in rock and roll history.
Jason Bonham reverently embraces Zeppelin almost as if it were a birthright, with Celebration Day the fulfillment of a dream. But when that show ended, it left the drummer in a tough spot.
"We had done the Celebration Day O2 Arena reunion. When it stopped, I was… let's just say shocked if anything. Because I think deep down inside, I had an inkling that maybe we were going to do more. When, for most of your life, you've waited for this chance to play with Zeppelin and kind of prove yourself – and to a couple of times have a go at it… As much as I thought I was prepared for it to stop, I don't think I was," said Bonham backstage in Waukegan. "When we did the O2, we rehearsed and rehearsed. I spent a lot of time with the boys, with my dad's mates. Six weeks of seeing them five days a week. And most of the time with Robert [Plant] on the weekends, we would socialize. When that suddenly stopped, it was hard. You can't help but feel such a presence with those guys. And I felt close to my dad. So it was a tough one."
John Bonham passed away in 1980 when his son was just 13. Jason was an early prodigy on drums, playing well by 5, and can be seen alongside his father at the age of 7 in the 1976 Led Zeppelin concert film The Song Remains the Same. Preparing to perform in his father's place during the Celebration Day concert equipped him with the attention to detail he'd soon need in order to recreate the magic of Led Zeppelin on stage with JBLZE in front of some of rock's most exacting fans.
"When my manager made the comment, 'Why don't you get together and do like a tribute thing?' I went, 'Really? After playing drums with the real thing, you want me to go out and play with a cover band? Are you kidding me?' So it was the last thing on my mind," Bonham explained. "I felt what I had achieved by getting the chance to play with Zeppelin [at Celebration Day]. And doing it in a moment when it was really good and everyone was on form was nice. And I didn't want to spoil that," said the drummer. "Everyone looks towards me. 'This is your family name. This is your dad's music. This is their music.' There's an extra sense that I have to do it better – better than I ever could imagine I could do it – so that every detail gets done. I'm very fussy about that. But I soon realized that it was about the music. People just loved hearing the music in a live environment."
What began in 2010 soon grew into a multimedia experience, complete with home videos which enabled Bonham to play along with his father, a drummer who rarely rehearsed and didn't keep a drum kit in the house, for the first time.
Following outings alongside artists like Heart and Peter Frampton, today, Jason Bonham's Led Zeppelin Evening tours as a five piece group which puts the focus squarely on the songs, meticulously recreating the music of Led Zeppelin over the course of two hours on stage each night.
"11 years ago, when I said I'd do this once, I soon realized that the show that was about paying tribute to my father became therapy," said Bonham on stage at the Genesee Theatre as his group received a standing ovation following their take on "The Ocean," just the third song of the night. "So this show became, 'Let's go back and remember a time when you could listen to a whole album on the radio. You didn't have to make a playlist… but you did – we all did," said the drummer. "This is a celebration. We feed off you. So with your help, let's have some fun tonight. Let's go over the hills and far away!"
Wednesday night, the slide guitar of Mr. Jimmy Sakurai sealed a rollickingly bluesy take on "When the Levee Breaks," vocalist James Dylan delivering the song's signature "goin' to Chicago!" lyric to rapturous applause just outside the Windy City.
Jason Bonham, at his best on "Kashmir," doubled as the evening's emcee, regaling the crowd with stories of Led Zeppelin, explaining to the crowd the influence of drummers like Buddy Rich and Gene Krupa on his father, a budding drummer with a two piece kit exposed to London's jazz clubs by his mother at the age of 14.
It's a show where the stories matter nearly as much as the music. Growing up, Police drummer Stewart Copeland was an early influence on Jason, the drummer laughing on stage as he recalled the time his father took him to meet The Police, an encounter which nearly led to fisticuffs between the elder Bonham and a young Sting.
Moving beyond that rebellious phase, Jason learned to embrace Led Zeppelin. A particularly fond memory of the band in August of 1979 not only stands out but continues to have a profound impact on Jason Bonham's Led Zeppelin Evening.
"The second week of Knebworth in 1979. I was at the side of the stage. I didn't go the first week because I was racing the British championship race in motocross. But the following week, I went to see them at Knebworth. And it got to the point where they did 'Kashmir.' The version of 'Kashmir' they did there was phenomenal. Dad just goes for it. That was my inspiration for Celebration Day and everything," he said. "When people say to me now, 'Oh man, you've made it your own!' I'm like, 'You didn't listen to the '79 Knebworth version did ya?' Dad basically doesn't do the album, he goes off at the end and starts doing fills over the rest – overplaying. So it was totally inspiring. It was one of the moments," recalled Bonham fondly.
"I was just getting back into my drums again. Motocross had kind of taken over. Because it was like, 'Nobody in my house does this.' And I'd gotten very good at it very quickly. But, really, it took my dad's death for me to really concentrate on the drums again. Robert always says I was an amazing 8 year old drummer, I was an amazing 10 year old drummer, I was a good 12 year old drummer and I was a good 14 year old drummer – but I wasn't an amazing 17 year old drummer. Not when it adds up. I'd left. So I had to put some work in."
Last week, Bonham was on stage as Sammy Hagar launched a Las Vegas residency, one which continues through November 13 at The STRAT Theater.
"As usual, Sammy likes to throw a bunch of songs at us that I've never played before in my life," he said with a smile, describing the residency's first two nights. "But the surprising bit was, I was looking around and they had done the venue and it was just like Cabo Wabo Cantina – just like [Sammy's] place in Mexico. It really does have that same atmosphere," said Bonham of the residency.
A member of Sammy Hagar and The Circle since the group's 2014 inception, Bonham drums on Lockdown 2020, the band's second album and one recently recognized amongst the first round of Grammy consideration.
Lockdown 2020 is being considered for Best Rock Album alongside the group's take on David Bowie's "Heroes" in the Best Rock Performance category. The record is a lo-fi affair out of necessity, one recorded amidst the quarantine of early pandemic.
MORE FROM FORBESSammy Hagar And The Circle On Return To The Road, Vegas Residency And Maintaining OptimismBy Jim Ryan
"At the start of it, I'm there going, 'Hey, Sam, how about we do something remotely?'" explained the drummer of Lockdown 2020's origins. "The first few Lockdown [sessions], the drums were just an iPhone recording – music and video. There were no other microphones involved. And that's what was cool about it," Bonham explained of the 15 live cuts. "A little later on, we got a little more technical about it. But the first one, we all purely sang into the iPhone or videoed it and so that's what you're picking up. And that was the novelty of it. We mixed the feed from the video/audio and it was just a way to jam together without being together."
On stage during each JBLZE performance, Jason Bonham goes to great lengths to expose a new generation of Led Zeppelin fans to the legacy of his father. Caught off guard when asked about his own, the drummer was moved, excited as he described the musical ambitions of his own son Jager Henry.
"My legacy… I would just say I'm me. I never really thought about it. My kids if anything," said the drummer. "My son, he's got that thing I remember having when I was 23 – that like 'I'm gonna be the greatest there is!' thing. Before the world has really sucked it out of you. When you think that everything you do is amazing and everyone should listen to it," he said, citing new Jager Henry tracks like "Wake Me Up," to which he adds drums, performing with his son on record – an opportunity he never got with his own father. "He's in that stage of his life where he's the coolest dude in the world. And the great thing about him is his work ethic. When he really wants something, he's amazing."
On tour in America with JBLZE through November 26, and alongside Hagar and company through December 8, Jason Bonham remains busy. A return to the stage amidst pandemic has given the drummer a new appreciation for live performance.
"When [JBLZE] got together [this year], we hadn't seen each other or really spoken with each other, other than text, for two years. The last show we had was with Peter Frampton in October 2019. So for us it was a two year hiatus," he said. "There's obviously different rules now. There's a lot of masks. And there's a lot of nervous people. And there's still that uncertainty. 'Are we wrong to come out on the road this soon?'" asked Bonham. "So it's just been very emotional everywhere we've played. At the Greek Theatre [in Los Angeles], we sold 4,200 tickets – the most this year. And it is a very amazing feeling to have. It's been a tremendous response from the people that come out. And it's a choice to come out too. So thanks for choosing us. We are fans just like you are of the music."