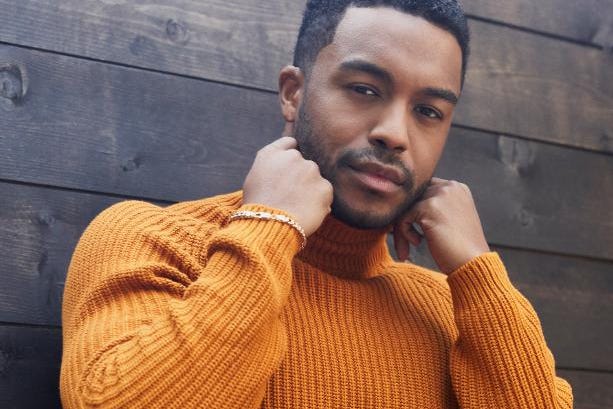 Jaime Callica Explains How To Star In 5 Holiday Movies In 2 Months
We all think we're busy. But Jaime Callica is really busy.
Since the pandemic restrictions began to loosen in June 2020, the actor has barely sat still. He has shot 14 different productions in barely a year and a half, and this fall marks the culmination of that busy period.
"I've gone from job to job to job. I'm a firm believer that you get what's meant for you when you be yourself—but even I never expected this workload," he says.
The Canadian actor stars in five holiday movies premiering throughout the fall, culminating in three Christmas movies. Last month, he starred in Disney+'s Under Wraps, a remake of the funny-scary 1997 film, and Netflix's horror movie Hypnotic.
Now, Callica's Christmas movies will begin to bow. He stars in A Chestnut Family Christmas on OWN, Merry Liddle Christmas Baby opposite Kelly Rowland on Lifetime, and A Christmas Proposal on CBS.
He also managed to squeeze in shooting two series, BET's Tyler Perry drama Ruthless and the CW's Batwoman.
"Batwoman I actually shot concurrently with my first Netflix movie. I bounced back and forth between them every week," Callica says. "It's been hectic but fun and everything I asked for. Back when I was not working, all I wanted to do was to be working, so even though I was stressed, I'd minimize the complaints."
It's been a sudden rise for a man who came late to acting. Callica studied business in college in Vancouver, and he spent time after graduation assembling a small real estate empire, buying condos, townhouses and businesses.
But after a couple years, he realized he wasn't doing what he wanted to. "It wasn't actually a shift in my life. I slammed on the brakes," Callica says. "I woke up one day at 6 in the morning, got out of bed, looked in the mirror, and said, today's the day. I called my realtor at 8 that morning and said I wanted to sell all my real estate."
The realtor laughed at him ("belly laughing, like I told the funniest joke ever"), but Callica stayed resolute. "I knew I was going to lose money in some places, but I wanted to be an actor." He sold his last property in fall 2012, but it wasn't until last year that he began landing the high-demand parts he'd been chasing.
Working with experienced talent including Rowland and Perry has imparted valuable lessons. Perry shoots his shows at a notoriously fast pace, and Callica challenged himself to stay apace. "I don't sleep more than four hours a night when we're in production," he says. "We shoot 100-plus script pages a day, and no one else could get a crew to do that. My character this year had 52 pages of dialogue. I'd rather not sleep and get to the set and be word-perfect the whole time in the shoot. I either eat lunch or dinner—you can't sacrifice even an hour. I know it's short-term pain for long-term gain."
As for Rowland, "she's genuinely the nicest person I've ever worked with. Kind, sweet and funny, but also the hardest worker in any room. She's constantly working but never neglectful of the people around her, including the crew members."
While the Christmas movies won't exactly break any new ground in plotlines, Callica notes that's what people love about them. He reveled in the chance to participate in something that brings comfort to viewers, especially after the past 18 months.
"They're semi-predictable storylines about love that make people feel good. They're relatable," he says. "A lot of people don't have families or haven't been able to see them. These movies are a way to see a measure of connection to what could have been. You watch these movies, and they make you feel good for 90 minutes."