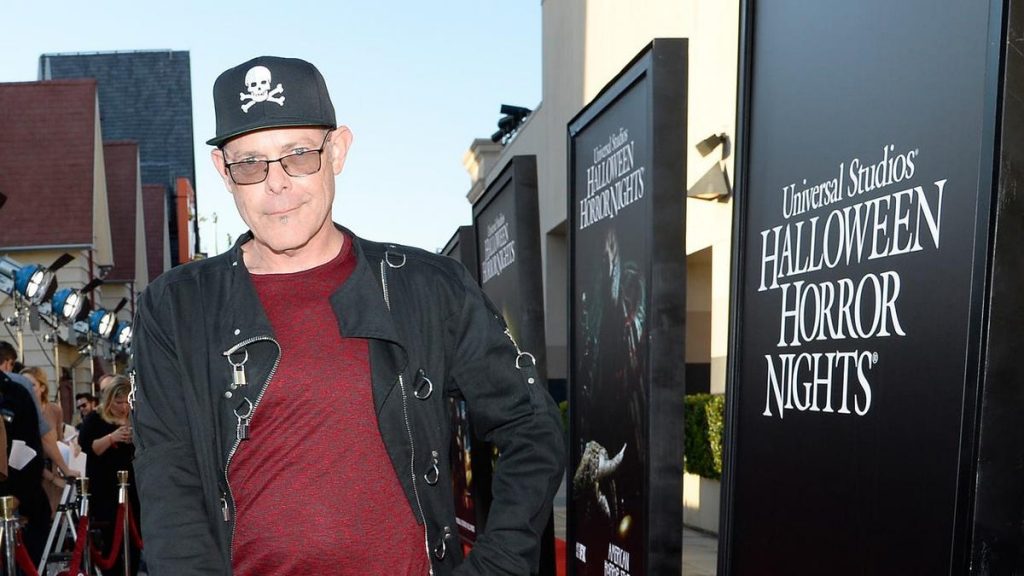 It's A Hell Of A Year For Fear At 'Halloween Horror Nights'
"I know people are dying to be scared," affirmed John Murdy, the creative director of Halloween Horror Nights at Universal Studios Hollywood. "This is a tradition for a lot of people and a lot of families, and they come every year."
"They love the holiday, they love the event, and people are so hungry for this. It was so traumatic for them when it was canceled last year. We've had time to think a lot about the scares, so we'll be ready to scare the living daylights out of people."
Halloween Horror Nights, which kicks off on Thursday, September 9, 2021, has become an institution over the years. The 2020 event was shelved due to the pandemic marking the first time since 1997 that Halloween Horror Nights didn't happen at the theme park. Getting this year's extravaganza off the ground offered up a whole new set of challenges.
"Learning how to work remotely was a big change for a lot of people," explained Murdy. "I've got a head start because I've been doing it for three years because I'm based in Ireland for a lot of the year. For everybody else, that was a huge adjustment. It was a weird year, especially when you're building the mazes and I'm asking people to walk through them and hold up the phone, so I could try to look at things. It was so impressive how quickly people adapted to it. It didn't feel disconnected."
"We'd usually have floor plans and recreations and lists of things we'd have to make or buy and source, and that would involve a bunch of us in a conference room. This year we did it via video conference. My kids crashed so many meetings, and we got a kitten which perched on my shoulder for the entire meeting, everybody was so distracted by the cute little thing, and we couldn't get any work done."
One of the highlights of this year's Halloween Horror Nights, and a maze that Murdy is particularly proud of, is The Haunting of Hill House. It's based on the acclaimed and wildly popular Netflix NFLX show created and directed by Mike Flanagan.
"When it came out, I said to Mike that it elevated the genre. It's a slow burn. It reminds me of The Shining and movies from that era where it's a build, and I wanted the maze to reflect that aesthetic of the show," Murdy enthused. "There are a whole lot of effects that we do in this maze, where things disappear, you see ghosts, and then we start going for the throat."
Flanagan was recently given a tour of the Hill House maze and gave it his approval.
"That's always the ideal, and it's always great. Thankfully it happens frequently. A lot of times, the first thing I hear a filmmaker say when they come to one of our mazes is that it feels like they are back on set," said Murdy. "The first thing I ask filmmakers is if you ever been to the event, and Mike was like, 'Oh, yeah, I come all the time. I've always wanted one of my properties to be part of it.' We're thrilled to have him."
The Haunting of Hill House was the first of this year's mazes to be announced. It revolves around the Crain family confronting the home's ghoulish inhabitants, and the mazes will involve guests doing likewise. As guests move through the attraction, they will encounter The Tall Man, The Ghost in the Basement, The Bent-Neck Lady, and journey through the heart of Hill House, the Red Room, and the Hall of Statues.
"The very first thing that happens when you come in the maze is you hear Nell making her desperate phone call to her father, played by Timothy Hutton in the show, asking if he remembers The Bent-Neck Lady and saying that she's back,' Murdy explained. "You hear all the paranormal sound effects, and there is this scrim illusion of a red door that we light from the back, but then it disappears, so you see The Bent-Neck Lady behind it. We're also using HVAC to blow cold air on the back of your neck and to help set the mood. Hill House is a lot different than a lot of horror properties."
"A big part of this maze was trying to nail all the details of the series. One of the first things I noticed when I watched it was the production design. It was really beautiful. We even sourced the exact same wallpaper. It was funny to walk Mike through it recently because he saw that and was just like, 'Oh my God, it feels like I'm on set.' My art director, Chris, and his team are good at finding things like that. He's got a vintage company that has old 50s and 60s wallpaper, and if he can find enough of it, he can reproduce it. Mike was tripping out about the stained glass windows we created too."
Murdy added, "Towards the end of Hill House, we circle back to the Red Room, but we actually go in. That's where we wanted to pay homage to the hidden ghosts in the show that, through the years, are stuck in this house. The whole room changes, and you see they are standing all around you. It's the final scene in the maze, but with Halloween Horror Nights, we often like to do the final scare and then the final final scare. With Hill House this year, we did the final scare and the final final scare, but we also did the final final final scare and the final final final final scare."
The creative director firmly believes that the devil is in the details when it comes to giving ticket holders the scariest bang for their buck. The creation of The Haunting of Hill House was no exception.
"We do painstaking research on every property that we're going to feature in the event," Murdy revealed. "I'm the worst person to watch a movie with because it'll take me all day to go through just one. I'm breaking it down and writing my notes and stuff. It's going to take me eight hours to get through. You take Hill House, and that's over ten hours of show before you start. That's a lot of research. I'm writing timecode notes for my audio people where I want them to replicate a sound effect that happens in episode four at 36 minutes and 42 seconds. I log the whole thing."
"We get all the photo research, which, on a typical movie, it's probably 30,000 to 40,000 pictures, and we go through to select the ones we need to bring it to life. With Hill House, some scenes take place elsewhere that are scary but take place off the property. We decided early on that we were going to stay within the walls of the house. It just made sense to its core as the classic haunted house book, the movies, and then TV series. The house is the star."
But Hill House isn't the only star of Halloween Horror Nights at Universal Studios Hollywood this year. Michael Myers returns in Halloween 4: The Return of Michael Myers, The Exorcist possesses a spot in the line-up after being a big hit at the 2016 event, and The Texas Chainsaw Massacre creates a buzz with horror fans once again.
"There are some changes, there are some tweaks, but some of them are pretty close to what they were," Murdy confirmed. "I call it comfort food. People have been deprived of Halloween, and people have been deprived of Halloween Horror Nights. In all the years that have passed, from whatever surveys we've done with our fans, I guarantee you every year if you ask people what they want to see, both Michael Myers and Leatherface are up there. That does not change. The latest hit movie or TV show might pop up on that list, but the classic slasher films, people want them. It's like coming home, and this year is all about coming back to the thing that you love."
"The Exorcist, which we haven't done since 2016, is also back. People have been asking for that because they loved it, or they were maybe too young for it the first time we featured it. Having those properties as the anchor of the event is great. There is also new stuff for people to see like Hill House and The Bride of Frankenstein Lives."
Universal Monsters: The Bride of Frankenstein Lives has a special place in Murdy's heart. As with previous Universal Monsters mazes, legendary guitarist Slash provides the soundtrack.
"It's the third time we've been able to feature the Universal Monsters, and that's incredibly gratifying. We had a meeting with the team in Orlando, and we got talking about the legacy, and the subject of The Bride came up. We all immediately gravitated to that," Murdy gushed. "First of all, it's a female monster, and there are not a lot of those, especially back in the original days of horror, but she got the short end of the stick when it came to screen minutes. She's only in Bride of Frankenstein for maybe five to seven minutes at the end of the movie?"
"I guarantee that if you go pretty much anywhere in LA, you will see people with Bride of Frankenstein tattoos or t-shirts because she's so iconic. This is a cool, modern way to tell a female-centered monster story and take a character that's been on the sidelines for decades and elevate her to a starring role in a sequel that picks up right after the original movie. Then we connected that to an all-female scare zone of lesser-known Universal Monster characters such as She-Wolf of London or Dracula's Daughter."
This year's event will also see the return of another popular and highly lucrative horror franchise, The Purge. The five-film series has grossed $528.2 million at the worldwide box office. Terror Tram: The Ultimate Purge will put guests in the middle of the action on the studio's backlot, where they'll try to evade the horde who want The Purge to go on forever, and not just one night a year.
"We're also working in an era where there are a lot of really visionary auteur filmmakers in horror," Murdy concluded. "The last five years in particular, as streaming started to expand, there's so much content coming out, and that's fabulous for us. To go full circle, The Haunting of Hill House is a great example of that."
"Netflix has really invested in horror, and we've worked with them a couple of times in the last three years. Mike Flanagan is a writer, director, editor, producer, so it's great to have him on the set and have him be so enthusiastic about what we do. Of course, everything we do comes from what he, and people like him, have created. Our job is to try to reproduce that as closely as we possibly can, and that's a real honor and a privilege."
Halloween Horror Nights at Universal Studios Hollywood kicks off on Thursday, September 9, 2021, and will run on select nights through Sunday, October 31, 2021.