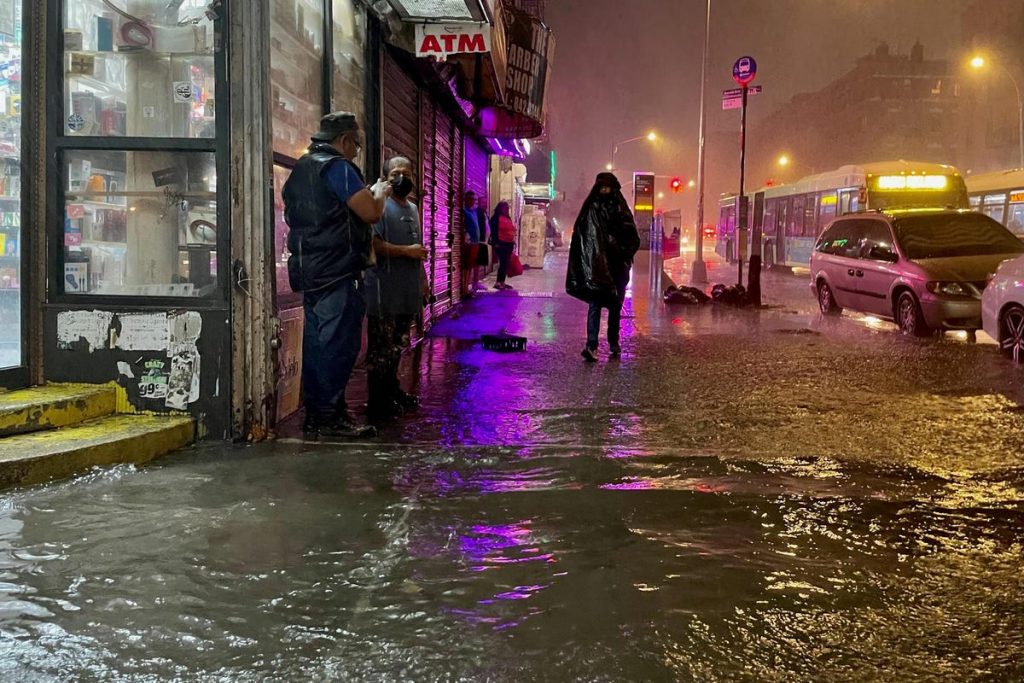 Investing For Climate Change Means Investing In Healthcare
As congress debates the merits of tying 3.5 trillion dollars in social spending to a bipartisan infrastructure bill, the ongoing pandemic combined severe weather across the gulf and east coasts have made the gaps in our health and civil infrastructure more apparent than ever.
What's also more clear is that investing in our health systems is part of preparing for a climate-changed world.
A May report from McKinsey & Company makes the case for investing in our healthcare to reduce the likelihood of future pandemics: "infectious diseases will continue to emerge, and a vigorous program of capacity building will prepare the world to respond better than we have so far to the Covid-19 pandemic."
But public health officials are noticing that climate change is increasing the frequency and severity of direct human health consequences that go beyond staving off a future pandemic.
Basic Health Impacts
As natural disasters like floods, cyclones and storms increase, so do the cases of blunt force injuries, falls, and crashes. Orthopedic injuries increase during floods, peaking weeks later as displaced people return to reclaim their damaged property. These injuries can be especially dangerous for the elderly or those with physical disabilities.
Waste management systems are affected by disasters. Post-disaster debris is already a major challenge for municipalities, but damage to waste storage and treatment infrastructure leads to massive contamination cycles, putting people at greater risk for disease.
Gaps in medical supply and demand, such as what we have seen for PPE and testing equipment during Covid-19, must be improved to account for medical supplies diverted from their regular destinations to provide for the needs of those left behind after a disaster. Local supplies are often already insufficient to care for the large number of newly affected people after a disaster, but much of that can be lost to the disaster. Necessities like insulin need to be brought in from neighboring communities, but the impact on nearby communities who lose parts of their own healthcare supplies and capacity is often unexpected.
Healthcare providers themselves are another area for concern, especially because mental and physical health is another challenge linked to natural disasters.4 Studies have found that prescriptions of sleeping aids, anti-anxiety medications and antidepressants increase substantially after a disaster and most victims of natural disasters had the clinical symptoms of Post-Traumatic Stress Disorder.
Infectious Diseases
Infectious diseases will become a greater threat as our climate warms and water-related disasters continue. Healthcare infrastructure is already vulnerable to infectious diseases, as illustrated by Covid-19, but professionals expect new infections following waves of warmer climates.
A hotter, more humid climate elongates breeding periods and improves fertility for mosquitoes and ticks, both common disease vectors. Female mosquitoes have also been found to bite for blood more as temperature increases, multiplying the risk of infection for humans.
Mosquitoes are key transmission vectors for malaria and emerging epidemic diseases like dengue, Zika and chikungunya. In 2019, just as Covid-19 was identified in Wuhan, China, the Caribbean was experiencing its "worst medical crisis ever," due to a climate change-induced dengue outbreak.
As weather warms it also increases the rate of fungal and bacterial infestations. Humid air helps carry fungal spores further to new sites and moist households left behind after disasters create breeding grounds for waterborne pathogens. Warmer environments also shorten pathogen incubation periods. And rising sea levels have been linked to a higher incidence of water-borne illnesses. Like with Covid-19, testing, treatment and prevention strategies for these infections are pressing needs.
Mental health and illness are also tied to infectious diseases. A recent Lancet Psychiatry article found that approximately a third of Covid-19 survivors received a neuropsychiatric diagnosis within six months of recovery, which is 44% more likely than the rate found with the flu. The connections between various mental illnesses and infectious diseases remains a growing topic of research, but the need for more psychiatric treatment remains.
Where to Improve
What can be done? Well-established reserves of important medical supplies, drugs and equipment are invaluable. Community members can participate in emergency medical training and CPR to provide assistance should an unfortunate disaster occur. Attention towards mental health treatment, facilities and providers can be increased. Nearly one in five counties in the United States reported unmet needs for non-prescribing mental health providers. Ninety-six percent of U.S. counties reported an unmet need for prescribing psychiatrists. Rural and low-income counties are particularly lacking, making this investment a pressing one.
Developing more infectious disease experts and physicians can be encouraged. Almost 80% of U.S. counties have no infectious disease physician, and a further 9.9% of counties have below-average infectious disease coverage. This translates to 208 million Americans living without proper access to an accredited infectious disease specialist. Furthermore, infectious disease interest is lowering drastically. The number of internal medicine applicants to infectious disease training programs has decreased by around 20% in the last ten years.
In 2019, thirty-percent of infectious disease training programs were unable to fill all spots and 19% were unable to fill any spots. The 2020 match continued the decrease in infectious disease interest despite the Covid-19 pandemic; 86 of 406 training spots were unfilled. With the looming threat of potentially deadly fungal, bacterial and viral illnesses growing, encouraging the training of more infectious disease experts is a must.
We can start to prepare for climate change's side effects by investing in human health. Spending on medical supplies, waste management, mental health and infectious diseases will, alongside many other avenues for improvement, leave us much better equipped. These human health impacts remain a symptom of the larger issue of climate change. Investments in adapting our health systems to our changing climate belong beside the solutions that will end climate change-inducing emissions.