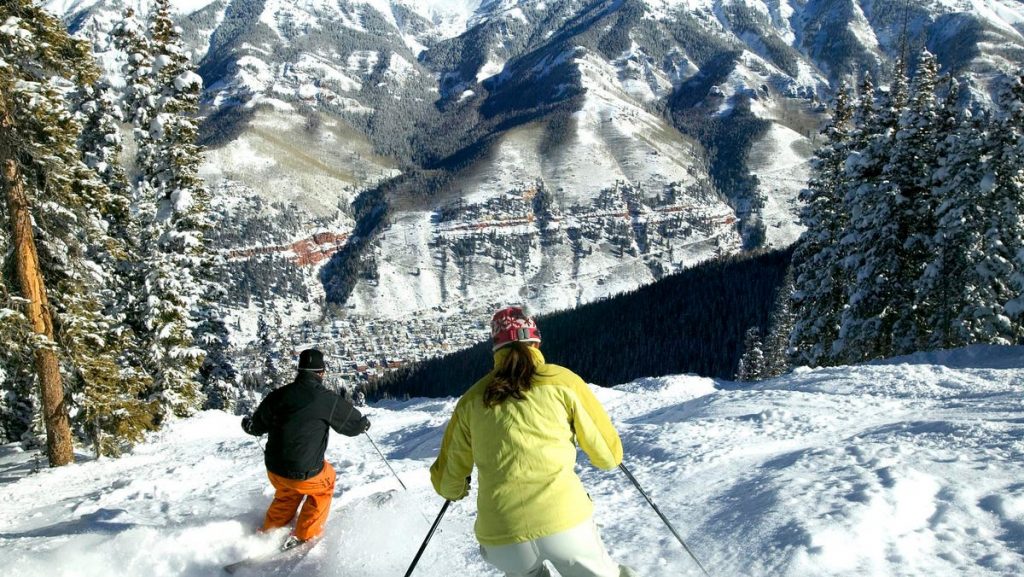 Insurtech Startup Brings Cheap Insurance To Telluride Skiers, Bikers And Other Outdoor Athletes
A knee injury requiring surgery after a misplaced turn on a mogul run—a rather unremarkable event at ski resorts—can result in costs topping $20,000. Not all skiers carry health insurance, and not all health insurance makes things easy for such claims. Skiers at Telluride, however, might have to pop for some ibuprofen and ice, but the surgery will be covered by a new partnership with Spot, a startup that has garnered attention for its foray into insuring those who enjoy outdoor pursuits such as skiing, mountain biking and road biking.
Spot has built a proprietary technology platform that allows it to minimize the costs behind claim management and to efficiently pinpoint fair insurance pricing for activities that traditional insurers avoid. Telluride will now include insurance for anybody who buys a lift ticket—a winter one for skiing or a summer one for biking—that will cover any health claims related to activities on the mountain up to $25,000.
"The inherent risk of doing all of these things on the mountain is never going to go away," says Carson Taylor, director of mountain sales at Telluride. "This gives us a clean way to give back to our patrons."
The policy that comes with lift tickets at Telluride also covers things like ambulance rides and even helicopter airlifts.
Telluride is covering the cost of the insurance in its lift ticket prices, but it's a cost made lower by the focused tech built by Spot. Most of the off-the-shelf software platforms built for insurance carriers are highly customizable behemoths that require a year and legions of consultants to implement. Spot saw opportunity in the fast-growing outdoor recreation space, but using one of these legacy programs wasn't an option.
"There wasn't a platform out there that could sell individual policies and integrate with partners such as Telluride," says Mark Bozarth-Dreher, head of partnerships at Austin-based Spot. "The question for us was how to combine direct-to-consumer health insurance models with the existing infrastructure out there."
Spot also sells monthly policies to bikers, hikers, skiers, surfers and other outdoor chargers. Typically, they cover up to $20,000 of any medical costs related to injury sustained during these activities. Prices are as low as $25 a month. For activities on which regression models can't be built or that are simply too risky, Spot won't cover.
From Spot: "A good rule of thumb is if failure of your activity is a death sentence, like tightrope walking across the Grand Canyon without a harness, we probably don't cover it."
That's fair. But that leaves a lot of other stuff covered: skate boarding, bmx riding, and other things that might cause some to viscerally flinch.
How it works behind the scenes: Spot's front-end gives consumers an easy-to-navigate interface that allows them to sign up for the coverage they want. On the backend, the company has built out connectors to APIs supplied by partners such as Mutual of Omaha to link signups with an underwriter automatically.
Spot, which has raised close to $30 million since its founding in 2018, now covers more than a million lives playing in the outdoor industry. The company's data say that 1% of skiers will end up issuing a claim, and that only 50% of these injuries are reported to ski patrol, which is not a requirement when making a claim with Spot.
The company wants to continue to push the insurance industry forward in the outdoors. The company has worked with the International Mountain Bicycling Association on a product that will insure mountain bikers for the entire year, wherever they ride their bikes, for about $70. The IMBA plan is due out later this year.
Spot's success thus far is a further sign of disruption via technology in the insurance space, and its focus on the outdoors has been serendipitous as more Americans have piled into activities here since the onset of the Covid pandemic.
Spot found a ready partner in Telluride, which, as a major ski resort not owned by Vail Resort Company or Private-Equity backed Alterra, is a rarity in the industry. Telluride's status as sole entity in the world of Colorado ski resorts helped it move more quickly on a Spot partnership, which came together quickly during the skiing offseason.
Like Jackson Hole and Sun Valley, the other major independents who are also geographically isolated, a season pass at Telluride runs about $2,000, significantly more than the Epic and Ikon Passes issued by Vail and Alterra. But with this stroke, Telluride skiers will get a little perk that those multi-resort passes don't offer, albeit a perk that no skier ever hopes to use.
Christopher Steiner is a New York Times Bestselling Author of two books and the founder of ZRankings.com, which helps skiers find the best resort for their trip.