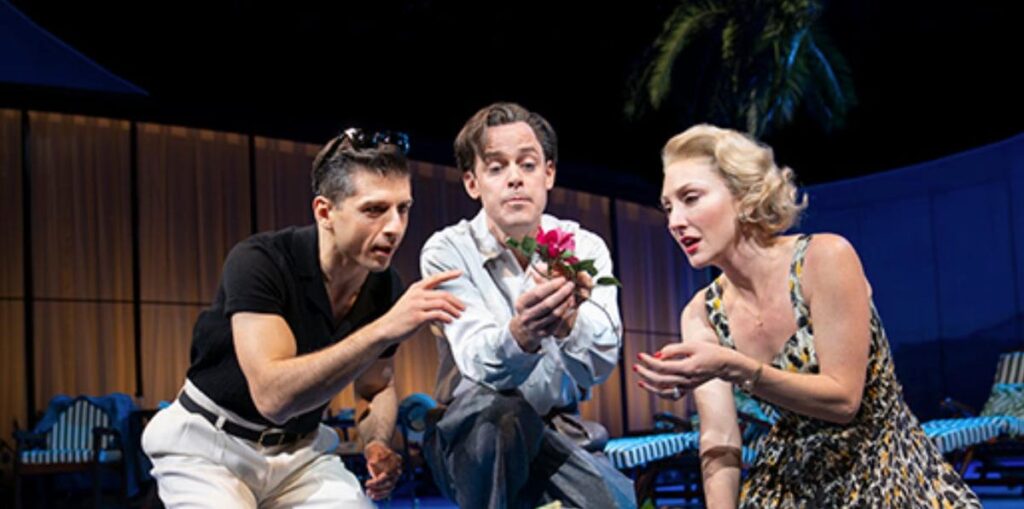 In The New Musical 'Flying Over Sunset' This Broadway Star Really Soars
Picture this. It's the 1950s and Clare Boothe Luce, Aldous Huxley and Cary Grant, titans in their respective fields, go on a very trippy journey together taking LSD in the backyard of Luce's Malibu estate. (Yes, you read that right.) Their mission is to discover insight within their deepest selves and perhaps, along the way, heal their pain.
Such is the premise of the daring new musical Flying Over Sunset. Although the real Luce, Huxley and Grant were known to experiment with LSD, The Lincoln Center production is a work of fiction. But much more than a show about three cultural icons getting high on psychedelics, Flying Over Sunset is universal in its themes about opening the door to your demons, dialing into your worst fears and nurturing the child within.
Now playing at the Vivian Beaumont Theater, Luce, Huxley and Grant are masterfully played by Carmen Cusack, Harry Hadden-Paton and Tony Yazbeck, with Gerald Heard (Robert Sella) entrusted as their "guide." The new musical offers a dream creative team with a book and direction by James Lapine, music by Tom Kitt, lyrics by Michael Korie and choreography by Michelle Dorrance.
When she was given the script in 2019, Cusack didn't know if the musical was right for her. "My initial thought was, is this really the conversion to be having when there is so much subversive politics running amok in our country?," shares Cusack, who made a giant splash and got Tony and Grammy nominations for her Broadway debut in Bright Star and is known for her luminous voice. "A group of accomplished middle aged white folk tripping on acid seemed a bit trivial."
But then again, Cusack deeply admired James Lapine and his vast and stellar body of work which includes Sunday In The Park With George, Into the Woods, Falsettos, Passion and on and on. Although torn, she agreed to do a workshop production of the show. As she delved into the show she discovered that the musical spoke to her in a profound way.
"Through that process I started to connect with many aspects of the piece," says Cusack. "It intrigued me more and more that these introspective characters would go so far as to experiment with hallucinogens in order to heal and/or unlock themselves from past traumas."
Jeryl Brunner: What qualities did Clare Boothe Luce have that you admire?
Carmen Cusack: If Clare Booth Luce and I had run in the same circles back in the day, I doubt we would've been friends. However, I think I would've admired her tenacity, work ethics and bravery. It seems as though she devoured life.
Brunner: Is there something about her that really surprised you?
Cusack: That she was a staunch Conservative and yet took LSD was quite a juxtaposition.
Brunner: Why do you think you, Tony Yazbeck, Harry Hadden-Paton and Robert Sella make a great ensemble?
Cusack: Working with Tony, Harry and Robby has been the best part of this job. They truly are masters of their craft and inspire me in different ways nightly. It's a tight bond we've developed. I'm still pinching myself that I get to share the stage with these incredible gents!
Brunner: What was it like working with James Lapine?
Cusack: And then there is James Lapine. He is a legend who couldn't have been kinder or more supportive through the whole process. He really showed a deep respect and appreciation for us and what we were trying to achieve under incredibly challenging circumstances. Covid-19 aside, this show was probably the most chill I've ever been on a job and I think I have James to thank for that. That or the LSD!
Brunner: How did you stay creatively nourished during the pandemic, especially when you weren't working?
Cusack: Through the pandemic, I found solace in listening to music, dancing and cooking with my husband in our kitchen. Writing, baking, knitting and binge watching, all sorts.
Brunner: Is it hard to describe how singing makes you feel? And when did you know you had a special gift?
Cusack: Singing can sometimes feel like dancing and other times like a deep purge. It depends on the song and how I'm feeling. What I need to express. It is always therapeutic even when I'm tired and don't necessarily feel like singing. It becomes my breath and my release. I started singing in church at a very young age and saw that it moved people.I don't consider myself religious but when I sing I feel the closest to whatever God is.