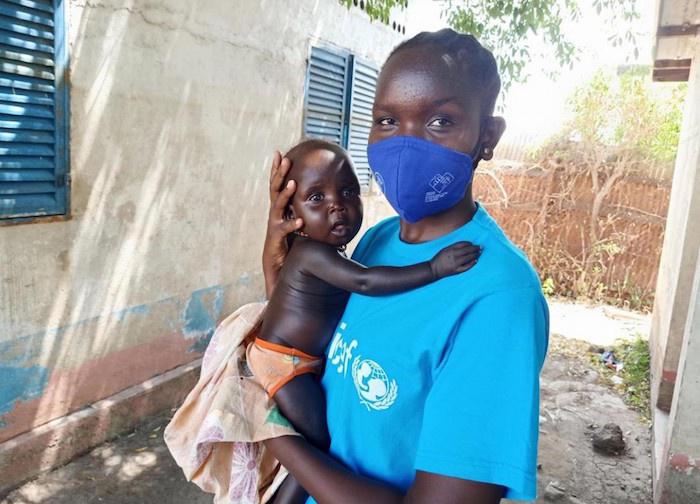 In South Sudan, Situation Grows Increasingly Desperate For Children
Intercommunal conflicts. Massive flooding. Displacement. Rising poverty. Hunger. COVID-19. The compounded effects of South Sudan's overlapping and interrelated crises amount to one of the world's gravest humanitarian emergencies — and the most forgotten. UNICEF is there, but more support is needed to save and protect the most vulnerable children.
A decade ago, South Sudan declared its independence and started on a path to what many believed would be a better, more stable future. Two years later, the new nation erupted into civil war, and the country has been in crisis ever since.
Today, a new peace agreement has been signed and a transitional government is in place. Life, however, continues to be one of extreme hardship and deprivation for millions of South Sudanese children and their families.
In South Sudan, 1 in 10 children die before their fifth birthday — one of the highest child mortality rates in the world
Two out of three children in South Sudan are now in desperate need of humanitarian assistance — an estimated 4.5 million, and 400,000 more than last year, according to UNICEF. The biggest problems — poverty, food insecurity, poor access to education, child abductions — have only gotten worse.
Some 60 percent of the population cannot get enough food. UNICEF estimates that by the end of 2021, the number of children under age 5 with severe acute malnutrition will reach 313,000.
"South Sudan is one of the worst humanitarian crises in the world – and the most forgotten," says Mads Oyen, UNICEF's chief of field operations in South Sudan. "UNICEF is appealing to the donor community not to cut their humanitarian budgets for South Sudan and its children. More than ever, the children in the youngest country in the world need donors to support them so they can enjoy their rights – and just be children."
The crisis in South Sudan is a child rights crisis
As UNICEF notes in a recent report, the humanitarian situation in South Sudan is not sudden nor is it a surprise. It is the cumulative effect of years of prolonged conflict, chronic vulnerabilities, limited essential services and weak governance.
Social and economic vulnerabilities have been further challenged by plummeting oil prices, huge inflation, climate change, new outbreaks of subnational violence and the COVID-19 pandemic. Some 8.3 million people are in urgent need of humanitarian aid, a record number for the country.
Persistent, extreme droughts and floods have ruined farmlands, destroyed homes and restricted the availability of safe water. Over 1.6 million people are internally displaced and another 2.2 million are living as refugees after fleeing violence or natural disaster — or both.
As conditions deteriorated, child abductions — which had become common during the civil war — have dramatically increased. Girls (and women) are often taken to be raped; boys are taken to be trained for fighting and cattle raiding. There were an estimated 680 cases of abduction in 2020 alone.
UNICEF works with partners to help identify and negotiate the release of children who are victims of such violence, exploitation and abuse and provides them with psychosocial support and family tracing services to reunite them with loved ones. UNICEF has helped reunite 6,000 children with their parents since 2013, but there are thousands more still waiting.
UNICEF and partners have scaled up treatment for acutely malnourished children — but more support is needed
To address South Sudan's nutrition crisis, UNICEF and partners have scaled up both treatment and prevention programs in the worst affected areas. Through these interventions, UNICEF provides therapeutic foods, lifesaving medicines to treat common childhood illnesses and medical supplies to 1,145 stabilization centers nationwide.
The response has produced some positive results. During the first half of this year, UNICEF and partners reached over 90,000 children with severe acute malnutrition with treatment, with a recovery rate of over 95 percent.
In collaboration with the Ministry of Health, UNICEF also supports the training of community nutrition workers who, much like community health workers, are on the front lines offering services and support to children and families in areas most affected by rising food insecurity.
Nutrition workers are trained to detect malnutrition and provide treatment referrals. They also counsel mothers and caregivers on best feeding practices — including how to make a nutrition meal out of whatever limited resources are available — and the importance of breastfeeding, ideally until a child is 2.
Christine Saida Andrea, a UNICEF Child Reporter from Juba, recently spent some time in Pibor visiting with children and their families at a nutrition treatment center and speaking with students at a primary school.
"The children are experiencing the bitter side of the world at a very young age, their rights are being denied, they are the victims of all the chaos happening in Pibor and across South Sudan," Andrea writes in a first-person account. "They want to be educated and have a better future but the environments they live in do not support that."
A big challenge, educators and aid workers agree, will be getting girls to return to school after a long absence while schools were shut due to the COVID-19 pandemic.
"You find girls three times more likely to die due to [complications from] childbirth than complete Primary Eight," UNICEF Child Reporter Zikra Gibriel Alfred, 17, writes in a recent blog post, which is also excerpted in the July 2021 UNICEF report. "Most girls drop out of school because of poverty and lack of support in the family. Our parents use us as a source of income through dowry. They force us to marry early without asking us our choices and opinion… We are suffering."
Andrea's account adds a hopeful note: "I have faith that 10 years from now, things will be better," she writes. "When we celebrate our 20th year of independence in 2031, things won't be the same because we, the children today, are going to make sure that children in the future won't experience what we are experiencing."
Learn more about the humanitarian crisis in South Sudan and the details behind UNICEF's latest appeal for support for the country. Read the UNICEF report, Respond to Our Cry: Children's Urgent Need for Help in South Sudan.
UNICEF is appealing for more support to help fund lifesaving interventions that are urgently needed now in South Sudan. Help UNICEF continue to provide nutrition, safe water, education and child protection to vulnerable children all around the world. Your contribution can make a difference.