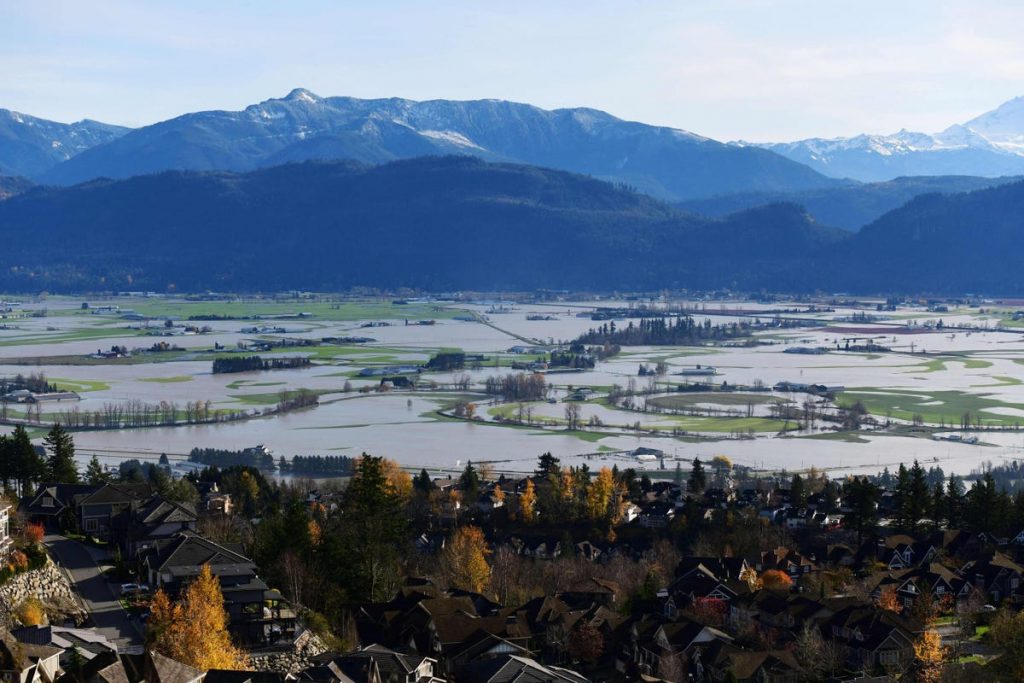 In Less Than Six Months British Columbia Has Both Burned And Flooded
I moved to British Columbia in 1995 from Eastern Canada. Frankly, I was fed up with the cold. "If I'm really desperate, I can drive to the snow," was the line I'd often use when people asked why I was moving 4400 kilometres west.
It's 2021, and my adopted home province has suffered two devastating climate change-induced catastrophes in less than six months. I can't even blame it on the snow.
With COP26 having just concluded, I'm wondering aloud if leaders have done enough. I don't want to see my province—or other jurisdictions, for that matter—suffer any further due to avoidable inaction. But things are looking very ominous for my future.
Summer kicked off in late June with a heat dome. A heat what? A heat dome is "essentially a mountain of warm air built into a very wavy jet stream." In sum, it's heat that gets stuck. It has nowhere to escape. Heat domes outright are not the outcome of climate change, but because the Pacific Northwest has warmed by 4 degrees Fahrenheit since pre-industrial times, the resulting effect can be lethal.
Lethal it was.
Nearly 600 people died in British Columbia due to record-breaking temperatures well into the high 40-degree Celsius mark. Two hundred thirty-one people died on June 29th alone. It ravaged the province from Vancouver Island, through Vancouver, and well east and north-east into what is known as the Interior.
The heat dome didn't stop at the border either. Washington State suffered 95 deaths, and Oregon another 116.
Much of the world has already learned of Lytton, the small town in the B.C. Interior that literally burnt to the ground during the heat dome. Temperatures reached 49.5° Celsius (121° Fahrenheit), which caused the entire town to be obliterated in minutes. Amid the tragedy, Lytton Mayor Jan Polderman did what he could but remarked, "It's dire. It took, like, a whole 15 minutes from the first sign of smoke to, all of a sudden, there being fire everywhere."
And now? British Columbia has declared a state of emergency due to apocalyptic flooding from an "atmospheric river." A river in the sky? Pretty much. Meteorologists consider an atmospheric river a long, narrow band of moisture circulating in the atmosphere carrying water from the tropics and subtropics toward the poles. Unfortunately, British Columbia is smack in the middle of that weather highway.
Across most of the province's major cities, it dumped the average monthly rainfall in 24 hours. For example, in some parts of B.C., more than 250 mm of rain fell in less than a day. The effect has been catastrophic.
At least one woman died. Several more are reported missing. The entire city of Merritt was evacuated, with over 7,000 people. More than 1,000 citizens in Hope were also banished from their homes. Countless more across the province had to be rescued, stuck between multiple landslides, mudslides, and oceans of water, trapping them from safety.
The main highway connecting the capital city, Victoria, to the rest of Vancouver Island was partially washed out. It will take days, if not weeks, to fully repair. The main artery that connects the Interior to the Lower Mainland—where Vancouver, Burnaby and other cities are located and where the bulk of B.C.'s population lives—has over 20 separate impassible points of the roadway.
Although I mentioned earlier of the heat dome, I didn't call out the specifics of the wildfires in 2021. There were plenty of those as well. The province experienced a total of 1,634 wildfires which burned 869,209 hectares of land. There were "only" 670 fires in 2020, and "only" 14,536 hectares were burned.
As I check in on friends and continue to watch the horror play out on mainstream and social media this week, I am gobsmacked for words.
Did Cop26 really do anything to move the needle? Will my province go down in flames? Do I need to build an ark?
"COP26 has closed the gap, but it has not solved the problem," said Niklas Hoehne, a climate researcher at Wageningen University in the Netherlands.
Even if countries do indeed hit their 2030 targets as stipulated by the Glasgow Climate Pact, scientists like Hoehne argue that global temperatures will still rise 2.4 °C above pre-industrial levels by 2100.
I might not be around to witness it, but I am nonetheless a wee bit nervous about the rest of my life should the example of B.C. in 2021 get worse in 2022 and beyond.
_______
Check out my 4th book, "Lead. Care. Win. How to Become a Leader Who Matters." Amy. C. Edmondson of Harvard Business School calls it "an invaluable roadmap." There's also a self-paced online leadership development masterclass available. Nearly 100 videos across nine practical leadership lessons.