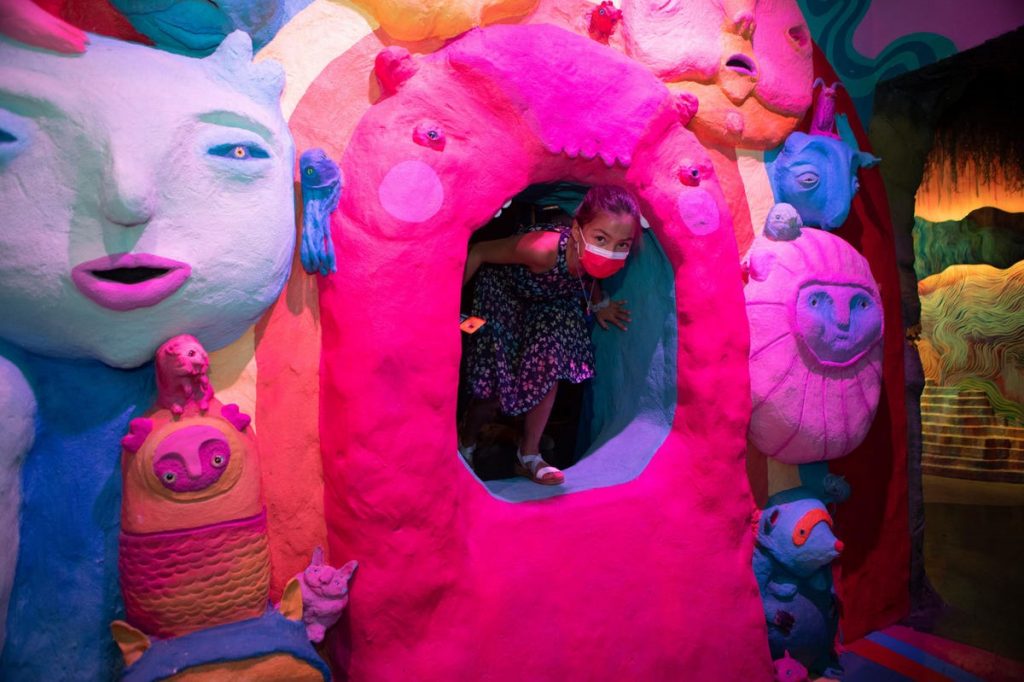 Immersive Arts Innovator Meow Wolf Flexes Economic Muscles Post-Pandemic With New Denver Location
Few areas of the economy took as direct a hit from the COVID-19 pandemic as the fast-growing, buzzy world of immersive arts experiences typified by companies like the Santa Fe-based social impact B-corporation Meow Wolf, which had just raised $158 million in 2019 to expand its operations. After a rough couple of months in 2020, Meow Wolf has come roaring back, announcing the opening of its third permanent installation, Convergence Station, in Denver on Friday, September 17, 2021. And new data shows that the re-emergence of the "experience economy" could provide a much needed boost to local businesses of all kinds.
The new exhibit features Meow Wolf's intriguing combination of storytelling and visual design, peppered with moments to entice the Instagram generation. According to the company, "Convergence Station is the first stop on a quantum journey of exploration and discovery as passengers traverse new worlds, and like all Meow Wolf locations, labyrinthine mysteries beckon from its vibrant walls, portals, and wormholes." It features the contributions of more than 110 Colorado-based artists and more than 200 internal artists who have produced murals, sculptures, immersive installations and mixed-reality technology to captivate audiences.
The new facility is just the most visible manifestation of a business turnaround that's been in the works since things started to open up earlier this year. "We're seeing record growth year over year," said Meow Wolf co-CEO and CFO Carl Christensen. "Even before the pandemic, we were looking at ways to optimize operations. We worked with outside consultants to use some of our data to forecast [financial performance based on new post-COVID realities] and I'm happy to report we are not just achieving those results but exceeding them."
Ali Rubinstein, co-CEO and Chief Creative Officer, said the priority was ensuring attendee safety with mask mandates, social distancing and, in depending on regional requirements, proof of vaccination or recent negative test, while delivering a great experience. "We've had very favorable feedback from guests feeling safe and comfortable. I think everyone wants to come together and enjoy a physical experience again, so the results have been positive. Attendance has certainly shown that."
If those trends hold, it will not only be great news for the fans who enjoy fun and innovative ways to enjoy art and storytelling, but also for the artists and communities who participate in the upsurge in interest. Meow Wolf has done economic impact studies on its work and is releasing some of those results exclusively for the first time. According to the company:
· The State of New Mexico, in an Economic Development Report completed in 2017, expected Meow Wolf to contribute $1.5B in taxable sales over 10 years.
· Since this report came out, Meow Wolf is projecting 50% more hires in New Mexico over the 10 year period.
· The company is also projecting roughly a 100% increase in NM revenue over the same period driven by both an increase in volume of visitors and an increase in visitor spend . The main contributor to that change is a more than 3x increase in out of state visitors to the Santa Fe location.
· These revised estimates add $1-1.5B to the company's expected economic impact over 10 years for a total of $2.5B to $2.9B.
That's for one company, in one location, in one state. As a social impact organization, Meow Wolf sees this kind of "rising tide" effect as central to its own business goals. But in a broader sense, this kind of data helps make the case for the enduring and sustainable economic value of the arts – a case that the industry itself does not always do a good job making for itself in quantitative terms.
When Meow Wolf or a similar experience opens a location in cities like Denver, Las Vegas (site of Meow Wolf's second permanent installation, opened February 18, 2021), it not only contributes something new and interesting to the community's art scene and provides a platform for local artists, it also brings in money for surrounding businesses.
"After a year spent stuck in our houses, there's nothing like experiencing art to heal the soul," said Rubinstein. "Any opportunity for people to come together, to explore imaginative approaches, immersive experiences, storytelling, choose-your own adventure… that's all nurturing and healing and inspiring. That's what appeals to people who come to our exhibitions. Lots of folks interested in doing what we're doing. More people are doing it – that's all to the good."