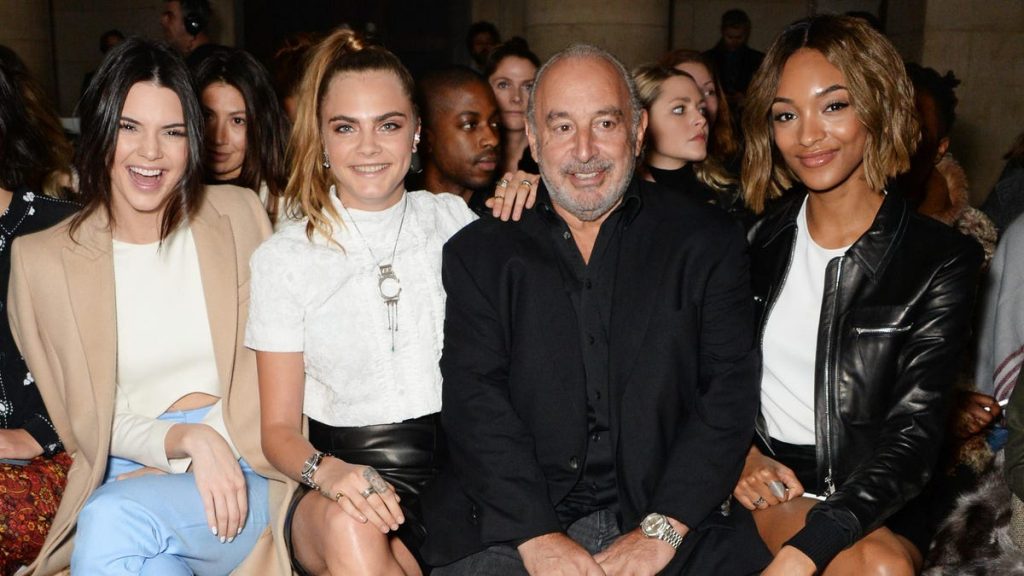 Topshop tycoon Sir Philip Green will raise $534 million from the sale of his iconic Oxford Street flagship store to IKEA, according to reports Friday, as the last piece of his Arcadia Group's controversial bankruptcy process slots into place.
The reported price, just $48 million shy of its reported optimistic $582 million asking price in May–and in the midst of the pandemic lockdown–is a huge boost for Green, who is struggling to pay down the massive debts accumulated by his bankrupt Arcadia retail empire.
The sale of the property will allow Green to fully repay the $425 million mortgage on the store, owed to U.S.-based private equity giant Apollo Global Management. The remaining $109 million will be used to help satisfy a larger pool of claims against Arcadia, the total of which was reported by administrators Teneo to have hit $2.4 billion in July.
Last week Forbes reported that a second round of bids for the property had arrived and were being considered. Those bids were said to be "in excess" of the $425 million owed.
The reported deal cannot be confirmed or denied by the property's administrator's Redcastle until it goes through, according to a spokesperson. The reports were also not fully denied by IKEA. A spokesperson for the Swedish furniture giant told Forbes that although it is "exploring" new locations "as part of a new city centre approach" the company currently has no plans to share its expansion strategy at this time.
Despite IKEA being a store largely dependent on customers driving to the store and parking there, retail consultant Nick Budd described IKEA's reported bid for London property as a "smart move," adding that the unit has plenty of room for pick-up items like plants and plates and a couple of restaurants. Nike and Vans currently have outlets in the building and they will not be required to close once IKEA arrives, according to reports. IKEA already has a very similar, much smaller, outlet known as a "planning studio" on Tottenham Court Road, in an area famed for its furniture stores.
The End Of The Road
Arcadia—the empire of 400 stores and 13,000 employees that included U.K. household names like Topshop, Topman, Miss Selfridge, Burton and Wallis—fell into bankruptcy in November last year. In July, administrators published an update, saying that total claims against Arcadia topped $2.4 billion, including a $700 million deficit in the company's pension plan for Arcadia's former workers.
Since then, Teneo, Arcadia's administrators, has sold off more than ​​$820 million of assets to help cover the debt, including the sale of famous brands like Topshop, Top Man, Miss Selfridge and HIIT to competing retailer ASOS in February; the sale of the Dorothy Perkins, Burton and Wallis brands to competing retailer Boohoo, also in February; and the sale of Evans to City Chic in December 2020.
However, in the July progress report, Teneo gave the clearest statement yet that the money collected from the sale of Arcadia's assets would be far less than the money owed by Sir Philip's failed retail empire. With the secured debt–the Apollo loan and a separate $255 million in secured pension debt—now covered, Teneo said in July that "[F]unds will be released to enable a distribution to be made to unsecured creditors of c.10p in the £, based on total expected claims of c.£1.8 billion," adding that, "[t]he remaining unsecured element of the Pension Trust debt will not be paid in full, dividends will be in line with those paid to other unsecured creditors." In other words, Arcadia has only been able to pay 10% of every British pound it owes to its unsecured creditors.
Teneo again would not comment or offer guidance on the potential size of the pension deficit or offer specifics on how the money raised will be allocated on Friday, but any significant shortfall will likely rouse the ire of U.K. politicians, who voted to strip the Green of his knighthood in 2016, after selling BHS for £1 in 2015. (Green still retains his knighthood.) The department store promptly collapsed the following year without clearing the chain's pension deficit. After a public outcry, Green was forced to pay $461 million from his own pocket to settle the debt.
Forbes estimates Philip & Cristina Green to be worth $2.4 billion—largely built on a $1.7 billion dividend from Arcadia, which they paid themselves in 2005.