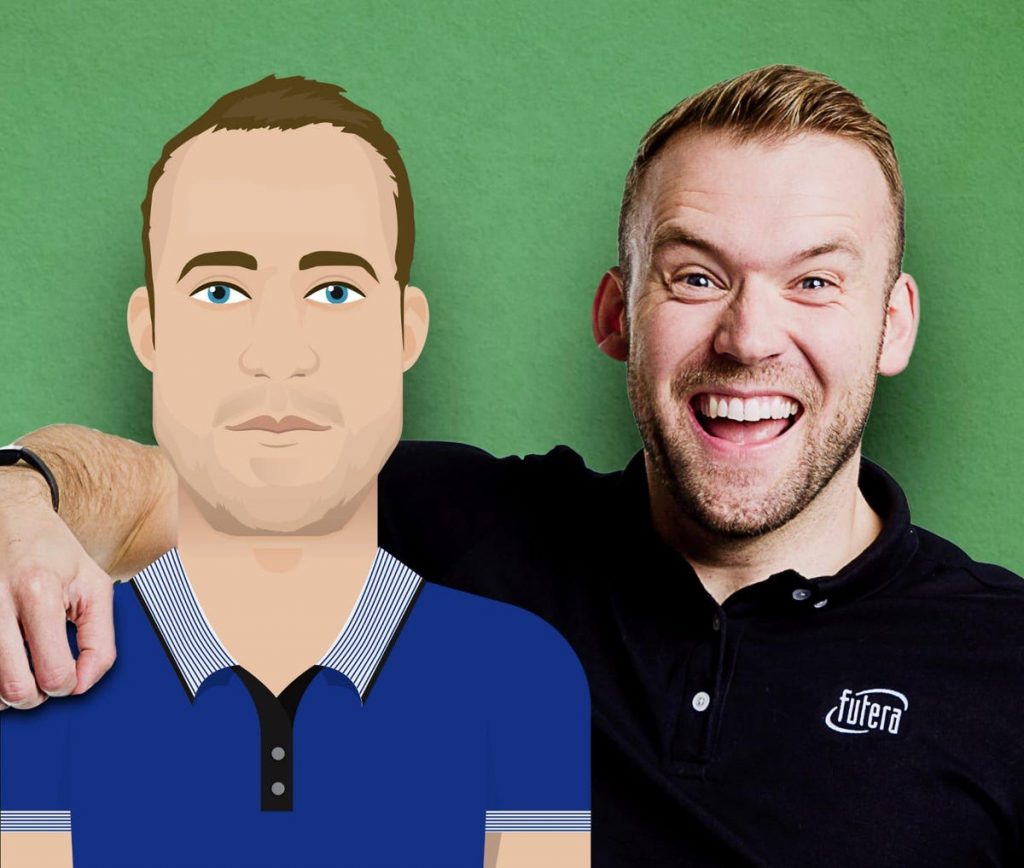 How Futera Plans To Use NFTs To Build A Soccer Team From The Ground Up
Established in 1989, Futera is one of the leading companies in trading cards and is the official trading card licensee of some of Europe's biggest Football Clubs such as Arsenal, Liverpool, Manchester City, and Paris Saint-Germain. In their latest initiative, Futera United, the company is moving into the NFT world with what they are calling the "NFT Community Football Club." I sat down with Adam Partington, Head of Marketing for Futera, to learn more about how the company is planning to bridge the physical and digital spaces with their latest launch in the NFT space.
Dave Knox: For those that aren't familiar with Futera, who are you? What's the history of your business?
Adam Partington: We are a 32-year sports brand synonymous with high-end, Limited Edition collectibles spanning Baseball, Basketball, Formula 1, Football, Soccer, World Cup Cricket, Rugby, Boxing, Wrestling, Surfing, Horseracing.
Having a 27 year history in soccer, we have been an Official Trading Card Licensee for some of the world's biggest Clubs including 14 English Premier League Clubs (including Manchester United, Liverpool FC, Arsenal, Chelsea, Manchester City…) with the more recent additions of French Ligue 1 Clubs Paris Saint-Germain and Olympique de Marseille.
As a niche publisher of ultra-rare, high-end cards, the Futera brand would be known mainly to trading card sophisticates. Futera keeps its release quantities to around 50 or less of any card, with Futera '1 of 1' 24ct gold plated framed cards being a key characteristic of their collections. The brand has been called the 'Lamborghini of trading cards' – you're not going to see many in the high street.
Rarity and authenticity are important considerations for a collector, and Futera not only individually numbers every insert card, but photographs each card front and back with its data and unique identifiers recorded in a database. This data generates information services for collectors to access online about how their card was created, its features and how many were actually released.
Transparency is also important. For game-used jersey cards, information about the game/date the jersey was worn by the player is printed on the card, and player autographs state where and when the player signed the card, and how many. Also, Futera's autograph cards feature players' on-card signatures as opposed to stickers.
Having created several world firsts for the trading card industry over the years pioneering innovative card types and collector experiences both in the physical and digital sectors, Futera has announced its entry into the NFT space with Futera United.
Knox: On that announcement of Futera United, what will it be?
Partington: It's a mix of trading card mechanics, the current trend of PFP projects, a fantastic Roadmap of ridiculously exciting milestones and ultimately the founding of a very special Football Club! As football fans, we also have this burning desire to see football democratized. Futera United is an attempt at that lofty aim, too.
With the advent of NFTs, as a trading card publisher it could have been tempting to make a move into the market and just put out a straight copy of our football card collections to cash-in on what looked like a gold rush.
I think most people saw trading cards as a perfect product for this new world of blockchain technology, but early on we weren't convinced that anyone had actually found a genuine use case for NFTs that would really showcase what could be done.
And that's basically why Futera United was born – we're taking NFTs and adding a utility that is of genuine interest to our demographic – sports fans, but more specifically, soccer fans.
In a nutshell, the project and Roadmap is the launch of 11,000 unique NFTs each in the form of a digital trading card, that will be generated at the mint stage from hundreds of individual traits. Based around the theme of football through the ages (think the long hair of the 70s, perms of the 80s, or mullets of the 90s etc), these NFTs will be unique '1 of 1's – something that we are famous for!
Sales of the NFTs hitting certain percentages of the release unlocks different milestones on the Roadmap which includes exclusive information, free NFT drops, the ability to buy merchandise linked to your NFT, charity donations centering around supplying kits to kids from underprivileged backgrounds, and ultimately, at full sell-out, the formation of a real football Club that we'll build from the ground up with the NFT holders steering the direction of the club.
Knox: When you say build a Club from the ground up, will you need to buy an existing Club to start that process?
Partington: No, we will literally be starting from zero. Buying a Club and putting this system in place would be counterintuitive to how we view football and also unrealistic. A Football Club is a focal point of a community already, so to just buy a Club and then ask an online community to help make decisions over it would in my opinion be disrespectful to the fans of the Club that already exist. The Club I follow – West Ham – saw similar issues in the early nineties with the infamous Bond Scheme, and more recently with Fan tokens. You can't change the rules that have been in place for decades.
Although we're known predominantly as a trading card company, we have our foot firmly within the footballing world with an infrastructure that makes a Club's creation a lot less daunting than it would be for most companies. For example, the Futera brand has a successful Teamwear division, making high-end apparel for the Australian soccer market – so kit manufacture and merchandise can all be done in-house. We're also already laying the foundations for the playing side, having secured a fantastic purpose-built training facility which will be revealed this week and having two Directors of football with years of experience. So when sell-out happens, no-one will be waiting around to see what happens next… the decision-making for the community can start straight away.
Knox: Is there a benefit for a traditional card collector in holding a Futera United NFT?
Partington: Yes – as this month goes on we'll outline to our core collectors their own timeline. We'll be offering exclusive collector opportunities (the Futera Gold Club) such as exclusive drops and early access to some releases. There may also be exclusive LIVE cards just for NFT holders.
In addition, the NFT itself is a digital trading card with some really fun initiatives planned for further down the road. We'll be including statistics with the cards for future gamification, plus rarity values which will mean that although each card is a unique '1 of 1' there will still be chase elements based on rarity of traits.
A huge part of the project is community-based, and we have structured the digital cards to generate subset communities which will have a relationship to the card(s) that each person holds – these will be known as #teams.
Knox: Is this the first time Futera has made digital cards?
Partington: No, we created an online football card management game in 2007. It became something of an overnight success in Asia and even featured virtual game-worn memorabilia which we thought was pretty forward-thinking at the time. However, technology wasn't as it is today, nor were there the same strategic partnership opportunities in those days to so our focus at that time remained on physical cards.
However, with our passion for taking a core product to a more valuable or interesting level, we decided to turn the online game into reality. In 2013 we launched 'Futera FC' – the world's first professional Soccer Team to be managed by an online community – and entered it in a real Pro Football League in Asia.
Fans voted online from their computers on the team's playing style, formation and tactics as the game played out live on the pitch, the Manager relaying the community's instructions from the sidelines to the players via a virtual management platform. Futera FC reached fourth place in its Division.
With technology and especially mobile internet being far advanced from what it was eight years ago, it allows Futera United to take the 'Futera FC' concept to another level.
Knox: How important is a brand for NFTs?
Partington: NFT trading cards from companies with no brand history have done immensely well in the space, but their success may be attributable to the gamification aspects of their cards rather than to purist 'collector card' value – game cards and collector cards are different animals.
Brands are like a currency, so for a collectible there would normally be an inherent value associated with the brand. As long term value is important to NFT buyers, whether for a digital monkey or a serious work of art, a brand synonymous with longevity could be a consideration.
Knox: What changes have you seen in collector behavior?
Partington: What we're seeing in the trading card hobby now is unprecedented.
Card Forums have traditionally been the go-to place for information-sharing and dialogue amongst collectors, however today, influencers, celebrities and entrepreneurs who have become interested in the trading card space are playing a role in the development of the hobby such as Gary Vaynerchuk, Mark Cuban and more. Their interest and distribution of information through their own channels and mainstream media have given an incredible boost to the hobby and have been an inspiration to collectors.
The developing global card boom, with the whistles and bells of digital innovation, e-commerce and social media, commands a new approach to the hobby with new Publisher-thinking and new collector behavior. Niche is now mainstream. There has never been a more exciting time in the hobby with as much opportunity for creativity.
The last card boom was over 25 years ago driven by the all-American sports, this time the main sport driving the hobby is international football (soccer). With an estimated following of 4 billion, soccer is the world's most popular sport, yet for sports cards it has been something of a sleeping giant.
This is perhaps because most sports don't travel outside their geographical regions (other than the NBA which carries some street cred in Asia and Europe) whereas soccer is a globally-followed sport, and through today's social media reach, the sport of soccer, and consequently its merchandise, has had a platform to become more visible than ever before.
A rising tide lifts all boats, and although we've seen exponential growth in soccer card sales, all trading cards – sports and non-sports – are benefitting from this card boom. And, for sure, we're going to see most trading card Publishers enter the NFT space in some form or another, if not already there.
Knox: Are NFTs here to stay?
Partington: NFTs have been a disrupter within the trading card hobby, changing even the face of card retail and distribution. Publishers are re-imagining product, how we do business, how collectors pay for goods… Should we get passionate about the NFT space? Yes, I think so – with caution.
Are many new NFT 'things' simply being generated because of the hype around some crazy prices being paid for some (seemingly) crazy things with no regard for whether people actually want them? Again, yes. Many people will be looking at their product line and thinking 'maybe this could be an NFT? – let's 'make hay while the sun shines..'.
With Futera, our mission is to deliver interesting, informative and innovative card collections and collector experiences to the hobby, and we wanted to carry this ethos into the NFT space. Futera United isn't about us, we're providing an entry into the NFT world for a community to express its own creativity through a shared love of sport and experiences in its journey to create the world's first NFT community Football Club, with a recipe of trading card activity and mechanics along the way.
Whether NFTs are here just for today or here to stay, NFTs have inspired the re-imagining of how we do things and presented us with a challenge… that's a good thing.
Knox: So what does the long term future of Futera United and Futera NFTs look like – any sneak previews?
Partington: We're really passionate about the women's game. We host women's Football Tournaments each year in South East Asia, we released our first women's football cards this year with Arsenal FC, and we have a woman CEO in Gwyneth, so naturally we'd love to see the women's game feature in the NFT project!
Knox: Will we see more NFTs from Futera?
Partington: Futera United was actually planned to be the second NFT project in our program, having had another initiative all set to go. However, we felt that the Futera United project was more in line with current trends being seen in the NFT sector, so we'll hold the other project for launch in 2022 – it's a very different concept.
Futera United is a long-term project with a Roadmap already planned out. Some really exciting initiatives will be introduced as the project develops involving trading card activity as well as the Club-build. Ongoing blockchain initiatives will be a large part of the Futera program as we look to position ourselves as a market leader in sports-based NFTs.