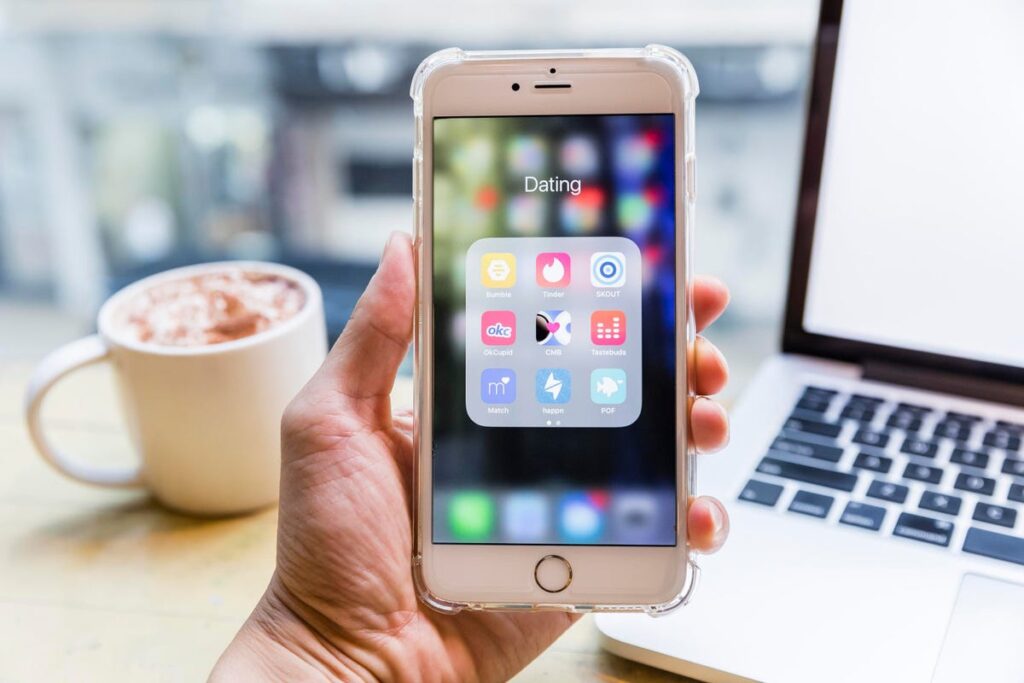 How Dating Apps Are Countering 'FODA' This Covid-19 Christmas
'Tis the season to… find love, or at least find someone who might become a love interest. That's the Christmas wish of the people who make their living in the billion-dollar matchmaking industry. The folks running the leading dating app companies are counting on singles—including LGBTQ people—to look for that special someone using their products, despite this being our second holiday season coping with Covid-19.
"With the vaccines and other changes in the pandemic, people want to get back out there and date," said Logan Ury, director of relationship science at the popular dating app Hinge, citing her research into 2021 dating trends. "But we also understood that more than half of singles have FODA."
What is FODA?
"FODA," Ury explained, "is fear of dating again."
Even if you've never heard of "FODA" or used that acronym, which also means "Fear Of Doing Anything," that feeling is certainly justified with the Omicron coronavirus variant now present in all 50 U.S. states and all around the world.
Recently, the people at Match Group behind the Plenty of Fish dating app surveyed U.K. singles about their dating habits. As Glamour magazine reported last month, someone creative there coined a new term to describe the indifference many respondents felt about dating during the pandemic. They dubbed it "hesidating."
Yet one of Match's major competitors in the dating biz said business has been "largely unaffected" by the pandemic.
"Demand does not change when these variants pop up. Demand does not change with different restrictions," Bumble's CEO and cofounder, Whitney Wolfe Herd, told CNBC this week.
Last year at this time, we learned how Match (which owns Hinge, Plenty of Fish as well as Tinder and OK Cupid), Grindr, #open and matchmaker Brandan Rader were meeting their customers' needs in 2020. This year, executives from Bumble, Hinge and a new app focused on pleasure, Headero, were asked what they're doing to attract new users during this second pandemic-impacted holiday season.
Bumble
"People need love. People need connection," said Wolfe Herd in her CNBC interview. "That does not go away, irrespective of the changing landscape of this pandemic so our business remains largely unaffected during this new wave."
What Bumble has done to standout in the dating app world, Clare O'Connor reported in Forbes in 2017, was to carve out a lucrative space by focusing on the needs of one segment: women. Together with the app Badoo, Bumble operates in 150 countries with 2.8 million paying users as of March 2021.
In June 2019, Bumble rolled out the new tech of voice and video in-app calling, as The Verge reported. The idea originated with Andrey Andreev, the founder and majority owner of the two online dating apps. A month later, Andreev announced his company, MagicLab, launched an investigation into allegations, made in a Forbes report, by over a dozen of his former employees that his London-based corporate headquarters is toxic, especially for women. In Nov. 2019, Forbes reported Andreev sold his stake in MagicLab to private equity firm Blackstone Group in a deal that valued the entire group at $3 billion.
Wolfe Herd, who owns a 21% stake in Bumble and reportedly turned down an offer of $450M buyout offer from Match Group, became the youngest self-made woman billionaire after it went public in February of this year. Last month, however, Bumble stock [BMBL] took a steep plunge after the Nov. 10 earnings call, dropping Wolfe Herd out of the billionaires' club. Bumble stock has edged slightly higher since then, but its share price remains 50% lower compared to its record high.
Although a spokesperson for Bumble couldn't make Wolfe Herd or anyone available before press time, Wolfe Herd discussed how Bumble adapted during the pandemic using video and voice at last month's 2021 Forbes Under 30 Summit:
Hinge
Hinge, a dating app that has facilitated more than 36 million dates for its members since its re-launch in 2016, has adopted this tech, too, but not with a nod to its competition. Its team said they found inspiration in another app that has become the place to meet someone online and fall in love—with their voice: Clubhouse.
"During the pandemic, there has been the rise of the social app Clubhouse," Ury told Forbes on a phone call from her office in San Francisco, where she is a behavioral scientist, dating coach and author.
"We kept hearing from people: 'The voice is an extremely important factor to me in terms of attraction.' Also, 75 percent of users said, 'It's hard for me to assess chemistry from a profile,' and 'I don't know how I feel about this person.'" said Ury. "So, Hinge added voice, which has just been such a delightful new feature because people are being playful with it, people are telling jokes, people are doing Chewbacca impressions, and it just feels like that separation between looking at a profile and knowing what it would be like to be with someone, it feels like would really help close the gap."
Another gap that some singles have trouble bridging is finding an LGBTQ connection, without the bigotry, bias or outright ignorance. Executives at Hinge say they've worked hard to address this need.
"First and foremost, we want to ensure that we are a dating app that's inclusive and welcoming for all of us, regardless of your race, religion, ethnicity, location or sexual orientation and gender," said Hinge chief product officer Michelle Parsons. "We actually invested this past year in really dialing up that particular part of our product with three new features where we have the ability for users to really get a better sense of who each other are."
A spokesperson for Hinge told Forbes the app offers more than 50 gender options for users to select within the app. "We also give users the ability to write in their gender, too."
According to Parsons, another one of those features is that Hinge is the first mainstream dating app to include a nonbinary gender option. "We have over 27 different gender options for each user, because we know that gender is something that is very individual," said Parsons, who is based in New York City. "While it's not perfect, what we're really trying to do is to recognize that gender really is a spectrum, and we want to give people a space to authentically express that."
"From the beginning, our goal is to maintain a safe and inclusive environment for everyone," Ury added. "Anyone exhibiting transphobic behavior on Hinge is immediately banned from the community, and we have a hate speech reporting action you can go to, directly from the app, and we will take immediate action. We have a team of content moderators who are maintaining the integrity of our community. This is something that we are actively thinking about and doing everything that we can to help protect our trans users."
Ury also noted that, like Bumble, Hinge has partnered with the Anti-Defamation League to spot and remove hate speech. In October, Hinge also enlisted the help of Surgeon General and Vice Admiral Vivek H. Murthy, M.D. to answer questions about dating during the pandemic.
Hinge boasts its app helps users set a date every two seconds, which is more than one million dates a month. Year over year, Hinge has doubled its growth and is now the third most downloaded dating app in the U.S., according to its shareholder letters.
Parsons wants users and singles looking for a dating app to know Hinge offers more than just connections.
"We are not just our filtered photos and the witty statement that we came up with," she said. "We are our dreams, our failures, the community we surround ourselves with, our friends and family. All our experiences shape who we are, and Hinge wants to ensure that we can really help users and use the space to express that more intimately and more authentically and more vulnerably."
"As our users evolve, based on their experiences around them, their profiles also evolve," explained Parsons. "So, we want you to know that when you create your profile, you set it, and you present it as someone who really is a living, breathing implementation of yourself that you can truly use to go and meet other people out there, especially given the state of where we find ourselves today, with lockdowns and restrictions. We really want to show that people can find connection in the way that they otherwise would be unable to."
Headero
And now for something completely different: An app that's really focused on "word of mouth" marketing.
A publicist for the new app called Headero, which launched in July, wants those people who are still "hesidating" to know, "dating doesn't have to suck." When it comes to this LGBTQ+ friendly hookup app that advertises itself as something "for people who love oral pleasure," their choice of the word "suck" is no accident.
"Honestly, it popped in my head, just kind of like that," said Stephen Quaderer, the app's CEO and founder. He spoke via Zoom this month from his New York City bedroom, perhaps also not by accident. Quaderer explained why he chose the name, "Headero."
"'Head' is one of the ways that we talk about oral pleasure. It's one of the kind of tongue-in-cheek ways that we refer to it," he told Forbes. "It's intentionally poking fun at the sexuality boxes that are meant to contain us. People understand that this is for everyone, despite the fact it rhymes with 'hetero,' which is another way to say 'heterosexual.' When we were going through the research, I did a lot of interviews with a lot of folks, and concluded that we could get there. I wanted to poke fun at that. I want that to be part of the conversation."
But what if people mistake Headero for a "straights-only" dating app? Quaderer, who is gay, admitted: "Honestly, that's my single, deepest fear."
To address that, Quaderer said he has made what he called "genuine connections" with New York's queer community using social media, like Instagram, especially with folks who are transgender.
"We don't do matching and we don't do swiping," Quaderer said. "What we do allow is for real-time connectivity for whoever you're down with. I spoke with a number of folks in the trans community to make sure that we were getting that right."
Quaderer, whose work experience ranges from a camera rental business, a tech startup specializing in advertising technology, consulting as well as entrepreneurship, said so far, Headero has enlisted 11-thousand users. This may be his first solo app, but he's already got his sights set on the major competitors, like Bumble.
"We're not trying to shoehorn people into the gender binary, which is something that we see in a lot of other spaces," said Quaderer. "Frankly, if I may call out Bumble, do you want to be seen as people who are looking for men, or for women, or male or female? We don't restrict people from changing their gender identity, because for some, it's a discovery process, and you may not recognize what your gender identity is when you first sign on, and you may grow and evolve. We allow for people to connect with whomever or whatever gender identity that they're dealing with."
He noted that while Headero doesn't ask users their sexual orientation, the app does ask them their gender identity, and found there is one group that is predominant. "People who identify as men, whether it's cisgender men or transgender men, are our largest group of individuals."
Quaderer conceded, he doesn't have "a perfect solution" when it comes to transphobia. "People still can say, 'I don't want to connect with a trans person because of ickiness,' or whatever they hold in their mind in that way."
Users rate their experiences based on the guidelines of inclusivity, pleasure and sex positivity. But at the moment, Quaderer said he has just one person monitoring reports of violations of those three community guidelines—himself. "With those ratings, we then make those public immediately to the community. We're trying to create some accountability for people's behavior and hopefully create a space of shared values."
Learn more about Bumble here. Click here for Hinge. Headero is at this website.