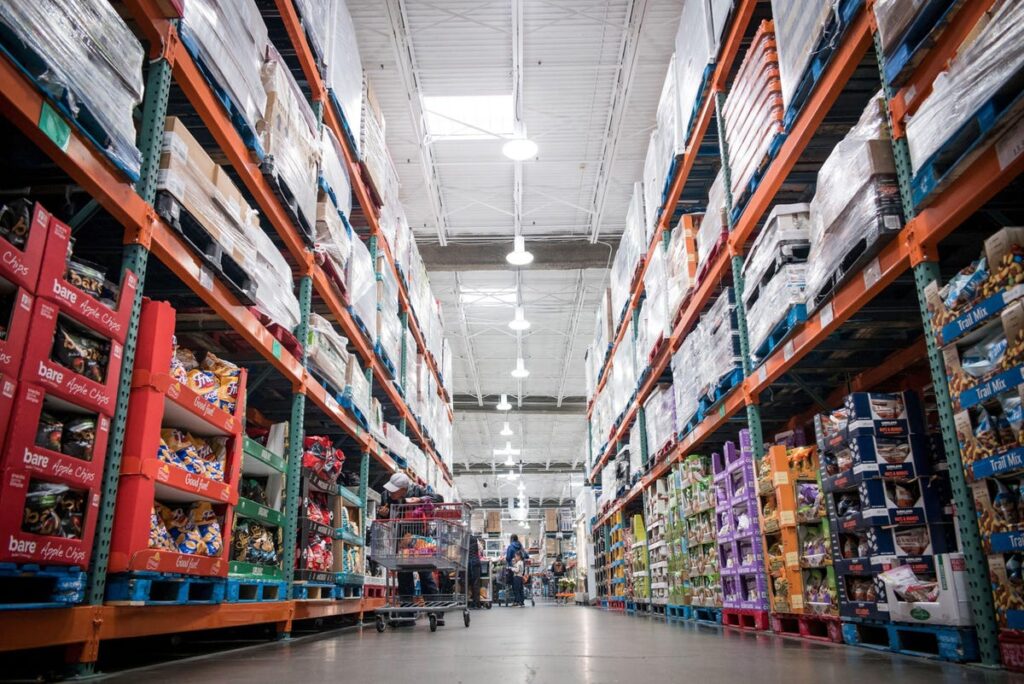 How Costco Has Kept Its 113 Million Members Hooked During The Pandemic
The latest product ensnared in the snarled global supply chain is cream cheese, apparently, causing a shortage that is wreaking havoc on bagel shops and bagel lovers everywhere, desperate to get their hands on the beloved schmear. As for Costco? Don't fear, it has plenty of the stuff on its shelves.
"I checked … and it took a little extra work, but we've got all the cream cheese we need," said Costco's chief financial officer Richard Galanti on a call with analysts last week.
The big-box retailer's ability to keep stuff in stock, and offer it at rock-bottom prices, is a big part of what has kept its 113 million members happy during the pandemic, fueling record sales and profits.
Costco benefits from its immense purchasing power, given the enormity of the orders it places with manufacturers to stock its 800-plus stores, which together move almost $200 billion in goods every year. Its strategy of focusing on a narrow assortment of products — it sells about 4,000 items, while other retailers may offer tens or hundreds of thousands of items — probably gives it more purchasing power, per item, than any other retailer, says Galanti.
Like other large chains such as Walmart and Target, Costco has also done its best to mitigate inflation by absorbing higher costs on many items, instead of automatically passing them along to shoppers.
It's perhaps no surprise, then, that the retailer is No. 1 on Forbes' inaugural Halo 100 list, powered by data provider HundredX, which measures which brands are most beloved by the customers they serve. Costco earned top marks for its quality products, prices and clean stores. The company declined an interview request for this article.
Costco has managed to hang onto a very loyal customer base, who pay $60 a year to come shop at the chain, even with stiff competition from Amazon and a rise in online shopping amid Covid-19 lockdowns. Membership renewal rates are over 90%, and the retailer added 10 million members during the pandemic. Shoppers often drop hundreds of dollars in a single visit, maybe stopping at the food court for a $1.50 hot dog or filling their tank with cheap gas, especially attractive as gas prices have hit a nationwide average of $3.32 a gallon, according to AAA.
The retailer has been slow to go online, but has been ramping up its e-commerce investments. It has been bulking up its online assortment and expanding its fulfillment operations to get items to customers' doorsteps faster. Billionaire investor Charlie Munger, who is also a longtime Costco board member, recently commented that the company will "eventually be a huge internet player" capable of rivaling Amazon.
It has a reputation for paying employees well, too, which helps keep turnover rates low. Its starting wage of $16 is above the $12 offered by Walmart and $15 from Target, but below the $18 now offered by Amazon. Most stick around long enough to earn a raise or two, though. More than 60% of U.S. employees have worked at Costco for five or more years, with the average wage for hourly workers at about $24.
RELATED ARTICLES
MORE FROM FORBESThe Forbes Halo 100 2022
MORE FROM FORBESHalo 100 Methodology: Calculating Customer Satisfaction And Social GoodBy Diane Brady
MORE FROM FORBESHow Columbia Sportswear Became America's Most Trusted BrandBy Jena McGregor
MORE FROM FORBESWhy Toyota Is The Top Auto Brand In The Halo 100By Marty Swant
MORE FROM FORBESWhy Netflix Enjoys Top Marks From People Of ColorBy Jared Council