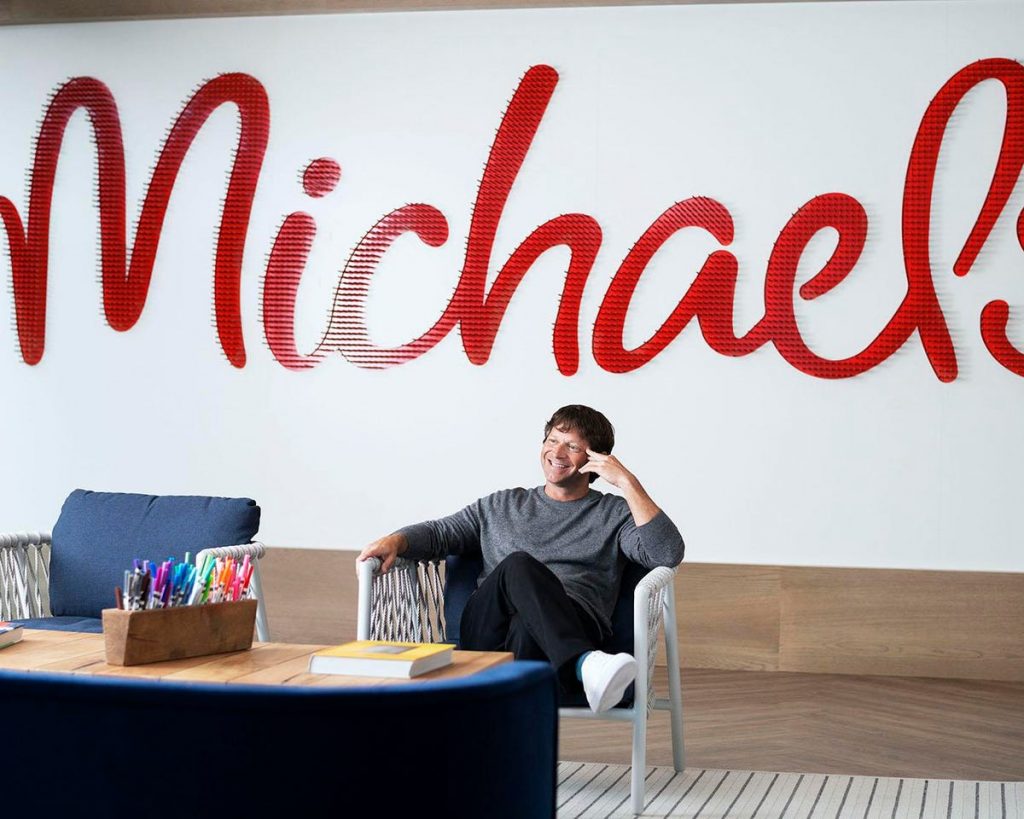 How CEO Ashley Buchanan Is Crafting A Brand New Michaels
Trying to turn around a sleepy retail brand in the best of times is no easy task. But throw in a pandemic, a supply chain nightmare and, oh, the sale of the company to private equity ownership, and the job becomes that much more challenging.
Welcome to Ashley Buchanan's world.
As the CEO since January 2020 of Michaels MIK , the arts and crafts retailer that is the largest player in the North America market, Buchanan has had to deal with more than his fair share of obstacles in taking what had been a moderately successful if admittedly stagnant company into 21st Century retailing.
"I grew up with the Michaels brand, I'm from Texas," Buchanan said recently on a Zoom call from the company's headquarters just outside of Dallas. "When I took the job, I talked to hundreds of our customers and what they told me was they loved the brand but they wanted to know why we made it so difficult to shop at Michaels.
"I took a look at Michaels and found pretty cluttered stores, back rooms that were so packed you couldn't move and really no strategy. Our customers had been seeing the same product for at least three years and there was no newness."
Buchanan, whose congenial, easy-going manner is engaging, came from Walmart WMT where his 13-year career included stints as chief merchant for first Sam's Club and then all of Walmart e-commerce, skills that no doubt came into play in a big way when he arrived at Michaels.
While profitable, it had a severely underdeveloped online business and a tired merchandise mix. "Most of our wounds were pretty much self-inflicted," he said, but what came only a few weeks after his arrival was most assuredly an external factor.
"About 90% of our physical stores were closed when the pandemic hit and we had to turn the whole company into e-commerce in 90 days," he said. As the stores reopened, Michaels quickly moved into BOPIS (buy online/pick-up in store), same day delivery and ship from store capabilities.
Behind the scenes Michaels opened two seasonal distribution centers, changed its order pack size to allow for better inventory control and made sure its best sellers were always in stock, something that wasn't always the case before previously. It's where he says his Walmart training, with its "efficiency obsession," came in handy.
Its 1200 physical stores, which could have been viewed as a liability in the move to online sales, were turned into assets. "We used to ship between 86 and 92% of our online orders from our central DC but now it's 16% because all of those stores have become mini-distribution points."
On the e-comm side, he won't say what percentage it represents of the retailer's total business but said it's been "growing very well" and in its Michaels Pro division (launched last year) which targets resellers buying in bulk it now accounts for 40% of revenue. There's still work to be done online, he admits. "My biggest concern is friction and we still have too much of it right now. But wherever they want to shop is fine with me."
All of these changes were beginning to pay off and in March of this year Michaels reported impressive gains in its top line, bottom line, comp store sales and earnings per share with total revenues hitting $5.27 billion. But it was the news the day before that made the bigger headlines: Private equity firm Apollo Global APO was buying Michaels and taking it private in a deal pegged at $3.3 billion.
For Buchanan it wasn't exactly something he had signed on for the year before but he says now it's been a good thing for Michaels. "They've bought into our strategy and in fact they want us to move faster." What's left unsaid is that the investments by Apollo and no need to report short-term financial results have helped the retailer get to where Buchanan wants to take it more quickly and ultimately more profitability. "My experience is that they've been fantastic."
Of course, Buchanan needs to keep the Michaels improvements coming. It is focusing more on the maker community with in-store and online classes, starting Facebook Live sessions and continuing to bring in more and more fresh product to the stores, a process that is only one-third completed, he says. It expects to keep its current physical footprint even as it grows its online business by expanding its offerings.
Buchanan says it's been a whirlwind two years. "We did ten years in one year but we're just in the third inning of a nine-inning game. We've flipped the brand." Being in the crafts space, he adds, which has been particularly hot and is expected to remain so, has been a real plus for the company as well.
And even as he tours the stores, including the company's lab store in nearby Lewisville, don't expect to see him picking up a crafts kit. "My kids are always saying I'm messing it up" when we do things.
Of Michaels and crafting, Buchanan says, "I just have to know how to run it, not do it."