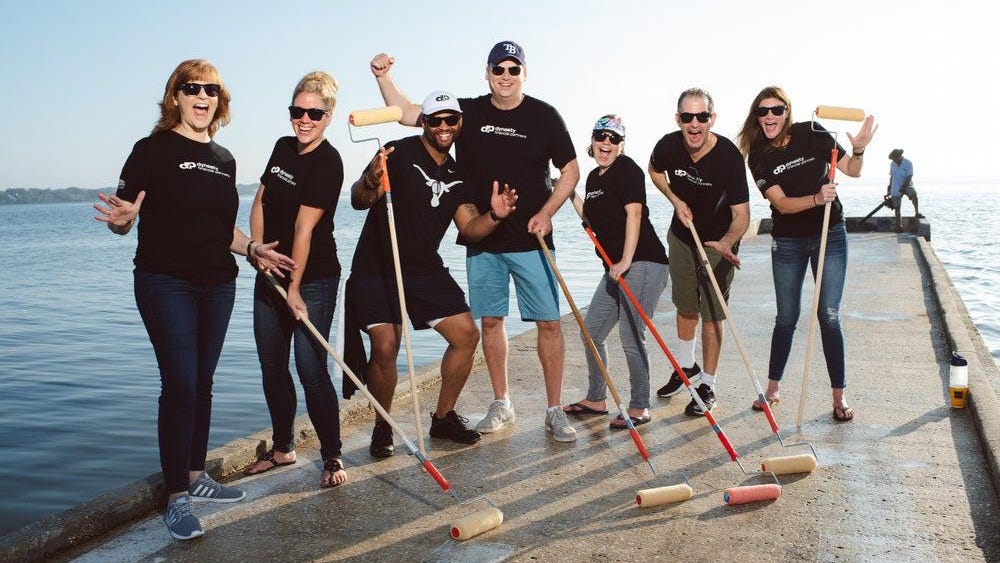 How And Why Dynasty Financial Partners Chose To Move To St. Petersburg, Fla.
Shirl Penney is CEO of Dynasty Financial Partners, which provides middle- and back-office services, technology, practice-management coaching and capital to a network of independent wealth-management firms across the country.
When my colleagues and I at Dynasty Financial Partners started scouting locations for our new headquarters a few years back, we were quickly reminded that there's no shortage of great cities in America.
There are many places a growing company like ours could feel confident about setting up shop while retaining and attracting smart, hardworking employees with an enviable quality of life augmented by world-class culture, dining, recreation, and sports.
Looking for room to grow
Before we chose St. Petersburg, Fla., in 2018, we examined nearly a dozen cities with a view to relocating from our original base in midtown Manhattan. Among them: Charlotte, N.C., Nashville, Tenn., Albany, N.Y., Lexington, Ky., and West Palm Beach, Fla. — all wonderful communities with plenty to offer an ambitious, forward-looking company like Dynasty, which provides operational and other support to independent wealth managers.
As a motivation for moving, we felt certain that expanding our operating margins by lowering expenses while simultaneously enhancing our employees' quality of life would give Dynasty a significant competitive advantage amid growing demand for the practical support and actionable insights we provide self-directed financial firms.
Indeed, our move is part of a trend. A growing number of US companies, especially in the finance and technology sectors, are looking for new homes in places with plenty of talent, lower overall living costs, and, often sunnier climates.
In the years before and since the workplace disruptions of the coronavirus pandemic, we've seen a slow but steady exodus from marquee business centers like New York and San Francisco to relative upstarts like Austin, Texas, and, indeed, St. Pete here on Florida's West Coast.
And as investment banker Ken Moelis emphasized in a late 2020 interview with Bloomberg, the impetus for relocation doesn't always come from the top.
In discussing his firm's recent push into Florida, Moelis told the business-news service that, while New York remains the official HQ of Moelis & Company MC , his employees are free to relocate to newer offices in West Palm Beach. "I want to attract, I want to motivate, and I want to retain the greatest talent in the world," Moelis told Bloomberg. "And if that talent wants to do it in Florida, that's where we'll support them."
Weighing pros and cons
So how did we fix on St. Pete, and how did we persuade a cadre of elite financial professionals to join us from New York — and for more to join us in St. Pete after we'd made the big move? In a word, systematically.
In the first stage of our search, we created a list of criteria to help us cull through rival locations:
● Cost of living
● Commercial real estate
● Residential real estate
● Discount on payroll
● Travel – local (commute)
● Travel – air
● Taxes – corporate
● Taxes – personal
● Talent availability
● Local college support
● Ability to move key people
As we researched and visited cities on our shortlist, we also worked closely with each region's commercial and cultural representatives to glean local insights and get a better understanding of realities on the ground. In the same spirit, we spoke with other businesses that had relocated to the city in question. Then we factored this information into a scoring system for potential locations.
In St. Pete, for instance, we collaborated with the local Economic Development Corporation and the Mayor's Office to become more familiar to the region. We assessed the various local commercial real estate properties (focusing on size, location, amenities, and potential for physical expansion). With equal intensity, we also focused on the impact such a move might have on our people and their families, including budget considerations, and on our ability to continue attracting the best and brightest in our industry.
To make sure existing HQ staffers could properly assess life outside the Big Apple, we coordinated field trips for our employees and their families to get a feel for various locations.
Like a big community bear hug
In our exploration of St. Pete, for example, Dynasty employees toured local schools, attended local sports events, sampled local cuisine and cultural attractions, and we built in plenty of free time for our employees to schedule private real estate tours and get a solid, first-hand sense of the local housing market.
Everyone in St. Pete we met — from the mayor's office to local business owners — shared their pride in helping to build a growing financial center of nearly 300,000 inhabitants — a fact that has made recruitment far easier than we'd at first assumed.
Perhaps it goes without saying that the St. Pete EDC made a favorable impression on us — a feeling I liken to a big community bear hug. In fact, since we moved here, we've become a partner of theirs in helping to promote the area to dynamic companies and business leaders who, as we did, stand to benefit from relocating to our new community. We're all in on promoting St. Pete because our move here has surpassed our rosiest expectations.
One significant change we noticed after making the move was how much more time we all have to enjoy our families. While that's always been a part of our culture at Dynasty, the proximity to our homes in Florida reflects and enables that ideal. For many of our team members, the walkability of St. Pete makes for another refreshing change of pace (and scenery) compared to long commutes in larger urban centers.
Part of our vision when making this move was to enlarge our margins over time so we can invest in more technology and resources for our clients. We are already seeing returns on this investment. We were recently able to add a new Chief Technology Officer and a Chief Digital Officer to our executive leadership team. In fact, we've hired 56 new team members — and counting — since relocating our headquarters.