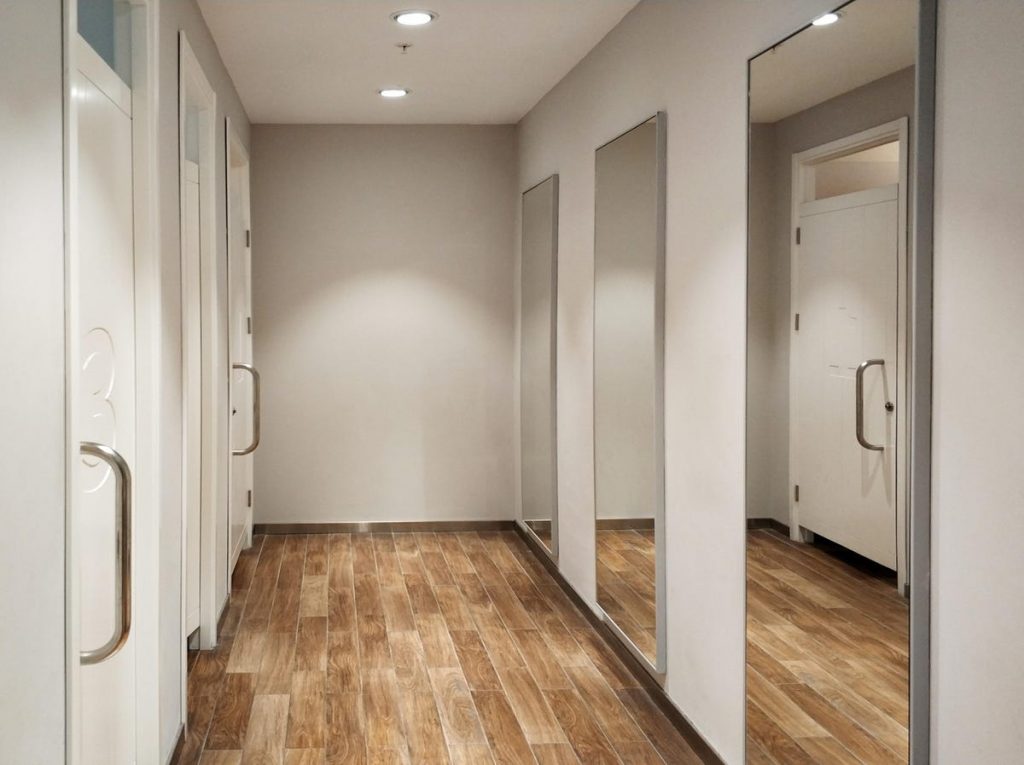 Here Is What Amazon's High-Tech Dressing Rooms Might Look Like
If you get the chance to visit one of Amazon's new department stores, there's a good chance the dressing rooms will be tricked out with technology.
The company is considering letting shoppers scan a QR code for items on the floor they would like to try on, and having a salesperson bring those items into the fitting room, according to a new report from the Wall Street Journal. Shoppers may also be able to ask for additional items using a touch screen and browse recommendations that are generated based on their shopping history.
Amazon is not the first retailer to rethink the dressing room, but a look at what others have done offers a glimpse at what it might look like.
Ralph Lauren began experimenting with the concept in 2015 using RFID technology to track what items a shopper brings with them into the dressing room. Shoppers could tap a smart mirror to request a different size or color, prompting a salesperson to whisk the item over. They could adjust the lighting to reflect the occasion they might be shopping for, like "East Hampton sunset" or "evening at the Polo Bar." Ralph Lauren also learned how much time a person spent in the dressing room and what they tried on, but didn't purchase.
In 2019, American Eagle began installing iPads in some of its dressing rooms, letting shoppers look up additional sizes, browse suggested styles, request new items and call for assistance. Sales clerks got an alert on their device when a shopper made a request. It initially tested the technology in stores in New York City, Boston, San Francisco, Las Vegas, and Pittsburgh.
Fabletics uses digital screens in its dressing rooms to deliver personalized messages to shoppers, like wishing them a happy birthday or offering special promotions. It also suggests various ways to style the clothing they are trying on. JCPenney has tested similar technology, letting shoppers tap on a screen to pull up more information on the items they are trying on and browse product recommendations. Uniqlo, Neiman Marcus and Topshop have experimented with an AR-powered smart mirror that lets shoppers try on clothing without getting undressed.
During the pandemic, there's been more emphasis on virtual fitting rooms, with Macy's, Ulta and Nike NKE among the retailers testing technology that lets shoppers try on clothing, makeup and other accessories without leaving their home. The technology works by taking imagery of the person and overlaying the product, whether it is lipstick or a sweater. Retailers hope this will help more shoppers feel comfortable placing orders for items they haven't been able to touch and feel, plus cut down on return rates, which can run as high as 30%.
Walmart is looking to the technology in its bid to sell more apparel online, announcing in May that it would be purchasing virtual dressing room company Zeekit. The Israeli start-up has said its early data shows it can reduce returns by 36%.
"Virtual try-on is a game-changer and solves what has historically been one of the most difficult things to replicate online: understanding fit and how an item will actually look on you," said Denise Incandela, EVP of Apparel and Private Brands for Walmart U.S. in a statement.