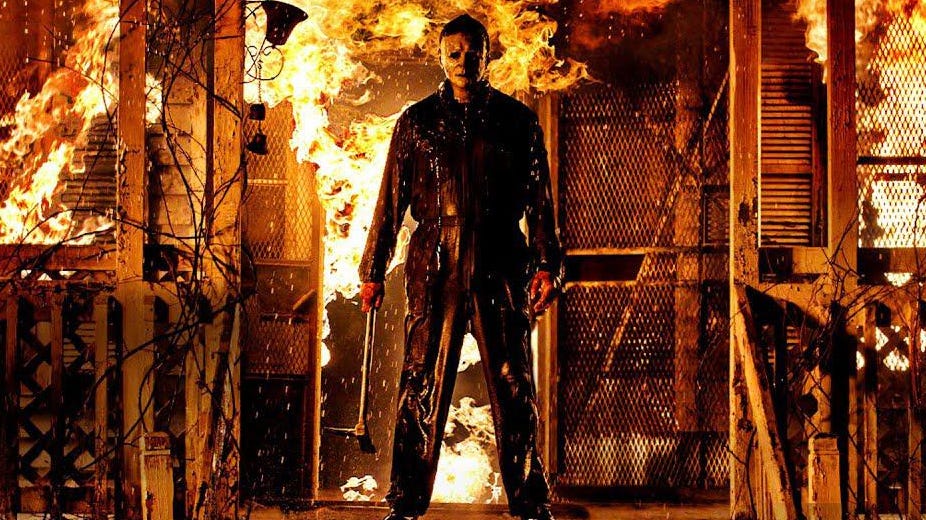 'Halloween Kills' Just Reached A Surprising Box Office Milestone
Even on a Covid curve, a $40 million Wed-Sun debut for Walt Disney's (excellent) Encanto qualifies as a disappointment. Yes, it's the biggest animated launch since Onward in March 2020, just a week before everything went to hell, but it's well below the $73-$93 million likes of Coco, Moana and Frozen plus it's below even The Good Dinosaur (a bomb after a $55 million debut in 2015) and the ten-years-ago performance of Tangled ($67 million over Thanksgiving 2010). And while we can absolutely acknowledge Covid variables, there have been enough examples of big films performing as expected to not entirely chalk it up to the pandemic. And one of those somewhat underappreciated examples of "business as usual" box office is Universal and Blumhouse's Halloween Kills.
The $20 million slasher has earned $91.9 million domestic from a $49.4 million debut, giving it a lousy 1.86x multiplier. Halloween earned $159.3 million domestic in October 2018 from a $76.2 million Fri-Sun launch, so it's not like the sequel was going to leg out into Christmas. Despite being concurrently available on Peacock, not only did Halloween Kills score a best-case-scenario opening weekend (no, the sequel was never going to open as well as its much-hyped predecessor any more than Fallen Kingdom was going to open as well as Jurassic World), but it had a stronger hold from the last Halloween movie than its respective peers. Among "sequel to a new Halloween saga" entries go, it retained more of its predecessor's domestic box office than the rest.
Halloween Kills nabbed 57.7% (sans inflation) of what the first entry in Blumhouse's Halloween trilogy earned. Sure, you can name any number of big sequels to overperforming predecessors that still had better holds, like The Last Jedi (66% of The Force Awakens), It Chapter Two (65% of It) or Avengers: Infinity War (74% of The Avengers). However, when comparing in-franchise titles, Halloween Kills stands tall. Halloween II, which mostly takes place in a near-empty hospital as Michael sets out to kill Laurie (revealed as Michael's sister) once and for all, earned $25.5 million domestic in 1981. That was still a hit on a $2.5 million budget, even if it was "just" 54% of the $47 million domestic cume for John Carpenter and Debra Hill's original 1978 classic.
Halloween H20 brought back Jamie Lee Curtis in a "Laurie Strode isn't just a victim anymore!" reunion/legacy sequel that ignored every Halloween movie after the second chapter. It earned $55 million domestic in summer 1998, but the much-loathed Halloween: Resurrection (which kills off Strode in the prologue) earned just $30 million domestic in 2002, giving it a 55% retention. Seven years later, Rob Zombie's Halloween divided the fandom but broke records for Labor Day weekend, earning $58.3 million from a $30.5 million Fri-Mon opening. In 2009, Halloween II (which has grown in esteem since its theatrical debut) earned "just" $33.4 million domestic, or 57.3% of its predecessor's domestic gross. Halloween Kills had a better hold from its overperforming predecessor than any "part two of a Laurie Strode/Michael Myers" launch or relaunch.
If we count Halloween IV as an in-continuity reboot, then Halloween V had a slightly better retention from its respective franchise re-starter. The Revenge of Michael Myers earned $11.6 million in summer 1989, a 65% retention of its $17.8 million-grossing The Return of Michael Myers the previous year. But that's a coin toss, and a 15% Covid bump puts it at $105 million, or 66%. Halloween Kills easily had the best hold in terms of "Laurie is back again… again!" sequel offerings. This, despite a global pandemic, general "audiences were only curious the first time" sentiments, lousy reviews, little buzz and a concurrent streaming release. It's yet more evidence that the theatrical marketplace has recovered at least to where surefire pre-Covid franchise hits can still live up to pre-Covid expectations.