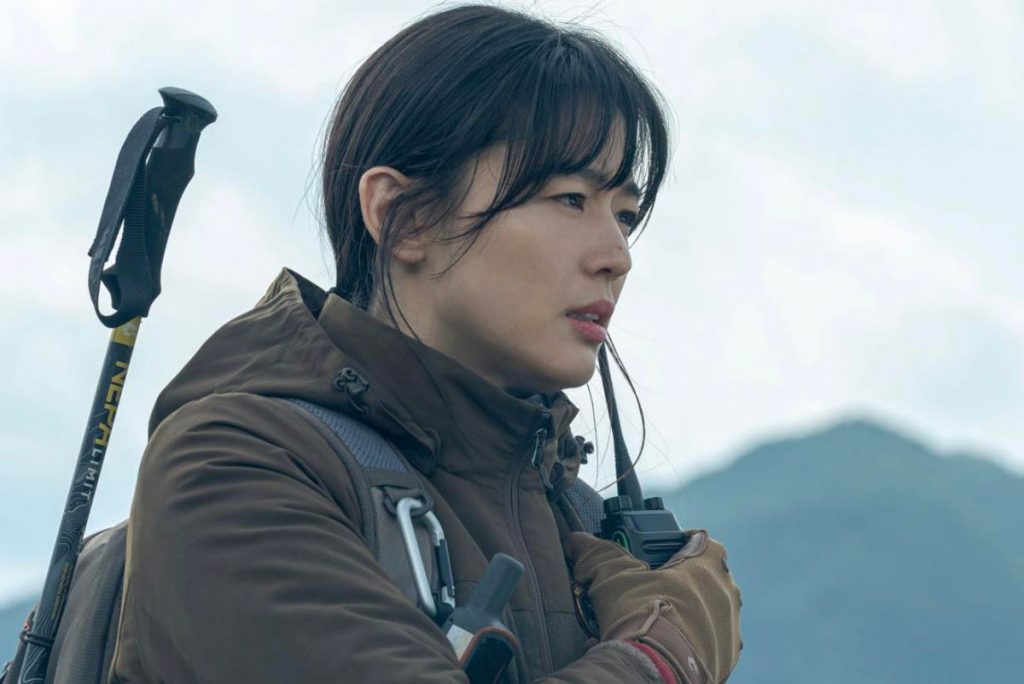 Gianna Jun Was Awed By Nature's Beauty While Filming Drama 'Jirisan'
Actress Gianna Jun plays a park ranger in the Korean TV drama Jirisan. Her character Seo Yi-kang is a ranger in Jirisan National Park, South Korea's largest mountainous national park. While filming on location, the park's ethereal beauty made a strong impression on the actress, known for her roles in the dramas My Love From The Star, The Legend of the Blue Sea and Ashin: Kingdom of the North.
"We filmed almost all of the scenes inside Jirisan National Park," said Jun. "I could feel this energy from the mountains throughout the entire shoot and was in total awe. Surrounded by such scenery, I was able to immerse myself in the grandeur of the environment. The whole experience got me thinking a lot about how small I am in comparison to the vast nature."
Jun, known in Korea as Jun Ji-hyun, describes her character as being a lot like a mountain. Yi-kang is strong and self-sufficient, yet there's also something mysterious about her.
"She is a top ranger at Jirisan National Park with her love for the mountains," said Jun. "Yi-kang initially became a park ranger for her grandmother who was left alone, but now, she is a passionate ranger doing her best rescuing those stranded in the mountains. She is also a character with this spirited charm who stands up firmly against the hikers who commit illegal activities. Yet, there is another side to Yi-kang where she becomes scared and anxious at the sight of dead hikers. I recommend following Seo Yi-kang closely to find more about her hidden trauma."
Millions of hikers visit Jirisan National Park each year and some get lost or injured, while the illegal activities of others damage the environment. To protect the mountain and its visitors, real-life park rangers often have to risk their lives. Yi-Kang is known as a daredevil because she is willing to take risks that others would consider too dangerous.
Filming the dangerous exploits faced by real-life rangers was not without risks for the actors who played rangers. The cast had to be in top shape to withstand the physical challenges. At a recent press conference for the drama, Jun's co-star, actor Ju Ji-hoon, noted that despite Jun's slight stature, she was more physically fit than her male co-stars. Much like her character, she might be able to outrun her teammates.
"The plot revolves around the search and rescue missions on Jirisan mountain, so there were definitely lots of dangerous action scenes," said Jun. "I made sure to keep myself fit because I had to run in the mountains all day and night. I never thought I'd play a park ranger because it's a profession we don't usually come across in our daily lives. So everything was new to me. I think our viewers would get a glimpse of what park rangers on duty are like from us on the small screen."
As well as Ju, Jun's co-stars in the drama are Sung Dong-il and Oh Jung-se. Ju is best known for his roles in the Netflix NFLX series Kingdom and Hyena. He will soon be seen in the film Gentleman. Sung Dong-il is known for his roles in the recent dramas Hospital Playlist and Sisyphus: The Myth. Baeksang Award-winning actor Oh Jung-se appeared in the dramas It's Okay Not To Be Okay and When The Camellia Blooms. While most of the cast had not worked together before, they quickly developed a rapport.
"Everyone contributed to the friendly atmosphere on the set which made the filming enjoyable," said Jun. "We shared a lot of laughs. It was my first time working with most of the cast, but I felt as if we had worked together previously, because everything was just so smooth and natural. It was a fun experience, thanks to all."
Jun does not want to give away any secrets about the drama's mysteries or her character's developing relationship with Hyun Jo, the rookie ranger, played by Ju.
"I don't want to spoil anything, so please watch our show for more details," she said. "I hope you all enjoy the chemistry that Yi-kang and Hyun-jo have as partners."
The iQiyi Korean Original Drama was produced by Studio Dragon and can also be seen on viki.com.