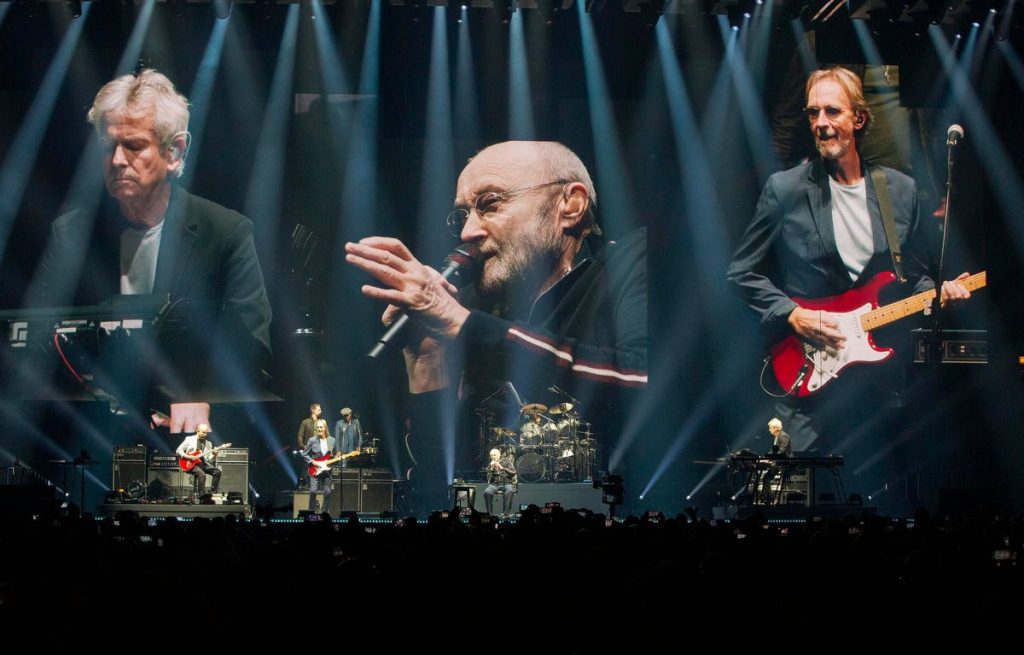 Genesis Launch North American Tour With Triumphant Opening Night In Chicago
"Say we'll be together 'til the end," sang Phil Collins Monday night in Chicago as English prog rockers Genesis launched their North American tour on stage at United Center.
Amidst an arena concert landscape dominated by reunion tours – in a year where acts like the Rolling Stones are staging highly entertaining concerts even as each member approaches the age of 80 – most tours lack a tangible sense of finality. Another go at it almost always seems plausible.
But this Genesis outing feels different, with even the tour's title – "The Last Domino?" – seemingly hinting at the inevitable.
Plagued by a litany of health issues, singer Phil Collins, 70, now sits for the majority of the group's two hour plus performances, unable to play the drums as he did when Genesis last performed together in 2007.
Nevertheless, Monday night in Chicago, the first of two sold out shows at United Center, found Collins in fine voice, affable, engaging and charismatic as he told stories and looked back upon more than five decades of Genesis history, a band responsible for the sale of more than 100 million albums around the world since forming in 1967.
"Good evening, Chicago! How are you?" said the singer on opening night. "It's Monday night in Chicago. And we're gonna have some fun. Man, this next song was written a while ago," he said, introducing "Land of Confusion." "And it was written about something else. But the last few years have given it new meaning. A little bit of cold and a little bit of snow and we've got some new things to look at which will bring it up to date," Collins explained, setting the stage for an updated take on the group's now iconic music video.
Penned by guitarist Mike Rutherford, the John Lloyd/Jim Yukich-directed video addressed the Cold War and more, questioning the leadership of political figures like Ronald Reagan upon its release in 1986.
Monday night in Chicago, video running behind the band on a massive screen addressed 2020, images of masked hordes marching the streets as rolls of toilet paper dropped, words like "Stay at home" appearing on screen. "Now did you read the news today?" sang Collins, delivering the song's eerily prescient, still relevant lyrics.
On this tour, Collins' stories are just as important as the performances themselves – but the seven piece band shines too. The core Genesis trio – Collins, guitarist/bassist Mike Rutherford and keyboardist Tony Banks – is augmented by longtime sideman Daryl Stuermer, a pair of multi-instrumentalists/backing singers and Collins' 20 year old son Nic on drums.
Dueling percussion drove the combination of "Behind the Lines" and "Duke's End" to open the show, Collins counting in "Turn it on Again" as the band kicked up a head of steam.
Collins looked to his right at Rutherford during "Mama," pointing to both sides and up as the song drew to a close. Later, the singer stood and leaned against the drum riser as Genesis put forth a rollicking take on "Second Home by the Sea," grinning with content during a performance which showcased at an times still ferocious group.
An 80 piece lighting rig revolved, escalated and illuminated the band, Collins turning to watch his son on drums, beaming as Genesis chugged away during a medley which included portions of "The Cinema Show" and "Afterglow," Rutherford picking away at a double neck, 18 string guitar.
Prior to Monday's performance, Genesis ran through its set Sunday in Chicago. While the setlist is nearly identical to that of the group's fall European tour, and hasn't changed much since the 2007 outing, the band did shake things up on opening night, revisiting the Duke album during a performance of "Misunderstanding" for the first time since 1984.
"So we're gonna do a few songs now that may sound a little different than how you remember them," said Collins, setting up a three song acoustic set. "If you remember them, please sing along… Because it will make me sound better," he joked.
Banks' keyboard sparkled as the group put forth a slightly reworked take on "That's All," Collins adding tambourine as Rutherford moved to bass.
While the show's early goings showcased the band, the acoustic suite put the spotlight squarely on Collins, the singer delivering on "The Lamb Lies Down on Broadway" and "Follow You Follow Me."
Collins invited audience call and response during "Throwing it All Away" as Genesis album artwork and vintage images of the band flashed on screen. "Tonight, Tonight, Tonight" followed as did a drawn out ending to "Invisible Touch" as the group headed for the finish line in Chicago.
"Thank you very much!" said Collins as the band made its way from the stage prior to encore, Rutherford waiting and walking off together with the singer, a concert which ultimately drew to a close via the pop prog of "The Carpet Crawlers."