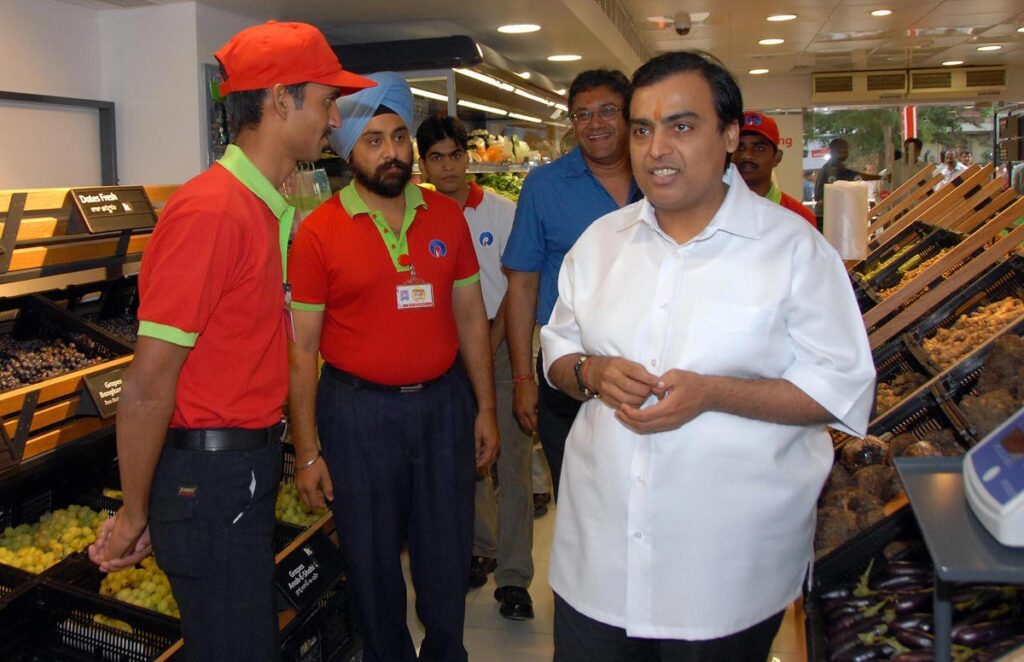 Future Group Shares Soar As Amazon India Deal Suspended
Shares in India's Future Group companies initially surged almost 20% this week after India's antitrust authority suspended Amazon's AMZN 2019 deal with the retail group.
Potentially, the decision could pave the way for Indian rival and business behemoth Reliance Retail to buy Future's retail operations.
Reliance has businesses in power, oil, retail, and telecoms and runs outlets for global brands, including Hugo Boss and Burberry. And in 2019 Reliance bought U.K. toy shop retailer Hamleys.
Future Group shares soared on Monday after the regulator's ruling on Friday that Amazon had suppressed information while seeking regulatory approval two years ago for its $200 million investment in Future Group, India's second biggest retailer. While Future Group stocks have settled somewhat on profit taking, they are still over 8% up on the start of the week.
Amazon had been able to use the terms of its deal to block Future's attempts to sell retail assets for a reported $3.4 billion to a unit of Reliance Industries, Amazon's biggest rival in the Indian retail market.
In setting out its decision, the Competition Commission of India (CCI) said Amazon will be allowed time to resubmit the information in order to seek approvals, but it is understood that Future may be unwilling to cooperate with a reapplication for antitrust clearance.
Amazon To Challenge Indian Ruling
Amazon had previously warned India's antitrust body that revoking its deal with Future Group would send a negative signal to foreign investors and allow Reliance to "further restrict competition".
Amazon said Friday that it was reviewing the new order and local reports now suggest that Amazon has taken the Enforcement Directorate (ED) to court, seeking to cancel an investigation into the 2019 deal with Future Group. Amazon has reportedly also sought the Delhi High Court's advice on the reasoning behind the ED's expansion of its scope and powers.
Future Retail shares had surged after its Reliance deal was announced in August last year, but have since lost around a third of their value as Amazon mounted a series of challenges.
Indian Regulator Renounces Amazon Deal
In the latest move, India's competition regulator revoked approval for Amazon's alliance with Future Group, alleging that the U.S. company had not been fully transparent in its filings about the deal.
In 2019, Amazon acquired 49% of Future Coupons, a payments provider that offers gift cards and other products. The deal was seen as a way for Amazon to gain a foothold in India's retail market and Amazon was subsequently named sole e-commerce provider for some Future Group brands.
But Future Group agreed to sell its retail and wholesale operations to rival Reliance, Amazon raised an objection and in February this year won a stay of execution in what had been in a race against time to stop Mukesh Ambani from using Future to accelerate expansion of his JioMart venture, which delivers daily essentials via a vast network of mom-and-pop shops.
Amazon Had Received A Lifeline
Earlier this year, the courts barred Reliance Industries from completing the deal with the ailing Future Group, which late last year missed a bond payment, tanking its credit rating. The deal has already been signed off by regulators, pending inking by the National Company Law Tribunal (NCLT) and ascent by Future's shareholders.
Amazon alleged that the sale breached a contract it has with Future subsidiary, Future Coupons, that bars Future from selling its retail assets without Amazon's consent. In October 2020, an arbitration panel in Singapore decreed the deal should be iced pending a final verdict, and Amazon appealed to India's Supreme Court.
Future subsequently complained to the Indian Competition Commission (CCI) about its original deal with Amazon. Last Friday, the CCI agreed, with the revocation essentially based on its contention that Amazon failed to disclose full details about the deal, saying: "Amazon had made false and incorrect representations and concealed/suppressed material facts in contravention of the provisions of the [Competition] Act."
Grocery is the big prize because it accounts for about half of all consumer spending and the pandemic has accelerated the shift towards e-commerce, in part because India has had one of the strictest lockdowns.
In addition to Amazon, which also holds minority investments in supermarket chain More and department store chain Shoppers Stop, Walmart WMT has partnered with Indian e-commerce brand Flipkart and Facebook paid $5.7 billion for a 9.9% stake in Jio Platforms.