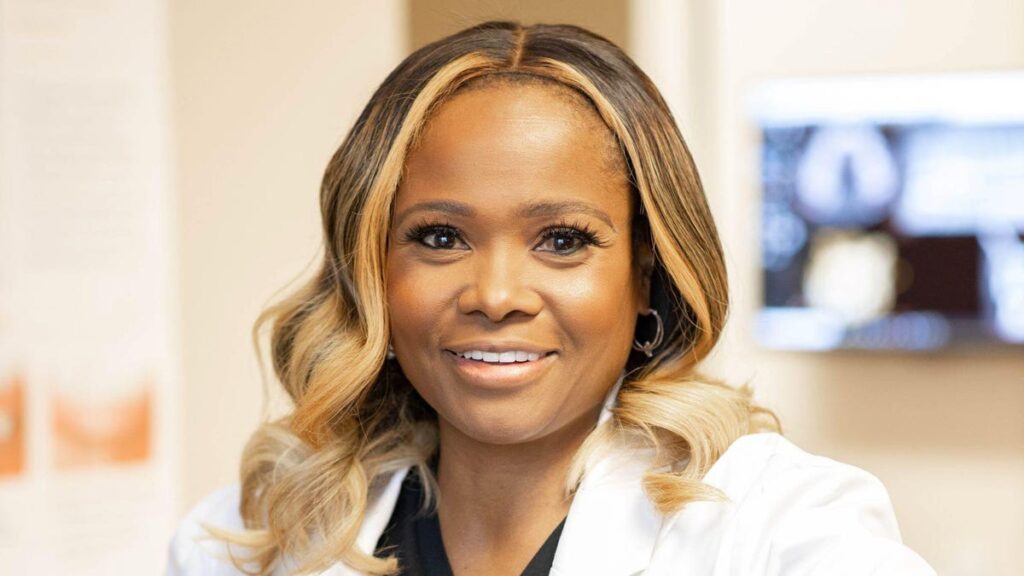 From Medicine To Millions: How Dr. Heavenly Is Empowering Others One Smile At A Time
In this lifetime, it is seldom that many individuals experience the intersection between passion and purpose. It should come as no surprise that the multitude of obstacles on one's life journey can deter them from seeing such alignment but that isn't always the case for everyone, especially not Dr. Heavenly Kimes.
Kimes, also known as Dr. Heavenly to the millions of viewers who tune in each week to Bravo's Married to Medicine, is a true testament to the power that lies in manifesting one's dreams through preparation, prayer and faith. While the reality television maven is known for her razor-sharp clapbacks and loving devotion to her family, her entrepreneurial spirit shines just as bright.
With more than 20 years of entrepreneurship and a host of successful businesses under her belt, Kimes has cemented herself as an astute businesswoman whose business acumen is second to none. Whether it's transforming the smiles of her patients at her dental practice Smiles By Dr. Heavenly or helping her clients find the right look at her latest business establishment Heavenly Beauty ATL, the Miami native has a true gift for giving back and empowering others.
"I think it's an obligation for us to give back because we've been so blessed," Kimes said. "It's a blessing to be a blessing and I think we've been a blessing. It's just an honor and an obligation to give back. I love doing it and making people smile. Now that I do cosmetic crowns, veneers, implants, full makeovers with all on fours, when those people see their teeth, they hug me. They send me Christmas gifts forever. It changes their whole life; they didn't smile before and now they're smiling. I just love doing it."
Before Kimes transitioned into being one of the most renowned and sought-after dentists in the country, she was a student at Meharry Medical College. That pursuit, she said, was her calling and fell in her lap.
"There was a recruiter that came from Meharry Medical College and told me about dentistry. In dentistry, I didn't have to do a long residency, I could set my own hours and I wouldn't be on call. I was like, 'Let me check this out and see it," Kimes said. "Then when I did a summer program, I realized I loved it. I shadowed another doctor and I loved it. It was my calling, and I was actually good at it so dentistry kind of fell in my lap."
Two decades later, that calling over her life has only gotten clearer. Kimes' love for dentistry has allowed her to fuel that passion by assisting other dentists on the ins and outs of running their own successful practices.
"I have Dr. Heavenly University and it's something that I've always wanted to do to educate dentists on how to run multimillion dollar practices, what labs to use, what procedures to do, what banks to use, what realtors to use etc," Kimes said. "I brought all of my people together in a one-stop shop to show dentists how to start it and run a successful dental practice and it's amazing."
As with any successful journey, there are obstacles. Kimes' journey was rife with outside opinions and much more. Her advice is to get those unwanted opinions out of your mind.
"One thing would be the naysayers and I hate to say it, but sometimes it's your family that's telling you, you can't do things," she said. "You have to put the noise out of your mind. You have to do that. The major thing I've learned to get over is spending money on marketing. A lot of people won't do it, but it's so necessary. When you make a profit, put it back in that marketing and build that platform. That's what I'm doing with Heavenly Beauty. I love doing it because it's like a challenge."
Kimes is very transparent about the hurdles she's faced; however, failure is something she's never feared.
"Everyone has their insecurities but at this point in my life, I've never been afraid to fail," she said. "And I think that's one of the things you have to be able to do. Me and my husband have been up, and we've been down because once you make your first million dollars and you lose it, it scares you. Once you make that first million, it's the hardest to make. Once you know how to do it, you can do it again and again and you're not afraid to do it. One thing I will tell you is 'more money, more problems.' Whoever wrote that song was telling the truth. You have to keep yourself well-grounded and your mind there because money is not everything."
For Kimes, staying steadfast in her faith and the humbling experiences that she's had as a businesswoman, is what keeps her grounded throughout all of her successes.
"I would first have to say my dedication and trust in God. It has to be there. If God is there, you will never fail but I've been humbled by losing," Kimes said. "A lot of people see your success, but they don't see the struggle. They don't see the things you've been through. They don't see the work. They don't see the failures. They don't see the crying nights. They don't see those things but on social media, we don't put that. That's why I say it's a fake reality. In order to get success, you are going to go through some difficulties. You just are."