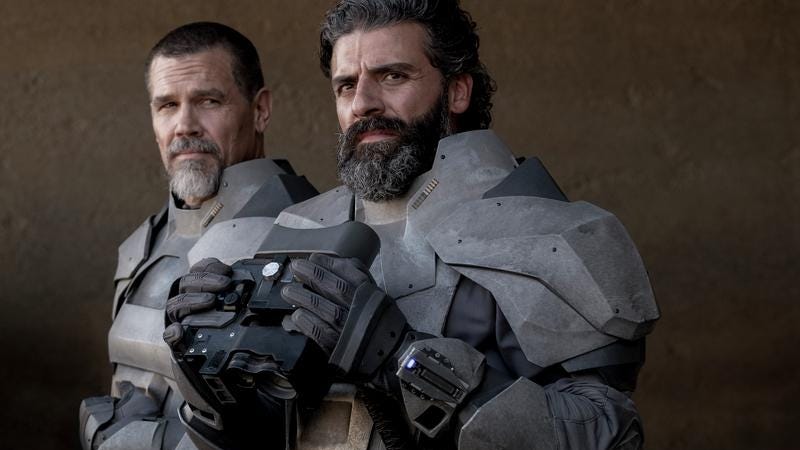 Friday Box Office: 'Dune' Plunges 71% But Passes 'Blade Runner 2049' Worldwide
In holdover news for Friday, Legendary and Warner Bros.' Dune earned another $5 million on Friday, dropping 72% from its $17.5 million opening day (which included $5.1 million in Thursday previews). That brings its domestic cume up to $58.8 million, pushing it past the respective domestic grosses of The Suicide Squad ($55 million) and Tenet ($58 million). It'll pass The Conjuring: The Devil Made Me Do It ($64 million) today to become, by default, WB's third-biggest domestic grosser of 2020/2021 behind Birds of Prey ($83 million in February 2020) and Godzilla Vs. Kong ($100 million last Spring). However, a 72% Friday-to-Friday drop is also worse than the 66% second-Friday drop for Blade Runner 2049.
And its $16.8 million (-59%) second-weekend gross will barely be above the $15.5 million (-52%) second-weekend gross of Dennis Villeneuve's previous 2.5 hour, critically acclaimed, adult-skewing, action-lite sci-fi epic. If we were dealing with bigger numbers then a 59% drop for weekend two would be "fine, whatever." But Dune isn't a Marvel movie, in fact, it's going head-to-head with a Marvel movie next weekend as Eternals debuts in North America starting Thursday night. We're already getting Dune part Two theatrically on October 20, 2023. There's little at stake beyond buffering the perception of success despite raw numbers that, on its face, are not successful. With $70.7 million in ten days, Timothée Chalamet's Dune looks to end its domestic run with $108 million.
That's better than Alita: Battle Angel ($85 million), Blade Runner 2049 ($92 million), Edge of Tomorrow ($100 million), Tomorrowland ($93 million) and A Wrinkle in Time ($100 million), all of which were commercial whiffs. Such a domestic finish would be lower than Godzilla: King of the Monsters ($110 million) and about tied with the raw $108 million domestic finish of Batman & Robin. The film has earned around $275 million worldwide, besting the $259 million cume of Blade Runner 2049 and flirting with a $300 million-plus global cume by tomorrow. Even a $381 million finish would put it behind Bad Boys For Life, Sonic the Hedgehog, Godzilla Vs Kong, F9, Shang-Chi and Venom: Let There Be Carnage among 2020/2021 Hollywood flicks.
Universal, Blumhouse and Miramax's Halloween Kills earned $3.66 million (-42%) on Friday for a $8.75 million (-39%) third-weekend gross. The Michael Myers sequel will obviously benefit from Halloween weekend, but the strong hold will still show that folks who want to see this in a theater are opting for a theater either by choice or because they don't know that it's on Peacock. The $20 million R-rated slasher sequel will have $86 million by tomorrow night, and it will be interesting to see how close it and Dune end up domestically. It's already achieved better retention from Halloween ($159 million) than Halloween II ($25 million) from Halloween ($47 million). If it passes $105 million, it'll have bested the retention of Rob Zombie's Halloween II and Halloween: Resurrection.
MGM's No Time to Die earned $2.33 million (-35%) on its fourth Friday, setting the stage for a $7.9 million (-35%) weekend and $133.4 million 24-day total. It has passed the domestic grosses of every 007 movie (sans inflation) save for Die Another Day ($160 million in 2002) and the first four Daniel Craig James Bond movies ($167 million, $168 million, $304 million and $200 million). It's performing better overseas (it'll be near $600 million by Sunday night, partially thanks to a decent over/under $30 million debut in China), in terms of raw numbers and legs. That's good news for Universal which is distributing overseas and would love to swoop in and distribute globally next time out. We'll see if Amazon allows that.
Sony's Venom: Let There Be Carnage earned $1.58 million (-36%) on Friday for a $6.14 million (-34%) weekend and $191 million 31-day total. It'll top $200 million domestic by early next week. 20th Century's surprisingly good Ron Gone Wrong (it's an on-point kid comedy about social media replacing rather than supplementing human relationships) will earn just $4.4 million (-40%) in weekend two for a $13.22 million ten-day total. MGM's The Addams Family 2 will earn $3.36 million (-25%) over Halloween weekend for a $53 million 31-day cume. Meanwhile, Marvel's Shang-Chi and the Legend of the Ten Rings will earn $1.2 million (-41%) for a $223 million cume as 20th Century Studios' The Last Duel earns $550,000 (-73%) for a $10 million 17-day total.