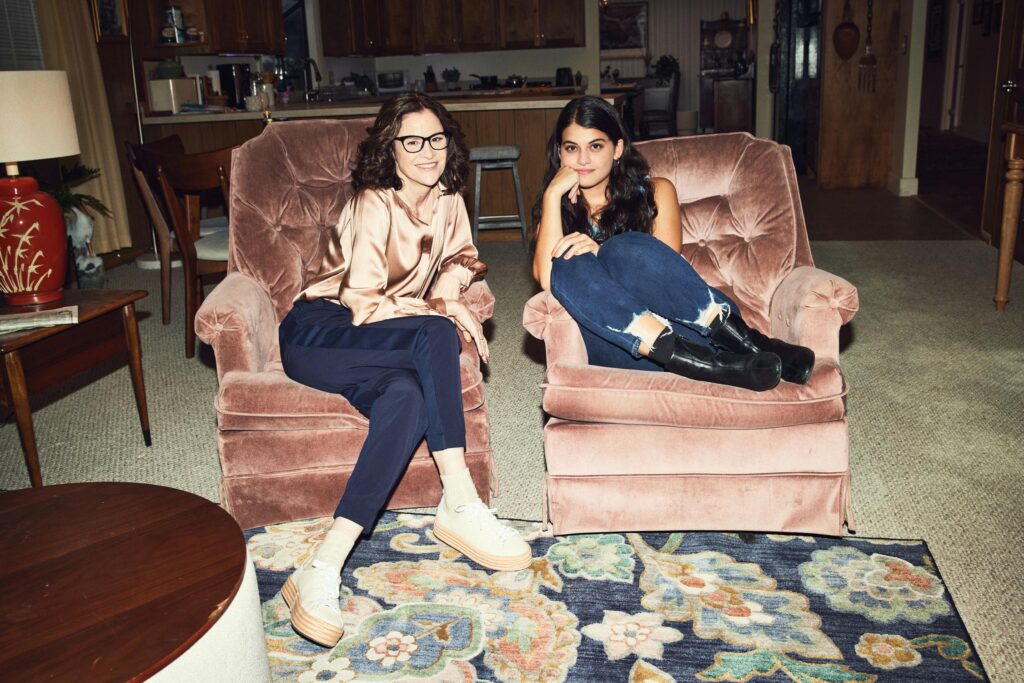 Freeform's New Show 'Single Drunk Female,' Balances Comedy, Family And Addiction
Freeform's newest dramedy, Single Drunk Female, premiers on January 20. The show, from creator Simone Finch, follows Samantha Fink, a 20-something alcoholic working at a New York media company, who is forced to move back in with her mother in the Greater Boston area. The show is based on Finch's own experiences with alcoholism in her twenties and features an intimate look at mother-daughter relationships.
The show will debut on January 20 at 10 pm, with new episodes weekly Thursdays at 10:30 pm. Episodes of the show will also be available the next day on Hulu. The show stars Sofia Black-D'Elia and Ally Sheedy along with Rebecca Henderson, Sasha Compère, Lily Mae Harrington and Garrick Bernard. The series is written and created by Finch who will also executive produce along with Jenni Konner, Daisy Gardner, Phil Traill, Nora Silver and Leslye Headland.
While the show is a comedy, the series handles addiction in a real and unflinching way. "It's rare that a young woman's experience with addiction is ever shown. There is still this belief that alcoholics are people in the gutter that they're not you, me, your neighbor," Finch says. "I reread this article just to check my research, but [women are] out drinking men at this point and it's more damaging to women than it is to men. I think it's a really relevant, important thing to talk about."
Since the show is based on Finch's life, many of the hardest scenes are handled very delicately, part of which was due to the care that was taken in the writing process of the show. "There's something in the writer's room where you're really grateful and happy that someone's generous with the details of their life and they're willing to be vulnerable," Gardner explains. "But there's always a moment where someone says, 'okay, wait, that's too much you guys…' You have to remember that we're all real people."
"There were some scenes that we shot that were lifted from my life that were really hard to watch," Finch adds. "I cried a few times. It was hard. I'm glad I did it… When putting your life on paper, that's what happens. It's cathartic too, in a weird way."
Striking the right balance and tone wasn't only important for the writers, but also for the actors. "Finding that tone was the challenge of the show," Black-D'Elia, who plays the titular female says. "It's hard. It's this really serious subject matter and it's a half-hour comedy. Also, the woman that Sam is based on is 10 feet from me."
While the character of Sam is based on Finch, Black-D'Elia connected deeply with the character. "I read this script and she felt so familiar to me. I kind of heard her voice in my head. I felt like I understood," she explains. "I find, as an actress, I don't need to like the people I'm playing, but I need to understand why they do things that they do and that always made sense to me with Sam… One of my favorite things about TV as a medium is you really get time as a performer to build these people."
Black-D'Elia's costar, Sheedy also connected with the script as she played Sam's on-screen mother. "I have a son and I'm figuring all that stuff out. Familial relationships are fraught with all sorts of darkness and all sorts of ridiculousness." She says, "It's in the writing and also where Sophia and I were going with it."
Between the heavy themes, family nuances and Finch's real experiences, Single Drunk Female is far more than the typical sitcom. "It's a story about a complicated woman and a woman living with her mother and her mother living with her daughter. Because of that, I think is gonna be relatable to a lot of people," explains Konner.
Single Drunk Female is in many ways a show about second chances, something Finch saw in her own life. "Second chances are really hard so we're rooting for anyone who takes that step," she says.
Single Drunk Female premieres on January 20 at 10 pm.