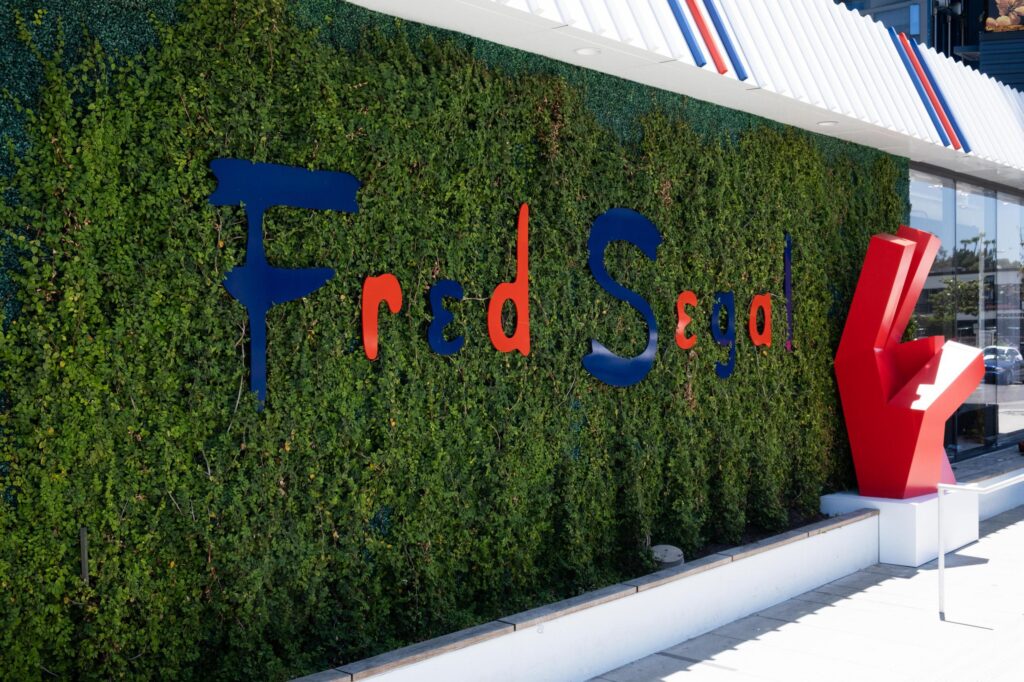 Fred Segal Contest Rewards Emerging Black Designers With $10,000 Grant, Mentorship
Iconic Los Angeles retailer Fred Segal today is launching the second installment of its Season Zero design contest, an initiative that identifies, nurtures and rewards up-and-coming Black fashion designers with a $10,000 grant, mentoring and a chance to manufacture their first collection and sell it at the retailer's flagship location. Fred Segal is partnering with the Black in Fashion Council and the contest is sponsored by Mastercard.
The design competition marks the retailer's continued commitment and support to emerging designers and artists. Last year's winners were Connor McKnight, K.NGSLEY, and House of Aama.
Submissions will be reviewed by a panel of judges from all corners of the industry, including Black in Fashion Council cofounder Lindsay Peoples Wagner, designer and Yowie founder Shannon Maldonado, founder of Cross Colors, and Black Design Collective's TJ Walker. The winners will be judged on creativity, execution, and vision expressed through the collection. The Season Zero contest is open now through February 28 to applicants nationwide. The winner will be announced on March 31 and the resulting collection will be available for purchase in September.
"The idea for the contest came from wanting to increase awareness of Black designers in our store snd work with more people of color," said Fred Segal CEO Jeff Lotman. "We continue to be a place for emerging designers and young designers. We felt that there wasn't that much visibility for these designers out there. We felt that there was a need to reach out and help foster some of these younger designers as they try to break into the industry."
The grand prize winner will have their collection produced, courtesy of Mastercard, and it will be showcased and sold in September in a dedicated pop-up space at Fred Segal's Sunset Boulevard flagship and online at fredsegal.com. The winner will also receive mentorship from Fred Segal, Mastercard and panelist Shannon Maldonado, as well as a Mastercard $1,000 grant and Digital Doors tool kit to help further grow and digitally enhance their business.
as well as a Mastercard $10,000 grant and Digital Doors tool kit to help further grow and digitally enhance their business. Connor McKnight was named the inaugural Season Zero winner in 2020.
"Fred Segal remains dedicated to continue learning, growing, and making strides toward diversity, equity and inclusion as a brand today, and every day," said Lotman. "It's really important to us that we're not just talking the talk, but walking the walk, which is why the second iteration of the Season Zero design contest and supporting and mentoring young diverse creators is so important to us."
To be considered, applicants must be an emerging designer or artisan within the fashion and creative industries without a brick-and-mortar or retail footprint, submit 10 to 15 digital files of personal designs, and provide a bio, vision for their brand and video.
Asked if Aurora James, Brother Vellies designer and founder of the 15% Pledge campaign – James in June 2020, suggested that retailers devote at least 15% of their shelf space to designers of color – had anything to do with the decision to launch the contest, Lotman said, "There's a lot of different retailers and brands that are helping to support the 15% Pledge. We need to take an angle that really makes sense for our brand overall and falls in line with our world in terms of helping find new designers as a retail launch pad."
Ashley Petrie, senior vice president of merchandising at Fred Segal, said the retailer isn't requiring exclusivity from contest winners. "We get exclusive brands you don't see anywhere else, and a lot of D2C brands only sell through Fred Segal. About 60% to 70% of the brands we sell have some form of exclusivity. We're running the contest more to find, elevate, showcase and nurture a great new [pipeline] of designers.
"Part of the requirement is not having any points of distribution, so the idea is that they're not in retail stores," she said. "We want to work with people who aren't established and really help and support them to grow, so the idea is working with them before they launch at retail and helping with that mentorship process to give them all the tools they need to not only be successful with us, but be successful in the future.
"That's the difference between this year and last year – it's the mentorship component," Lotman said, adding, "because now, we're going to help them produce a line that will be sold here. Before, we expected them to have something and we picked up what they had. This year, we want to me more true to Season Zero. We'll find the manufacturing partners, that's where the mentoring will come in. We'll work on how to get the samples done and make it all happen."
Petrie said creativity, overall execution, and salability will be on judges' minds. For example, how could the line be marketed, what audience is being targeted, how will it merchandised are considerations, as is the overall vision.
"As merchants, we want to help them sell, and show them what can be done," she added. "We want help them with their Instagram account, social media and public relations. The goal is to really support the whole realm."
"The last round of winners, we chose Connor McNight and K.NGSLEY who's so big in our community and only getting bigger through his unisex program. House of Aama is expanding in a big way and landing in a bunch of stores," Lotman said. "These are all designers that we continue to support and with whom we have a relationship. We want to give somebody a chance to bring an incredible idea to reality."
Fred Segal also wants to speak to a wider audience of creatives in all product categories, not just fashion. "They are true artisans," Petrie said. "Maybe it's a jewelry designer, maybe it's someone who's doing pottery. If anything, we're hoping for a broader range of applicants."
The first contest drew 100 applications, however, Lotman and Petrie expect to get many more submissions this year because Fred Segal is offering $10,000 to help create a collection. They also think candidates will likely be younger.
"We're doing this in partnership with the Black in Fashion Council and Mastercard, which is helping in terms of seeding it and pushing the story out to their audiences," Lotman said. "We're also working with the amazing TJ Walker, who founded Cross Colors, Yowie founder Shannon Maldonado and Lindsay Peoples Wagner, cofounder of Black in Fashion Council.
"All these different pillars will bring a different point of view and they'll be helping the mentorship program," Lotman added. "We had a smaller panel last year and it felt like that was a miss. Having a wider audience to really engage consumers makes the most sense from the aspect of the industry.
"One of the things we do best is having these experiences in store and having a holistic view of these brands and not the traditional view of retail that it's just clothing on a rack," Petrie said. "We really want to show the world of the brands we're supporting, so it's getting the space and designing the space with the designers."
Lotman said the fashion industry is hard to break into, especially for designers and artisans of color. "There's so many things working against you," he explained. "I'm an entrepreneur. When I started out it was hard. When you're young, it's that much harder. Because of Covid-19, a lot of people missed the chance to showcase their designs because events were cancelled. We want to give them another chance and hopefully find a great brand that we can keep in our stores for a while."