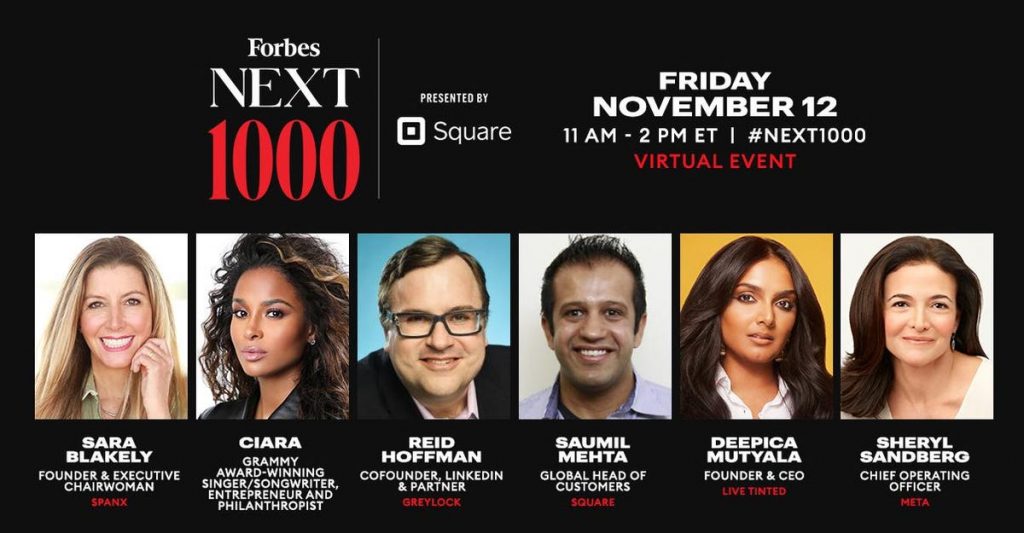 Forbes' First-Ever Next 1000 Summit To Convene Top Small Business Leaders Who Are Redefining Entrepreneurship
Speakers Include Sheryl Sandberg, Sara Blakely, Reid Hoffman, Meena Harris, Tim Angelillo
NEW YORK – November 4, 2021 – Forbes today announced its first-ever Next 1000 Summit to convene small-business leaders who are redefining the American dream and creating their own unique paths to success. The virtual event, which takes place November 12, 2021, at 11a.m. – 2p.m. ET, will provide entrepreneurs with resources and tools to help them navigate the current financial environment and propel their businesses forward. The Next 1000 Summit is presented by Square.
As the nation's more than 30 million small business owners recover from the Covid-19 pandemic, many have seen their survival threatened yet again by a resurgence in cases. These entrepreneurs are proof that American entrepreneurship remains resilient, vibrant and ever-changing.
Attendees will hear from experienced small business entrepreneurs to discuss topics about scaling startups in the new economy, achieving greater diversity and representation across boardrooms and small businesses, channeling the consumer in a new era and more.
"Small businesses accounted for two-thirds of net new American jobs before the pandemic. Our Next 1000 Summit will empower the brightest small business leaders who are driving the economy forward, disrupting industries and challenging the status quo," said Maneet Ahuja, Senior Editor, Forbes.
"Square has long played a role in empowering entrepreneurs to turn ideas and passions into thriving businesses," said Lauren Weinberg, Global Head of Marketing & Communications at Square. "Partnering with Forbes is a natural extension of the support Square offers business leaders every day through its ecosystem of tools and resources, and we look forward to continuing to support the dreams of aspiring business leaders through the Next 1000 Summit and beyond."
Speakers include:
Tim Angelillo, Founder & CEO, Sourced Craft Cocktails
Sara Blakely, Founder & Executive Chairwoman, Spanx
Ciara, Grammy Award-Winning Singer/Songwriter, Entrepreneur and Philanthropist
Allison DeVane, Founder & Owner, Teaspressa
Maëlle Gavet, CEO, Techstars
Nicole Gibbons, Founder & CEO, Clare
Meena Harris, Founder & CEO, Phenomenal
Reid Hoffman, Cofounder, LinkedIn & Partner, Greylock
Shahira Marei, Founder, The Dirty Cookie
Saumil Mehta, Global Head of Customers, Square
Deepica Mutayla, Founder & CEO, Live Tinted
Jackie Nguyen, Founder, Cafe Cà Phê
Maria Palacio, Cofounder & CEO, Progeny Coffee
Asahi Pompey, Global Head of Corporate Engagement & President, Goldman Sachs Foundation, Goldman Sachs
Sheryl Sandberg, Chief Operating Officer, Meta
For more information about the Next 1000 Summit, visit: Forbes 2021 Next 1000 Summit
In addition to the Next 1000 Summit, Forbes will publish the fourth installment of the Next 1000 list later this year. The list spotlights 250 rising entrepreneurs and resilient small business leaders who are forging the path forward to redefine the American dream. The list, broken out into four installments, focuses on diverse entrepreneurs who have shown resilience in the face of adversity and have managed to keep their businesses afloat amid unprecedented times.
Nominees are considered by an expert panel of esteemed judges including, Ayesha Curry, entrepreneur, restaurateur, New York Times bestselling author, Forbes Under 30; Alex Rodriguez, founder & CEO of A-Rod Corp, chairman of Presidente USA (AB In-Bev), World Series Champion & baseball legend; Tom Colicchio, chef and owner, Crafted Hospitality; Mellody Hobson, co-CEO & president of Ariel Investments, vice chairman of Starbucks, board member of J.P. Morgan Chase, former chairman of DreamWorks Animation; Russell Wilson, Seattle Seahawks quarterback & Super Bowl champion and more.
For the full list of Next 1000 honorees visit: Forbes Next 1000
The Next 1000 list and summit are presented by Square.
To follow the conversation on social, follow #Next1000
About Forbes
Forbes champions success by celebrating those who have made it, and those who aspire to make it. Forbes convenes and curates the most influential leaders and entrepreneurs who are driving change, transforming business and making a significant impact on the world. The Forbes brand today reaches more than 150 million people worldwide through its trusted journalism, signature LIVE and Forbes Virtual events, custom marketing programs and 45 licensed local editions in 76 countries. Forbes Media's brand extensions include real estate, education and financial services license agreements.
Forbes recently announced plans to go public through a business combination with Magnum Opus (NYSE: OPA), a special purpose acquisition company (SPAC), which is expected to close in Q4 of this year or Q1 of next year.
Media contacts:
Jocelyn Swift at jswift@forbes.com