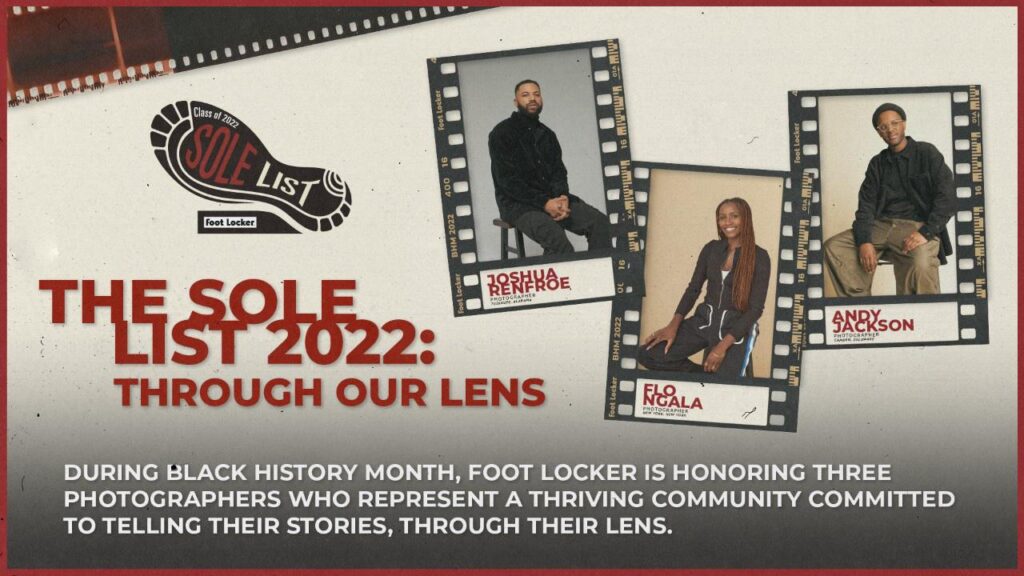 Foot Locker Unveils 2022 Sole List Honoring Black History Month
The 2022 Sole list was announced by Foot Locker celebrating Black photographers whose work champions authentic Black stories through art. As Black History Month begins, the company wanted to honor artists and designers who are amplifying Black experiences and representing Black communities in a raw and authentic manner.
Foot Locker aims to elevate Black-owned brands in local communities
The Sole List photographers have taken images that highlight products from Foot Locker's Home Grown platform with content being revealed throughout the month of February. The Home Grown program was launched in 2019 and represents products from new and existing Black-owned brands from local communities. The company wanted to create opportunities for local designers to connect with communities across the nation and allow consumers access to product from these local creators. Foot Locker's goal is to provide the hottest designers shaping the future of streetwear the ability to elevate their brands.
The Sole List campaign will include the following brands: Bad Girl, Good Human, Broke and Board, Moneyball Sportswear, Diadora x Jim Twice, Humbl Hustlr, Grady Baby, Y.A.N.G. (Young and Naturally Grinding), S.O.O.N. (Something Out of Nothing), and KIY Studios.
The Sole List showcases Black innovators shaping sneaker culture
Last year, the company introduced the Sole List to celebrate the next generation of Black innovators and creators who are shaping the future of sneaker culture. The photographers recognized this year include Andy Jackson, Joshua Renfroe and Flo Ngala. Each photographer brings a unique contribution to the visual arts.
Jackson's work captures raw truth, while still making it relatable to anyone who sees and plans to use Foot Locker's platform to showcase the diversity of the Black experience. Jackson said, "There are so many different facets of Black culture, so no one is the same. That's been really important to showcase and bring to a new audience I may not have been able to reach yet."
Ngala calls her photographic style "Flo On the Wall" and brings Black identity to the forefront of a photo's frame to resonate deeply in a person's heart. Ngala said, "As the image-maker, the importance of sharing Black people in their truth stems especially from the fact that history has altered and underrepresented Black stories for so long."
Renfroe does more than put Black people in photos. He takes them out of monolithic boxes and uses his raw and cinematic photography style to tell authentic stories of Black culture. Renfroe stated, "My responsibility to Black culture as a photographer is to continuously create exciting work that tells our stories through an authentic and passionate lens."
Foot Locker will showcase the campaign content in an upcoming gallery exhibition (open to the public) in February to coincide with Black History Month, allowing these thought-provoking artists the opportunity to create new Black history.
Strong performance and an advocate for Black-owned creators
Foot Locker's third-quarter earnings report showed exceptional year-to-date growth with revenue up 24% compared to 2020 and up 14% compared to 2019. The company's purpose is to inspire and empower sneaker youth culture and has been an advocate for elevating Black-owned brands and localizing assortments with strong ties to the community. Foot Locker has approximately 3,000 stores in 28 countries.
​​